Benzinga's M&A Chatter for Tuesday March 11, 2014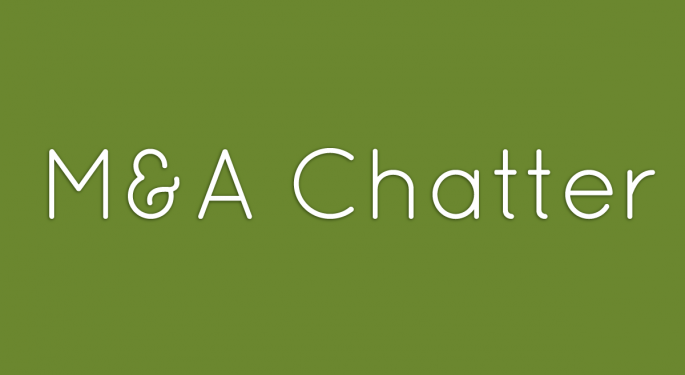 The following are the M&A deals, rumors and chatter circulating on Wall Street for Tuesday March 11, 2014:
Men's Wearhouse to Acquire Jos A Bank for $65.00/Share
The Deal:
The Men's Wearhouse (NYSE: MW) and Jos. A. Bank (NASDAQ: JOSB) announced Tuesday that Men's Wearhouse will acquire all of the outstanding shares of common stock of Jos. A. Bank for $65.00 per share in cash, for total consideration of $1.8 billion. The deal has been approved by the boards of directors of both companies.
On February 27, after months of resisting, Jos. A. Bank finally agreed to meet with Men's Wearhouse. On March 3, Men's Wearhouse announced a Non-Disclosure Agreement with Jos. A. Bank.
As a condition of the transaction, Jos. A. Bank has terminated its agreement to acquire Eddie Bauer parent Everest Holdings. The deal is expected to close by Q3 2014.
Men's Wearhouse closed Tuesday at $57.14, gaining almost 5%. Jos. A. Bank closed at $64.22, gaining almost 4%.
Report Jive Software Considering Sale
The Rumor:
Shares of Jive Software (NASDAQ: JIVE) rose sharply Tuesday on a report from Re/code (http://recode.net/2014/03/11/collaboration-software-maker-jive-explores-possible-sale/) that the company has been exploring the possibility of a sale, according to sources. The sources report Frank Quattrone's Qatalyst Partners has been hired to assist in the process of finding a buyer.
A spokesperson for Jive declined comment on the rumor.
Jive Software closed Tuesday at $8.52, a gain of 2.5%.
Elliot Management Responds to Riverbed
The Response:
Elliott Management issued a public response Tuesday to statements made by executives of Riverbed Technology (NASDAQ: RVBD), which the activist investor labeled as "grossly misleading." Elliott filed a presentation by Moelis & Company (http://www.sec.gov/Archives/edgar/data/904495/000119312514093183/d691370dex99f.htm) as part of an amended 13D, which Elliott says "validates the attractiveness of Elliott's $21-per-share bid for Riverbed."
Elliott was responding to comments Riverbed CEO Jerry Kennelly and CFO Ernie Maddock, who told Bloomberg that no "serious" party had made a "credible" bid for the Company.
Riverbed has rejected offers of $19.00 per share and $21.00 per share from Elliott.
Riverbed Technology closed Tuesday at $20.06, a loss of $0.15.
Posted-In: M&A News Rumors Management Movers
View Comments and Join the Discussion!