Benzinga's Weekend M&A Chatter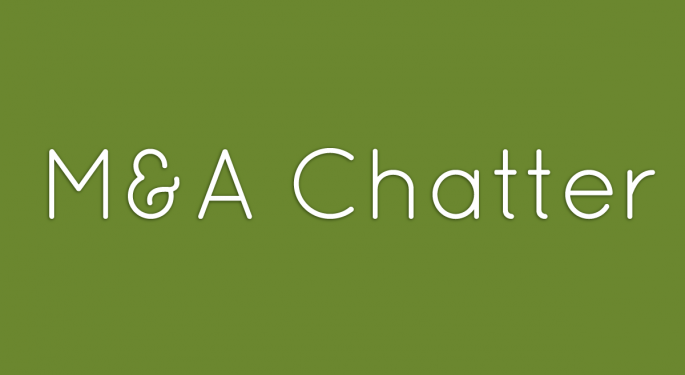 The following are the M&A deals, rumors and chatter circulating on Wall Street for Friday March 7 through Sunday March 9, 2014:
Report Intermune Attracting Takeover Interest
The Rumor:
Shares of Intermune (NASDAQ: ITMN) surged higher Friday on a report from Reuters that the biotech company had attracted takeover interest from several pharmaceutical companies, according to sources. There was no indication that an offer had been made, the sources said.
An Intermune spokesperson declined comment on the report when contacted by Benzinga.
InterMune closed Friday at $33.87, gaining almost 11%.
Imerys Says Not Out of Picture in AMCOL Bid Process
The Offer:
A spokesperson for France's Imerys (OTC: IMYSF) told Benzinga on Friday, the company was not out of the running for a deal for AMCOL (NYSE: ACO), but would not confirm they would raise their offer. On Thursday, AMCOL's Board determined that a bid of $45.75 from Minerals Technologies (NYSE: MTX) was superior the Imerys offer of $45.25 per share. That offer from Imerys had been approved by the AMCOL Board on March 4.
AMCOL closed Friday at $46.66, a loss of $0.09.
Vodafone Reportedly to Acquire Ono for $10B
The Rumor:
British telecom giant Vodafone (NASDAQ: VOD) is reportedly close to a deal to acquire Spanish cable company Ono for $10 billion, according to sources. The offer would have to be submitted prior to Ono's Board meeting on Thursday to discuss approval of an IPO.
A report from Dow Jones on Sunday said it is unlikely Vodafone would submit an offer for Ono before Tuesday.
Vodafone closed Friday at $39.93, a loss of almost 3%.
View Comments and Join the Discussion!