Are President Obama's Policies Driving Gun Sales Higher?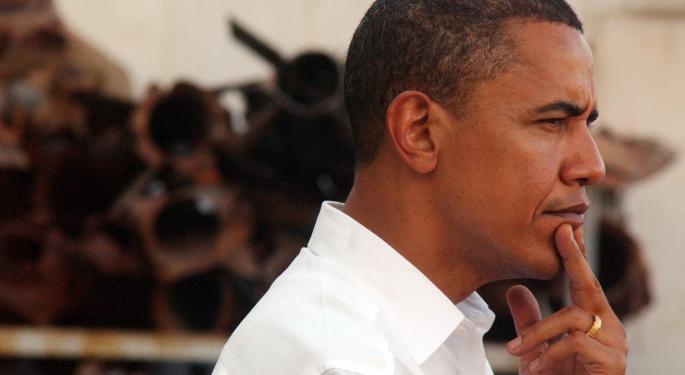 Gun ownership remains a heavily debated topic in society, but one thing that can't be argued are the facts.
For the most part, President Obama largely stayed clear of the gun debate during his first term but took a tougher stance after 20 children and six adults were murdered at Sandy Hook Elementary School in December 2012.
Obama pressed unsuccessfully for stricter gun controls following the massacres, which led to a surge in sales for gun sales as consumers may have felt a need to rush out and make purchases in the event of stricter gun control initiatives are brought in to law.
"Obama is the stimulus package for the firearms industry," Dave Workman, senior editor of Gun Mag, a print and online publication of the 2nd Amendment Foundation, a gun-ownership rights group told Bloomberg. "The greatest irony of the Obama administration is that the one industry that he may not have really liked to see healthy has become the healthiest industry in the United States."
According to FBI data quoted by Bloomberg, the firearm industry saw a solid 2013 with more than 21 million background checks for firearm ownership performed, up from 19.6 million in 2012 and 16.45 million in 2011.
See also: 6 Reasons Why What's Going On In Venezuela Matters
Investors need to look no further than gun manufacturers as evidence that gun sales are strong. More importantly, investors are looking for reassurance that demand will remain strong over time.
Sturm, Ruger & Company: Rare profit miss, sign of declining demand?
On February 25, Sturm, Ruger & Company (NYSE: RGR) reported that its fourth quarter results fell short of analyst expectations. The company earned $1.33 per share, missing the consensus estimate of $1.38. Revenue of $181.9 million beat the consensus estimate of $179.15 million.
Investors were shocked as the company missed its earnings estimate for the first time in four years despite orders up "significantly" over 2012.
As a major gun manufacturer, investors began questioning if media reports of surging gun sales are accurate given the fact that Sturm, Ruger & Company, the largest publicly traded U.S. firearms maker just disappointed the Street with an earnings miss.
On March 4, Smith & Wesson (NASDAQ: SWHC) reported that its third quarter earnings of $0.35 had topped the consensus estimate by six cents. However, revenue of $145.9 million fell short of analyst expectations by $6.8 million.
Lake Street: Smith & Wesson well positioned with minimal downside risk
Chris Krueger, analyst at Lake Street Capital Markets wrote in a note to clients on March 5 that Smith & Wesson's quarterly results were strong driven by a strength in sales of handguns which grew 30 percent to $100.9 million and represented 69 percent of total sales. In fact, Krueger noted that handgun sales are growing at a faster pace than the FBI NICS background checks.
See also: 5 Smaller Beverage Companies Gunning For The Big Boys
The company recently introduced new revolver products which received "a strong reception" and being a maker leader should allow the company to gain further market share "if consumers shift attention towards the revolver category."
Looking forward, Krueger hypothesized that the company will continue to expand its product offering and innovate in the category and can grow sales at a 10 percent rate and earnings in a range of 10 percent to 15 percent over the next five years.
The industry is enjoying a strong growth rate and expanded at "an accelerated rate" as new participants enter (such as women) and many repeat firearm purchases have occurred.
Shares are Buy rated with an $18 price target.
Risks associated with gun manufacturers
Naturally, the gun industry is full of risks outside of the political and regulatory sphere. Companies in the firearms industry are typically involved with numerous lawsuits or have to deal with product defects and/or safety issues and need to recall the products. Additionally, the loss of one key customer could have a drastic effect on profitability.
View Comments and Join the Discussion!
Posted-In: Chris Krueger Gun Industry Gun Regulations Lake Street President Obama Sandy Hook Smith & WessonNews Best of Benzinga