Benzinga's M&A Chatter for Wednesday March 5, 2014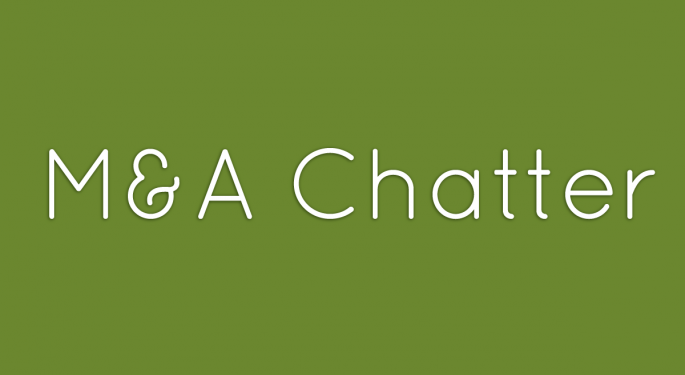 The following are the M&A deals, rumors and chatter circulating on Wall Street for Wednesday March 5, 2014:
Yahoo Acquires Vizify
The Deal:
Vizify reported on its website Wednesday, that is has been acquired by Yahoo (NASDAQ: YHOO). The two companies have been in talks since the Summer of 2013. Current paid users of the Vizify service will receive a full refund.
Yahoo closed Wednesday at $39.51, a loss of $0.12.
Yongye Shareholders Reject Going-Private Proposal
The Rejection:
Yongye International (NASDAQ: YONG) announced Wednesday that the previously announced merger agreement was not approved by shareholders at the special meeting held on March 5, 2014.
Yongye had announced on September 23, 2013 that the company had agreed to merge with Full Alliance International Limited and Yongye International Merger Sub Limited. Under the agreement, each of the company's shares of common stock issued and outstanding immediately prior to the effective time of the merger would be converted into the right to receive $6.69 in cash.
Yongye closed Wednesday at $5.85, a loss of more than 10%.
ClearOne Acquires Sabine for $9M in Cash, Stock Deal
The Deal:
ClearOne (NASDAQ: CLRO) announced Wednesday it has acquired wireless microphone system manufacturer Sabine for $7.5 million in cash and $1.5 million in ClearOne shares. In addition, ClearOne will assume and pay off Sabine debt of $1.25 million and make earn-out payments over the next three years, based on achievement of certain performance criteria. ClearOne closed Wednesday at $11.94, a gain of 3%.
View Comments and Join the Discussion!