Benzinga's M&A Chatter for Tuesday March 4, 2014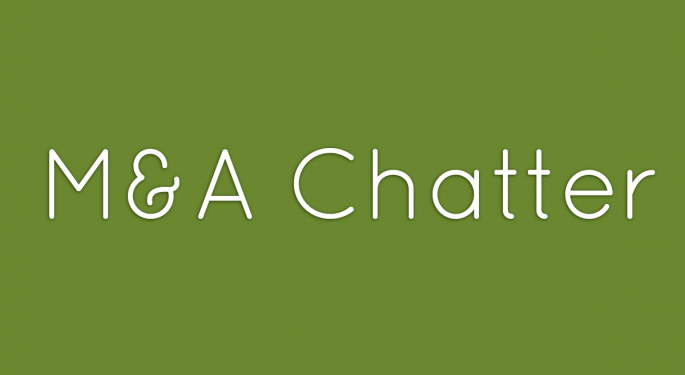 The following are the M&A deals, rumors and chatter circulating on Wall Street for Tuesday March 4, 2014:
AMCOL Board Approves Amended Offer of $45.25/Share from Imerys
The Deal:
AMCOL International (NYSE: ACO) announced Tuesday that its Board has unanimously approved an amended merger agreement with Imerys (OTC: IMYSF), under which which AMCOL shareholders will receive $45.25 per share in cash for each share of AMCOL common stock they own. Imerys had last offered $42.75 per share. The Board acknowledged recipt of Minerals Technologies (NYSE: MTX) offer of $45.00 per share and determined it was not superior to the Imerys offer.
The deal is expected to close in H1 2014.
AMCOL International closed Tuesday at $46.28, a loss of $0.07.
Elliott Management Says Riverbed Shareholders Want a Sale, Not a Share Buyback
The Response:
Shares of Riverbed Technology (NASDAQ: RVBD) moved lower Tuesday, following a press release from Elliott Management in response to Riverbed's announced increased share buyback. Elliott said Riverbed's buyback announcement is more "Clear evidence of the Board's entrenchment"
Riverbed announced an additional $250 milllion buyback authorization on Tuesday, bringing the total to $750 million. The company has rejected offers of $19.00 and $21.00 per share from Elliott.
Riverbed Technology closed Tuesday at $21.33, a loss of 2%.
Facebook Reported to be in Talks to Acquire Titan Aerospace for $60M
The Rumor:
Facebook is said to be in talks to acquire solar-powered drone company Titan Aerospace, according to CNBC. The purchase price is said to be $60M.
Facebook declined comment on the report, while a spokesperson for Titan Aerospace cold not be reached for comment.
Facebook closed Tuesday at $68.80, a gain of 2%.
View Comments and Join the Discussion!