The Biggest Wall Street Scandal The Media Isn't Telling You About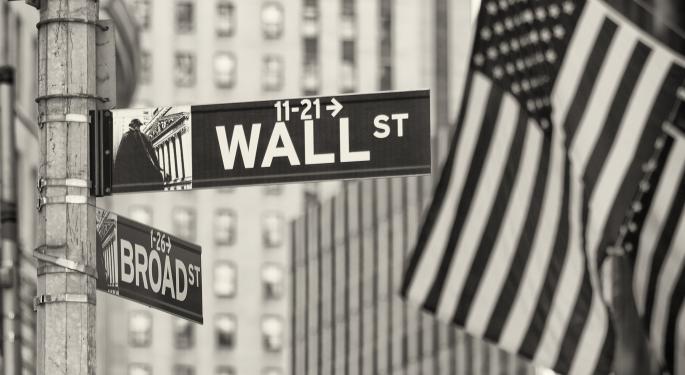 There have been several scandals and conspiracies on Wall Street, but not all of them have received the media attention that they deserved.
According to Sense on Cents' Larry Doyle, the number-one overlooked conspiracy involves self-dealing during the formation of the Financial Industry Regulatory Authority, a regulator Doyle dismisses as woefully ineffective.
"I would make the premise that self-regulation for Wall Street doesn't work," Doyle told Benzinga. "FINRA, Wall Street's self-regulator, in the first five years of its existence -- and it was formed only in 2007 as a result of two other regulatory bodies -- imposed fines on Wall Street of a little over $50 million per year. Let's put that in context: $50 million on an industry that generates bottom-line earnings of close to $100 billion. That's the reason why Wall Street likes being self-regulated."
In his new book, In Bed with Wall Street: The Conspiracy Crippling Our Global Economy, Doyle addresses a number of conspiracies -- including the FINRA scandal.
Related: Is Another Financial Crisis Around The Corner?
"FINRA was formed as a result of the merger of the National Association of Securities Dealers and the regulatory arm of the New York Stock Exchange," Doyle explained. "I looked very hard at that merger. In tracking a case that was brought against FINRA, that case maintains that FINRA effectively perpetrated a fraud…that they lied to their member firms in terms of the financials that were shared with them.
"They misappropriated somewhere between $180 million and $380 million for the benefit of FINRA's senior executives and the benefit of Wall Street's largest firms -- those being Goldman Sachs and JPMorgan and Morgan Stanley and those entities."
The case was appealed all the way to the U.S. Supreme Court.
"Regrettably, the Supreme Court decided in early 2012 not to hear it," said Doyle. "I looked through all documentation that I could find on that case and interviewed the lawyers that brought that case. They stated, in no uncertain terms, [that] the lies were blatant, they were unequivocal."
Doyle referred to this as "pretty scandalous stuff" that "deserves greater attention."
"Regrettably, for many people on Wall Street [and elsewhere] in America, a lot of people aren't aware," he said.
If Doyle has anything to say about it, that should finally change.
Disclosure: At the time of this writing, Louis Bedigian had no position in the equities mentioned in this report.
Posted-In: In Bed with Wall Street: The Conspiracy Crippling Our Global Economy Larry Doyle Sense on CentsNews Interview General Best of Benzinga
View Comments and Join the Discussion!