Honda to Discontinue Insight Hybrid Production This Month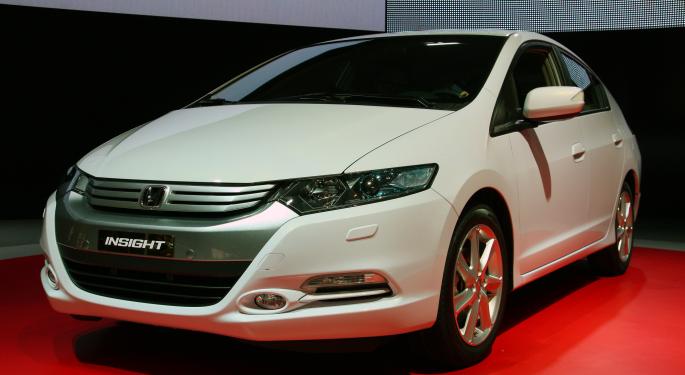 Honda Motor Co. (NYSE: HMC) plans to end production of its Insight model, Bloomberg reports.
The Japanese automaker told dealers back in November that the current generation of the hybrid would be discontinued this month, according to Bloomberg.
Sales for the Insight have lagged behind Toyota's hybrid, the Prius. Honda sold only 4,802 Insights last year, while Toyota sold 145,172 units of the Prius. The current model of the Insight has a combined city/highway MPG of 42 and starts at $18,725, compared with a combined MPG of 50 and a starting cost of $24,200 for the Prius.
The Insight was introduced as the first hybrid in the U.S. market in 1999 and was discontinued in 2006. Honda brought it back in 2009.
Related: Another Automotive Milestone: Honda Appoints Hideko Kunii First Female Board Member
IHS Automotive's Tom Libby told Benzinga the Insight has never really taken hold in the United States. The original model didn't catch on initially because it was a two-seater, he said, and the second generation was really a reaction to the success of the Prius.
"When they revived it, they were playing catch-up to the Prius," he said. "It's sort of been catching up the whole way."
It's not clear whether Honda will introduce a new version of the model. The hybrid market is very small, though, LIbby said, only about three percent of the total market.
"With the limited size of the hybrid market now, it's going to be hard to break into," he said.
Libby suspects that Honda will instead explore the different powertrains it already has, to develop vehicles that comply with federal fuel regulations, which require that all cars have an MPG of 54.5 by 2025.
And Kelley Blue Book executive editorial director and senior analyst Jack Nerad believes Honda will probably consider other options for fuel economy.
Related: Hydrogen-Fueled Cars Are Coming to America's Roads Sooner Than You Think
"Honda fans have to be saddened by the discontinuation of the Insight, since it was the first modern hybrid vehicle introduced in the United States,"he said, "but the current version of the Insight never resonated with the public despite its relatively low price, and Honda didn't seem to put much marketing muscle behind it. I'm certain that Honda has other answers to the high fuel economy challenge up its corporate sleeve."
But USA Today reports  Honda plans on focusing on fully-capable hybrids, rather than mild-hybrids that don't conserve as much gas.
"What you will see in our next iteration is full hybrids," American Honda executive vice president John Mendel told USA Today.
Posted-In: News Commodities Travel Events Global Markets Tech Media Best of Benzinga
View Comments and Join the Discussion!