Top Trending Tickers On StockTwits For February 25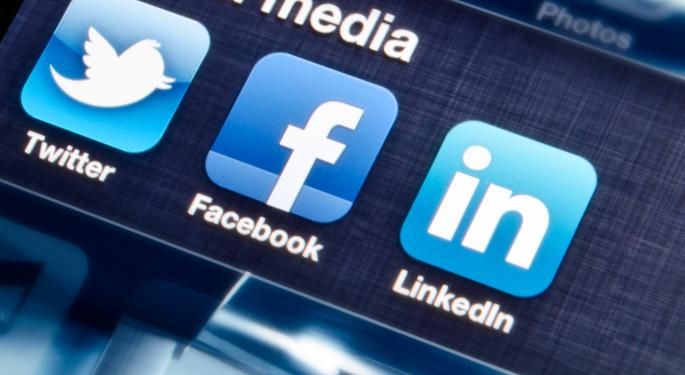 Here's a look at the top tickers trending on StockTwits.com
BlackBerry: Is the turnaround on track?
BlackBerry (NASDAQ: BBRY) revealed its first Foxconn manufactured smartphone, the BlackBerry Z3. According to Techcrunch.com the phone is "a Nokia-like touchscreen smartphone with rounded sides, a 5-inch qHD display, a 1.2GHz dual-core Snapdragon 400 processor, 1.5GB of RAM and 8GB of on board storage."
The Z3 is targeted towards customers in Indonesia, where BlackBerry devices remain widely used, despite losing some market share in recent years. The phone will run BlackBerry OS 10.2.1, has a 5.5 megapixel rear camera and 1.1 megapixel front camera and will cost only $200 off contract.
BlackBerry also revealed the Q20, a QWERTY smartphone like the Q10. Techcrunch found no indication if the Q20 is developed by Foxconn or not.
The Q20 has a 3.5 inch touchscreen with new hardware Menu, Back, Send and End buttons, along with an integrated track pad.
Techcrunch took a cautious tone as if warning investors "a hardware turnaround for BlackBerry may be an impossible task at this point, but both of these device announcements make it seem like CEO John Chen is doing the best he can with limited resources and a shaky foundation. The Z3 in particular will be the one to watch in terms of performance, since it should help indicate if there's any potential for actual growth left in the BlackBerry brand."
Shares were trading higher by 5.60 percent in the pre-market session.
Ariad Pharmaceuticals: Quarterly beat
Ariad Pharmaceuticals (NASDAQ: ARIA) is a popular stock among the StockTwit community as investors previously debated if the company is a prime take-over candidate from a much larger pharmaceutical firm.
This morning, the debates were put on hold as the company reported its fourth quarter results. The company announced an EPS of -$0.40, beating the consensus estimate of -$0.47. Revenue of $8.3 million beat the consensus estimate of $6.31 million. Net loss for the quarter totaled $74.2 million compared to a net loss of $60.5 million in the same quarter last year. The increase in the net loss is due to an increase in operating expenses of $21.6 million due to commercialization of its Iclusig drug.
"I am extremely pleased with the commercial and R&D progress we made in 2013, especially ending the year with Iclusig commercially available to refractory Philadelphia-positive leukemia patients in the United States. We are off to a strong start with our re-launch in the U.S. and are building momentum in Europe," said Harvey J. Berger, M.D., chairman and chief executive officer of ARIAD. "As we advance into 2014, we are focused on building shareholder value and executing a fiscally responsible operating plan."
Shares were trading higher by 3.13 percent in the pre-market session.
Tesla: Price target hike
CNBC's Phil LeBeau tweeted that analysts at Morgan Stanley raised their price target on Tesla (NASDAQ: TSLA) from $153 to $320.
NEW: Morgan Stanley with a BIG price target increase for $TSLA. Raising to $320 from $153.

— Phil LeBeau (@Lebeaucarnews) February 25, 2014
The price target hike is due to the analysts' assumption that the company's volumes will double and the potential to impact industries outside of its automotive niche like batteries.
Tesla's chief executive Elon Musk is expected to reveal details of his "gigafactory" battery plant this week.
Shares were trading higher by 6.25 percent in the pre-market session.
Macy's: Disappointing quarter
This morning, Macy's (NYSE: M) reported its fourth quarter results. The company announced an EPS of $2.31, beating the consensus estimate of $2.17. Revenue of $9.2 billion missed the consensus estimate of $9.27 billion. Net income for the quarter totalled $811 million compared with $730 million in the same quarter last year.
Comparable-store sales rose 1.4 percent in the quarter but the company noted that sales were poor in January given the harsh winter climate. In the month the company saw a seven to eight percent drop in comp sales.
"While we had expected a sales decline in January because of the calendar shift, the month was down further than we had expected and we are very disappointed with sales performance in January," said Terry J. Lundgren, chairman, president and chief executive officer of Macy's, Inc. "In part, poor January sales were due to the unusually harsh winter weather across much of the country. At one time or another during January, 244 Macy's and Bloomingdale's stores were closed because of weather, and the business remained sluggish until Valentines Day. Once warm spring weather arrives and our full assortment of fresh spring merchandise is in place, we believe customers will return to a more normalized pattern of shopping. But based on our experience in January and early February, we are watching business trends closely."
Of note, the quarter only had 13 weeks compared to 14 weeks in the same quarter last year.
Shares were trading lower by 0.85 percent in the pre market session.
SolarCity: Delaying complete financial results
Last night, SolarCity (NASDAQ: SCTY) reported that its fourth quarter revenue was $47.3 million, beating the consensus estimate of $43.1 million. The company announced that it will release its full GAAP fourth quarter results on March 3. The consensus EPS remains at $0.55 per share.
SolarCity did announce that it deployed 103MW of solar systems in the quarter which represents a rise of 32 percent quarter over quarter and 115 percent rise year over year. The company previously guided to deploying 101MW.
The company expects to deploy 78MW to 82MW of systems in the first quarter which, at the midpoint, represents a rise of 74 percent year over year. For full year 2014 the company reaffirmed its previous guidance of 475MW to 535MW.
This morning, analysts at Needham commented that SolarCity's first quarter deployment guidance is likely below the Street expectations. The analysts think that shares will be under pressure in the near-term.
Shares were trading lower by 1.90 percent in the pre-market session.
View Comments and Join the Discussion!
Posted-In: ARIAD Pharmaceuticals Blackberry BlackBerry OS 10.2.1 BlackBerry Q20 Blackberry Z3 Elon Musk Foxconn BlackberryNews Best of Benzinga