Benzinga's M&A Chatter for Thursday Monday February 24, 2014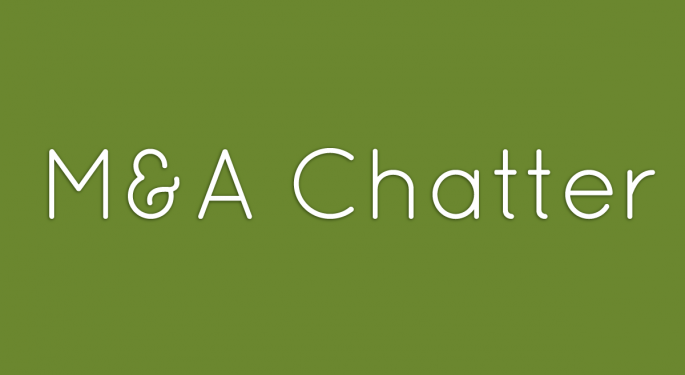 The following are the M&A deals, rumors and chatter circulating on Wall Street for Monday February 24, 2014:
Men's Wearhouse Raises Bid for Jos A Bank to $63.50/Share
The Offer:
Men's Wearhouse (NYSE: MW) announced Monday that it has raised its cash tender offer for all outstanding shares of Jos. A. Bank (NASDAQ: JOSB) to $63.50 per share, up from the previous offer of $57.50 per share. That offer can be raised to $65.00, if Men's Wearhouse is permitted limited due diligence, and is contingent upon Jos. A. Bank terminating its acquisition agreement with Eddie Bauer.
Jos. A. Bank said its Board of Directors will review the revised offer and will make a recommendation to stockholders in due course. Jos. A. Bank shareholder Eminence Capital, said it was pleased with the new offer.
Jos. A. Bank closed Monday at $60.04, a gain of 9%, while Men's Wearhouse closed at $48.51, a gain of 7.5%.
Oracle Acquires BlueKai
The Deal:
Oracle (NYSE: ORCL) announced Monday that it has agreed to acquire cloud-based big data platform BlueKai. Terms of the deal were not disclosed, but reports say the purchase price was approximately $400 million.
Oracle closed Monday at $38.14, a gain of $0.04.
Monster Acquires TalentBin and Gozaik
The Deal:
Monster Worldwide (NYSE: MWW) announced Monday the acquisition of social profile talent search engine TalentBin and developer of social jobs aggregation and distribution technology Gozaik. Terms of the deals were not disclosed.
Monster Worldwide closed Monday at $7.85, a gain of 2.5%.
IBM to Acquire Cloudant
The Deal:
IBM (NYSE: IBM) announced Monday an agreement to acquire database-as-a-service provider Cloudant. Financial terms were not disclosed.
IBM closed Monday at $183.45, a gain of $0.66.
View Comments and Join the Discussion!