Market Wrap For February 24: Markets Showing Strength To Start The Week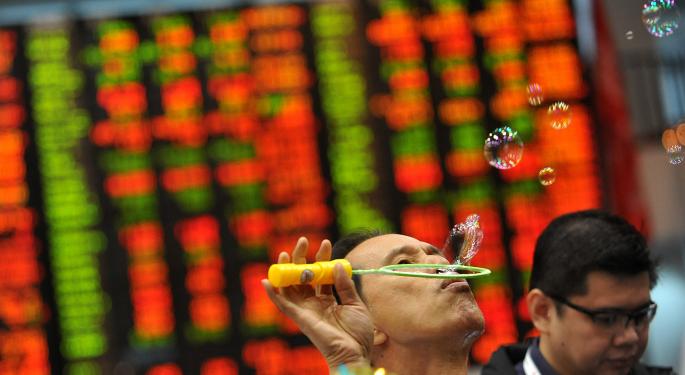 U.S. stocks rose as investors as the S&P 500 traded at new historical highs and clearing its 2014 losses.
Investors shrugged off disappointing earning reports and economic data and chose to focus on several prominent merger and acquisition activities.
The S&P 500 hit a new intra-day all time high of 1,858.71 while the Dow recorded a triple digit point gain, inching higher to its intra-day all time high of 16,588.20.
The Dow gained 0.66 percent, closing at 16,209.13.
The S&P 500 gained 0.62 percent, closing at 1,847.71.
The Nasdaq gained 0.69 percent, closing at 4,292.97.
Gold gained 0.98 percent, trading at $1,336.60 an ounce.
Oil gained 0.52 percent, trading at $102.73 a barrel.
Silver gained 0.95 percent, trading at $21.99 an ounce.
News of Note
January Chicago Fed National Activity Index read -0.39 versus -0.20 expected.
U.S. February PMI Manufacturing Flash read 52.7 in the month versus 56.7 in January.
February Dallas Fed Manufacturing Outlook read 0.3 in the month versus expectation of 2.5 and a prior reading of 3.8.
Eurozone CPI fell 1.1 percent on month in January after rising 0.3 percent in December. On year, inflation stands at +0.8 percent.
The United States and European Union are working on a multi-billion dollar IMF aid package for Ukraine following the ousting of its President Viktor Yanukovych over the weekend. Ukraine says it needs $35 billion in foreign aid over the next two years.
The average price of a new home in China rose nine percent on year in January. In December, housing prices rose 9.2 percent on year.
Equities-Specific News of Note
Netflix (NASDAQ: NFLX) has cut a deal with Comcast to ensure that Netflix subscribers receive a better stream quality. Calling it a "mutually beneficial" agreement, Netflix said that a deal will provide Comcast customers "a high-quality Netflix video experience for years to come." Financial terms of the deal were not disclosed. In a pre-market report, analysts at JPMorgan recommended buying Netflix shares on any dip as "1) a more direct connection should be positive for the Netflix user experience across Comcast's current footprint of nearly 54M homes passed and ~21M broadband subscribers—and managed subscriber total of ~30M with the Time Warner Cable merger; 2) Netflix and Comcast were in interconnect discussions for many months and we believe Netflix likely anticipated some degree of higher costs related to network agreements in its 2014 guidance and target for 400 basis points of Y/Y margin expansion in the Domestic Streaming business; and 3) Comcast's average prime time performance of Netflix streams declined by 27% from October 2013 to January 2014, but Netflix still delivered strong subscriber numbers in 4Q and in its 1Q outlook, suggesting no significant impact to subscriber growth." Shares hit new 52 week highs of $449.53 before closing the day at $446.84, up 3.38 percent.
Analysts at Bank of America downgraded 3D Systems (NYSE: DDD) to Underperform from Buy with a price target lowered to $65 from a previous $90. The analysts noted the downgrade was due to "(1) Organic growth rate peaking in 2014 and incremental topline growth will come at the expense of margins, (2) We view the increased investments as a catchup in spend necessary to stay competitive rather than driving incremental growth, (3) A lot of the M&A while additive to near term growth, in our opinion, will result in diluting LT organic growth and adds integration and execution risk in the interim, (4) A lot of high profile partnerships sound exciting (Motorola Mobility, Hasbro, Hershey's etc.) but success will be predicated on widespread adoption and margin performance driven by such ventures will likely be challenged." Shares lost 5.52 percent, closing at $76.28.
Analysts at KeyBanc downgraded U.S. Steel (NYSE: X) to Hold from Buy while removing a previous $37 price target. The analysts explained the downgraded is due to "stronger than expected flat rolled pricing headwinds, unexpected negative developments in Tubular; the latter has profit and valuation multiple consequences." Shares lost 3.36 percent, closing at $24.16.
Analysts at Bank of America upgraded Verizon (NYSE: VZ) to Buy from Neutral while reiterating a $55 price target. The analysts noted the upgrade is due to "an attractive risk/reward profile, superior fundamental positioning, and potential for post-deal earnings upside. Our price objective of $55 and Verizon's 4.5% dividend yield imply a total return of +21%. VZ now trades at a 5 year low relative PE multiple of 0.86x vs.its 1.15x average over this period. Even referring back to pre-crisis trading '04 to '08, VZ trades at its average of 0.86x. VOD deal-related selling of VZ shares in our view is likely and could drive short-term downside, but looking at pre-crisis valuation lows, we see $43.50 as the downside limit, implying 5% downside net of dividends over a 1 year holding period in a worst case scenario. On balance, we view the risk/reward tradeoff as attractive." Shares lost 1.57 percent, closing at $46.53.
Analysts at Stifel noted that Sina (NASDAQ: SINA) is "preparing to take its microblog business Weibo public in an IPO in 2Q14" and that "We believe Weibo is SINA's single most valuable business and comprises the bulk of SINA's valuation. Our valuation assumption for Weibo continues to be $4.5 billion, which equates to a per daily active user (DAU) valuation of $75 for each of Weibo's 60.2 million daily active users, less than one-third the per DAU valuation of Twitter, we estimate. Based on our valuation, a $500 million initial public offering would represent about 11% of the company. We note that SINA owns about 71% of Weibo. Alibaba owns 18% purchased from SINA at a total Weibo valuation of $3.2 billion. In addition, SINA executives own 11% of Weibo." Shares gained 4.29 percent, closing at $76.08.
Recommended: Mt. Gox Scandal Widens As Hong Kong And Cypress Open Bitcoin Shops
Analysts at Morgan Stanley maintained an Equal-Weight rating on Coca-Cola (NYSE: KO) but struck a cautious tone. The analysts noted "from a fundamental standpoint, higher marketing will likely take time to drive a volume payback, which we expect to be muted, as recent drivers of KO's topline slowdown are likely to linger (US health pressure, China competitive issues, muted EM macros, and now, Mexican taxes). Second, while we had been worried consensus was too high into Q4, even after weak Q4/2014 guidance, the $2.09 2014 consensus (ex stale estimates) is still too high in our minds by 2.5% (we are $2.04). One reason consensus is high is KO guided to 6-8% 2014 FX neutral profit growth, in-line with its LT forecast. We view this as unlikely given $400M of incremental marketing (-3.6% to profit), Mexican taxes (-1.0% to profit), and topline growth below LT forecasts. While bulls would counter KO will have productivity and easy topline comps to drive EPS, profit comps are not easy at +6% and KO's incremental 2014 y-o-y productivity will likely decelerate vs. 2013 (when KO only posted 6% local FX profit growth)." Shares gained 0.86 percent, closing at $37.50.
Analysts at The Buckingham Research Group reiterated a Buy rating on Green Mountain Coffee Roasters (NASDAQ: GMCR) with a $133 price target. The analysts also reiterated a Buy rating on Starbucks (NASDAQ: SBUX) with a $95 price target. The analysts noted "GMCR's dollar sales expanded 13.4% in January period vs 17.4% in December, with company brands sales growth of 7.5% vs.11.5%, and licensed brands sales growth of 18.9% vs 23.1% in January and December, respectively. We estimated GMCR's market share declined slightly to 77.3% of the category in January from 78.4% in December. 3 month average growth remains encouraging in the double-digit range. GMCR's market share is expected to stabilize as the introduction of Kraft's unlicensed brands are lapped ahead. We expect double digit dollar growth in GMCR's company/licensed single serve brands given consistent sell-thru of its brewers, the increased household footprint as well as expanding SKUs and relationships. SBUX single cup dollar sales expanded 45.3% vs. 61.5% in January and December, respectively. SBUX's dollar sales grew 13.9% and 17.7% in January and December, faster than the F1Q14 reported high-single-digit CPG growth. Single-serve market share declined modestly to 14.6% in January vs. 16% in December. SBUX branded whole bean and ground coffee continued to contract." Shares of Green Mountain lost 1.26 percent, closing at $121.49 while Starbucks finished the day unchanged at $72.56.
Carl Icahn wrote a letter to eBay (NASDAQ: EBAY) shareholders with a harsh tone that included calling the company's CEO John Donahoe "completely asleep or, even worse, either naïve or willfully blind." In the letter, Icahn singles out board member Marc Andreesen who has made investments in at least five eBay competitors, four of which are PayPal rivals while sitting on eBay's board. Shares gained 3.17 percent, closing at $56.32.
General Electric (NYSE: GE) plans to spend an additional $10 billion on its "ecoimagination" project by 2020. The company has already invested $15 billion on the project since 2005 focuses on sustainability and other environment issues. According to Reuters, one investment will include studying "Norway's Statoil's use of carbon dioxide in hydraulic fracturing which mixes more than two million gallons of water per well with chemicals and sand to extract oil and natural gas." Shares of General Electric gained 1.40 percent, closing at $25.29.
Related: General Electric To Spend $10 Billion On Green Technology Research
According to Reuters, Target (NYSE: TGT) is expected to be less aggressive with its proposed $4 billion share buyback program following an expensive data breach. Fitch Ratings said that the company would have to risk its credit rating to borrow funds to stay on track with its buyback plans. Shares lost 0.18 percent, closing at $56.14.
Chesapeake Energy (NYSe: CHK) announced that it is pursuing strategic alternatives for its oilfield services which could include selling the unit or spinning it off to shareholders. Shares gained 2.71 percent, closing at $27.29.
Pfizer's (NYSE: PFE) Prevanar 13 pneumonia vaccine has met its primary and secondary goals in a study of 85,000 patients over the age of 65. The drug has the intention of preventing several types of community-acquired pneumonia. Shares gained 1.68 percent, closing at $31.99
The FDA has granted a breakthrough designation to Bristol-Myers Squibs' (NYSE: BMY) Daclatasvir and Asunaprevir combination oral treatment for Hepatitis C. Shares gained 0.31 percent, closing at $54.31.
IBM (NYSE: IBM) is acquiring Cloudant, a provider of cloud database platform for app developers. Terms were not disclosed. IBM has also pledged to invest $1 billion to improve its cloud software offering. Shares gained 0.37 percent, closing at $183.47.
Oracle (NYSE: ORCL) has purchased BlueKai, a developer of a cloud-based data management platform for online, offline and mobile marketing data for around $400 million. Shares gained 0.13 percent, closing at $38.13.
According to Reuters, Las Vegas Sands (NYSE: LVS) is prepared to invest $10 billion in the Japanese market. There is currently a bill in the Japanese government to legalize casinos, but has yet to be finalized and approved. Shares hit new 52 week highs of $85.32 before closing the day at $84.41, up 4.35 percent.
Kellog (NYSE: K) announced a share repurchase authorization of up to $1.5 billion and initiated a tender offer to purchase up to $700 million in senior notes. The company also declared a $0.46 per share quarterly dividend, in line with its prior dividend. Shares gained 1.27 percent, closing at $60.71.
The Phoenix Business Journal reported that Tesla (NASDAQ: TSLA) has been looking at several locations in Arizona for its much anticipated "gigafactory." The paper also stated that Tesla is expected to make an announcement sometime this week over the battery factory. Shares hit new 52 week highs of $218.36 before closing the day at $217.65, up 3.84 percent.
CenturyLink (NYSE: CTL) has implemented a new $1 billion buyback authorization expiring in 24 months. The company plans to begin buying back shares in the second quarter. Shares gained 0.32 percent, closing at $31.19.
Nokia (NYSE: NOK) will launch five new products at the Mobile World Congress, of which three of these devices are Android-based smartphones. The devices named Nokia X, Nokia X+ and Nokia XL will target the low to mid end market in developing countries such as China. Shares gained 2.14 percent, closing at $7.62.
Related: BlackBerry Partners With Ford, Could Signal A Turnaround
Yum Brands (NYSE: YUM) owned Taco Bell plans to begin selling breakfast items such as waffle tacos and bacon wrap in a national roll-out beginning on March 27. Shares gained 0.16 percent, closing at $72.97.
Monster Worldwide (NYSE: MWW) said that it has acquired social profile site TalentBin and social jobs aggregator Goziak in two separate transactions. Shares hit new 52 week highs of $7.93 before closing the day at $7.85, up 2.61 percent.
Cisco (NASDAQ: CSCO) has filed a shelf registration for a debt offering to pay down $3.75 billion in debt maturing in 2014 and to finance its recently hiked dividend and buyback program. Shares lost 0.05 percent, closing at $22.12.
The Indonesian government said that it will ease a controversial tax on mineral concentrate exports for firms that build smelters in the country. The government announcement benefits firms like Newmont Mining (NYSE: NEM) and Freeport McMoRan. (NYSE: FCX) Shares of Newmont Mining gained 1.24 percent, closing at $23.67 while Freeport lost 0.45 percent, closing at $33.21.
Rio Tinto (NYSE: RIO) said that it ended 2013 with a $3.67 billion profit, compared to a $3 billion loss in 012. The company's CEO Sam Walsh said that the company's improved results stem from a strong Chinese economy which is in better shape than recent economic data suggests. Shares lost 1.57 percent, closing at $58.75.
Activist hedge fund Starboard Value wants shareholders to vote at a special meeting on Darden Restaurants (NYSE: DRI) plans to spin off Red Lobster. Starboard Value holds a 5.5 percent stake in the restaurant operator and wants to see the company pin off more than just one chain. Shares closed the day unchanged at $51.01.
VF Corp (NYSE: VFC) said that it plans to expand its North Face brand to include spring and summer apparel given recent strong demand for the brand. Shares gained 0.60 percent, closing at $58.84.
Winners of Note
Men's Wearhouse (NYSE: MW) increased its offer to acquire Jos. A. Bank (NASDAQ: JOSB) to $63.50 per share but will increase its offer to $65 pending a favorable finding in a confidential due diligence. Men's Wearhouse wants Jos. A. Bank shareholders to tender their shares before March 12. Finally, any deal is contingent on Jos. A. Bank negating its plans to acquire Eddie Bauer with Men's Wearhouse covering up to $48 million in any potential termination fee. Shares of Men's Wearhouse gained 7.54 percent, closing at $48.51 while Jos. A. Bank hit new 52 week highs of $60.14 before closing the day at $60.04, up 9.06 percent.
Recommended: Large Diamond Unearthed In Sierra Leone
RF Micro Devices (NASDAQ: RFMD) and TriQuint Semiconductor (NASDAQ: TQNT) will merge in an all-stock deal. TriQuint shareholders will receive 1.675 shares of the newly formed company while RF Micro Devices shareholders will receive one share for each TriQuint or RF Micro share held. According to joint press release, "the merger will create new growth opportunities in three large global markets - mobile devices, network infrastructure and aerospace/defense - with scale advantages, innovative new products and a greatly improved operating model. RFMD and TriQuint together will offer the industry's broadest portfolio of critical enabling technologies to develop and commercialize tightly integrated solutions at record speeds. The combination will foster a new wave of exciting mobile devices that are broadly accessible and offer dramatically higher data throughput, to the benefit of carriers and consumers alike. The combination also creates a leader in infrastructure and defense (with approximately $500 million in annual revenue), with a broad portfolio of products and foundry services supporting applications including radar, next generation base stations, optical communications, and the Internet of Things." Shares of RF Micro Devices surged to new 52 week highs of $7.08 before closing the day at $7.03, up 21.00 percent. TriQuint also surged to new 52 week highs of $11.84 before closing the day at $11.64, up 26.11 percent.
BlackBerry (NASDAQ: BBRY) plans to make its BBM messaging platform available on Microsoft Windows phone and Nokia's recently unveiled X phones. Separately, Ford is set to drop Microsoft as partner for its Sync system and will use BlackBerry's QNX platform instead. Shares of BlackBerry gained 7.55 percent, closing at $9.83.
This morning, GT Advanced Technologies (NASDAQ: GTAT) reported its fourth quarter results. The company announced an EPS of -$0.26, beating the consensus estimate of -$0.36. Revenue of $32.6 million fell short of the consensus estimate of $37.38 million. "Our arrangement to supply sapphire materials to Apple is progressing well and we started to build out the facility in Arizona and staff the operation during the quarter," said Tom Gutierrez, president and chief executive officer. "We are pleased to have Apple as a sapphire customer and to be in a position to leverage our proprietary know-how to enable the supply of this versatile material. While our primary focus during the balance of the year is to continue to execute on our commitments in Arizona, our aim is to position GT not only as an exceptional sapphire supplier to Apple but also as an unparalleled world-class supplier of sapphire material and equipment to a variety of customers. Shares surged to new 52 week highs of $14.32 before closing the day at $14.14, up 16.76 percent.
NQ Mobile (NYSE: NQ) announced an agreement with Samsung to become an authorized reseller. The agreement enables NQ Mobile to sell, distribute and promote the Samsung KNOX mobile security solution for Samsung devices. Shares of NQ gained 6.11 percent, closing at $19.63.
Related: NQ Mobile - Almost All The Way Back
Humana (NYSE: HUM) said that proposed rate cuts to Medicare Advantage plans were not as bad as expected. Health insurers who run Medicare Advantage face a 3.5 percent base payment cut next year, better than the six to seven percent the company previously expected. Shares hit new 52 week highs of $114.76 before closing the day at $113.69, up 10.57 percent.
Decliners of Note
This morning, Dillard's (NYSE: DDS) reported its fourth quarter results. The company announced an EPS of $2.69, missing the consensus estimate of $3.00. Revenue of $2.08 billion missed the consensus estimate of $2.09 billion. Comparable-store sales rose two percent during the quarter but came at the expense of margins as higher markdowns contributed to the company's gross margin rate falling 180 bps to 32.8 percent. Shares lost 6.41 percent, closing at $83.60.
Shares of Sears Holding (NASDAQ: SHLD) were under heavy selling pressure today as investors likely viewed Dillard's poor results as yet another indication of industry wide trends. Investors are likely assuming that Sears will follow suit with poor earnings when the company reports its fourth quarter earnings soon. Shares lost 7.04 percent, closing at $38.05.
Earnings of Note
This morning, HSBC Holdings (NYSE: HSBC) reported that its 2013 pretax profit totaled $22.56 billion, short of the consensus estimate of $24.6 billion. Revenue of $63.3 billion rose from $61.6 billion in the previous year. The international bank warned of "choppy markets" and "changing economic circumstances and sentiment." Shares lost 2.37 percent, closing at $53.04.
After the market closed, Frontier Communications (NYSE: FTR) reported its fourth quarter results. The company announced an EPS of $0.07, beating the consensus estimate of $0.06. Revenue of $1.18 billion was in-line with the consensus estimate.
Quote of the Day
"Real estate is the key cost of physical retailers. That's why there's the old saw: location, location, location." - Jeff Bezos, CEO of Amazon.com in comments made way back in March 2001.
View Comments and Join the Discussion!
Posted-In: 3D Systems Bank of America Blackberry BlueKai Bristol-Myers Squibs Buckingham ResearchNews After-Hours Center Best of Benzinga