Another Automotive Milestone: Honda Appoints Hideko Kunii First Female Board Member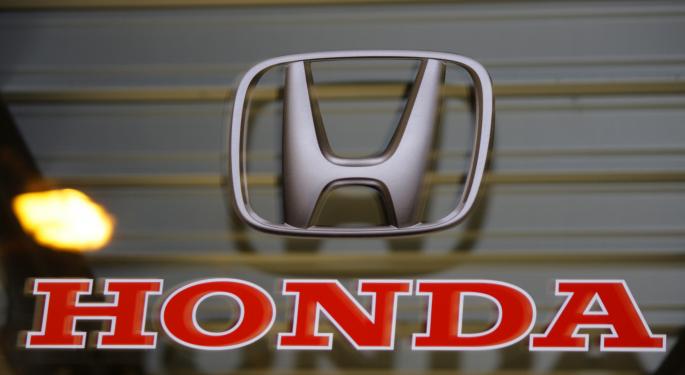 Honda Motor (NYSE: HMC) is diversifying its management by appointing the company's first female board member and first foreign operating officer, Automotive News reports.
Hideko Kunii, 66, will join the 13-member, all-male board this summer. Kunii is an engineering professor at the Shibaura Institute of Technology and will be the second director outside of Honda on the board.
Neither Toyota Motor (NYSE: TM) nor Nissan Motor (OTC: NSANY) have appointed women as board directors.
The Japanese automaker also promoted Issao Mizoguchi to operating officer. Mizoguchi is a Brazilian national, according to Bloomberg, and was most recently the senior vice president of Honda South America.
Reuters reports that big Japanese companies are working to diversify leadership in an effort to strengthen administrations and global perspective.
The Japanese, in particular, have been accused of not having any diversity on their boards, independent automotive analyst Michelle Krebs told Benzinga.
"We're operating in a global auto industry with a great diversity of car buyers," she said, "and it's important to have different voices on the boards making decisions about products and services."
While the operating officer appointments will take effect in April, board members must be approved by shareholders in June.
Honda reported a 2.1 percent year-over-year decrease in sales for the month of January, citing record cold weather that affected industry sales across the United States.
Industry Women
General Motors (NYSE: GM) made history this past December by appointing Mary Barra as its chief executive officer. Barra is the first female CEO of a global automaker.
Related: General Motors Ends Government Bailout, Announces First Female CEO
Kunii's appointment is very significant, Krebs said.
"Certainly, I was expecting Mary Barra, but I wasn't expecting a Japanese automaker to appoint a women to a board any time soon," she said.
But Krebs said these women aren't being chosen just because of their gender.
"Women have been in the industry long enough that they have acquired the expertise, and it's time to move them up to these positions," she said.
Following the appointments of Barra and Kunii, Krebs thinks even Ford and Chrysler are going to be under pressure to move women up.
Women in the Corporate World
According to a Catalyst census of Fortune 500 companies, women held only 16.9 percent of board positions in 2013, marking the eighth straight year of no significant increase.
Only 14.6 percent of executive officer positions are held by women. Women of color had only 3.2 percent of board seats, and 10 percent of companies had no women serving on their boards at all.
Posted-In: Japan Mary BarraNews Management Global Best of Benzinga
View Comments and Join the Discussion!