Top Trending Tickers On StockTwits For February 20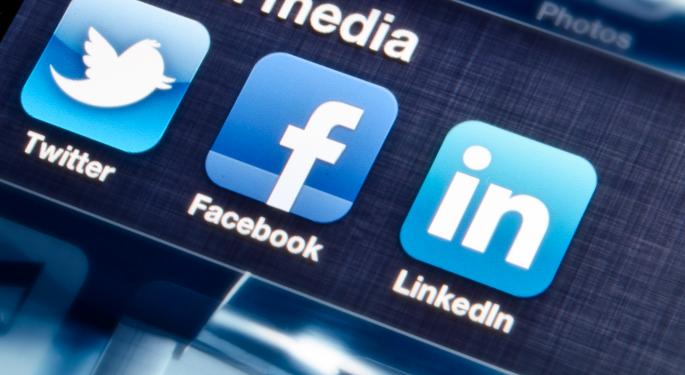 Here's a look at the top tickers trending on StockTwits.com
Facebook: $16 billion acquisition
On Wednesday, Facebook (NASDAQ: FB) announced that is acquiring mobile messaging leader WhatsApp for $16 billion in stock and cash in addition to $3 billion worth of restrict stock units. WhatsApp has 450 million monthly average users, 70 percent of which are active on a regular basis.
"WhatsApp is on a path to connect 1 billion people. The services that reach that milestone are all incredibly valuable," said Mark Zuckerberg, Facebook founder and CEO. "I've known Jan [WhatsApp co-founder and CEO] for a long time and I'm excited to partner with him and his team to make the world more open and connected."
Jan Koum, WhatsApp co-founder and CEO, said, "WhatsApp's extremely high user engagement and rapid growth are driven by the simple, powerful and instantaneous messaging capabilities we provide. We're excited and honored to partner with Mark and Facebook as we continue to bring our product to more people around the world.
Shares were trading lower by 1.84 percent in the pre-market session.
Tesla: Growth story intact
Tesla (NASDAQ: TSLA) reported its fourth quarter results after the closing bell yesterday. The company beat the consensus EPS by $0.12 but came short of the revenue expectations.
Investors focused on Tesla's guidance which support the company's growth story is intact.
Tesla expects to deliver 35,000 Model S vehicles in 2014, a 55 percent increase over 2013 levels. Production is expected to increase to 1,000 cars per week by the end of the year as the company expands its factory.
Tesla expects automotive gross margin to increase to about 28 percent in the fourth quarter through design improvements and economies of scale.
"Operating expenses and capital expenditures will increase significantly in 2014, as we plan to invest in the long term growth of Tesla," Tesla said in a press release. "We plan to expand production capacity for Model S and Model X, invest in our store, service and Supercharger infrastructure, complete the development of Model X and start early design work on our third generation car."
Shares were trading higher by 11.75 percent in the pre-market session.
BlackBerry: Will BBM fetch a high price?
Investors are looking at Wednesday's Facebook acquisition of WhatsApp as a sign that BlackBerry's (NASDAQ: BBRY) BBM instant messaging service could fetch a high valuation in the event that BlackBerry management decides to sell off the division.
BlackBerry has previously flirted with the idea of spinning off its messaging service that would operate as a stand-alone division with more independence.
With no clear buyers in sight that have demonstrated an interest in buying the BBM message service, investors remain hopeful that a deal may occur in the future.
Shares were trading higher by 6.10 percent in the pre-market session.
Wal-Mart: EPS beat, revenue miss, poor guidance
This morning, Wal-Mart (NYSE: WMT) reported its fourth quarter results. The company announced an EPS of $1.60, beating the consensus estimate of $1.59. Revenue of $129.7 billion missed the consensus estimate of $130.44 billion.
Sales grew 2.4 percent in the U.S. but comparable stores sales growth declined 0.4 percent in the quarter. Sam's Club saw a 0.1 percent drop in revenue. The Neighborhood Market store format saw comp gains of five percent. Wal-Mart international saw sales growth of 1.3 percent to $136.5 billion.
The company offered guidance and expects its first quarter EPS to be $1.10 to $1.20, below the consensus of $1.24.
"Our company grew net sales this year to reach more than $473 billion. Global eCommerce sales, including acquisitions, surpassed the $10 billion mark, a 30 percent increase over last year," said Doug McMillon, Wal-Mart Stores, Inc. president and chief executive officer. "We will continue to grow our global business by focusing on customers and serving them how they want to be served."
Shares were trading lower by 2.07 percent in the pre-market session.
Conn's: In big trouble
This morning, Conn's (NASDAQ: CONN) announced preliminary fourth-quarter fiscal 2014 and full year 2015 earnings guidance.
Conn's sees its fourth quarter EPS to be $0.75 to $0.80, below the consensus estimate of $0.93. The company sees its Fiscal 2015 EPS to be $3.40 to $3.70, lower than the consensus estimate of $3.96. The company previously guided its full year EPS to be $3.80 to $4.00.
"Credit segment performance did not keep pace and delinquency and charge-offs rose in December and January. Sales driven portfolio growth combined with seasonal portfolio increases placed pressure on our collections operation and execution deteriorated," the company said in a press release. "Sustained below-normal temperatures and the related higher energy costs in some of our markets also temporarily impacted our consumer's income available for debt service."
Shares were getting hammered by 37.28 percent in the pre-market session.
View Comments and Join the Discussion!
Posted-In: BBM Blackberry Conn's Doug McMillon Jan Koum Mark Zuckerburg Model SNews Best of Benzinga