Tesla Earnings Preview: Will Investors Continue To Be Impressed For Years To Come?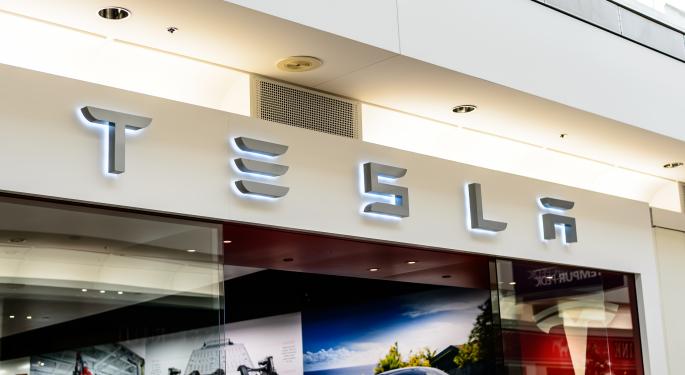 Tesla (NASDAQ: TSLA) is scheduled to report its fourth quarter results after the closing bell on Wednesday. The company is expected to earn $0.18 per share on revenue of $657.15 million.
As shares of Tesla recently surpassed the $200.00 mark, investors are expecting the company to impress shareholders to justify a higher valuation.
Stifel: Demand to outpace sully
James Albertine, analyst at Stifel offered a cautious recommendation on shares. Albertine shied away from recommending shares of Tesla mostly due to a prolonged development cycle bridging the gap between the Model S and the Gen III vehicles.
"We are significantly dialing back our unit growth assumptions (through 2016) as we believe Tesla will continue to allow demand to slightly outpace supply," Albertine wrote in a note to clients on February 19. "We see ramping competition and looming investments as key threats, and [we] our adjusting operating expense assumptions accordingly."
Albertine warned that Tesla's brand name is not sufficient to gain market share when the company begins delivering its Gen III vehicle which will compete in the sub-$50,000 price point.
"As lower price point consumers tend to approach vehicles as utilities, rather than accessories, we believe Tesla's brand remains susceptible to demand erosion from highly-publicized vehicle and/or charging related incidents."
As investors continue to speculate that Apple (NASDAQ: AAPL) is interested in acquiring Tesla, Albertine wrote "we think a takeout is unlikely as management would likely have to remain to rub the business, and well, our sense is management might not like to be managed."
Albertine raised his fourth quarter EPS forecast from $0.17 to $0.23. Looking forward to the first quarter 2014, Albertine lowered his EPS forecast from $0.36 to $0.31.
Shares are Hold rated with no assigned price target.
Bank of America: Not one bit convinced
John Lovallo II, analyst at Bank of America, updated his Tesla forecasts following the Detroit Auto Show where Tesla pre-announced better than expected fourth quarter Model S volume of 6,9000 units.
"Given stronger than anticipated demand in the quarter, which was encouraging, we are raising our forecasts," Lovallo wrote in a note to clients on January 15. "Specifically, we are raising our 2013e EPS from $0.65 to $0.75, 2014e from $1.85 to $2.00, and 2015e from $2.15 to $2.75."
While a revised EPS projection upward sounds positive, Lovallo further explained that using a multiple of 15x on the average 2015 estimate EV/EBITDA for a group of 35 technologies as a comp set for Tesla yields a price target of $65.
Looking forward to 2020, the analysts' bearish views remain un-changed.
"Despite our revised forecasts, we estimate Tesla would need to sell approximately 330K vehicles per year by 2020, or 15X expected 2013 volume, to begin to justify its current market price," Lovallo explained. "Furthermore, we estimate that luxury vehicle EBIT margins of about 11.5% would be required on this volume, which appears a stretch given that the majority of the company's sales will likely be attributable to the more mass market oriented Gen 3 model by that time."
Bottom line, "we believe significant fundamental headwinds confront Tesla's current stock price and that another sharp correction could be forthcoming."
Shares are Underperform rated with a $65 price target.
FBR Capital: Tesla has solid margins already priced into the stock
Aditya Satghare, analyst at FBR & Co initiated coverage of Tesla on February 18. Satghare is a believer of Tesla's management's ability to execute in the ever competitive auto industry. In fact, according to Satghare, Tesla has the potential to be one of the most profitable premium auto manufacturers by the end of the decade.
But the end of the decade is still a long way out.
"We believe that sustained upside in the stock from current levels will be dependent on rapid success of the Gen 3 model and sizable expansion in China, and we expect limited clarity on these items until at least 2016," Satghare wrote in the coverage initiation note to clients while adding "We believe that the current stock price fully captures Tesla's evolution into a premium auto manufacturer with sustainable industry-leading margins similar to those of Porsche."
Satghare noted that Tesla has already proved itself capable of launching a successful electric vehicle in a limited capacity. The pressure is now on for the company to duplicate its success in new geographies and new product lines such as the Model X and the Gen III vehicles.
Satghare has a "fair value" price range of $100 (derived from a 9x 2017E EBITDA) to $200 (derived from a 13x 2017E EBITDA).
Shares are Market Perform rated with a price target of $150.
View Comments and Join the Discussion!
Posted-In: Aditya Satghare Apple Rumors Elon Musk FBR GenIIINews Previews Trading Ideas Best of Benzinga