Chinese Plan Calls For Massive Growth In LED Technology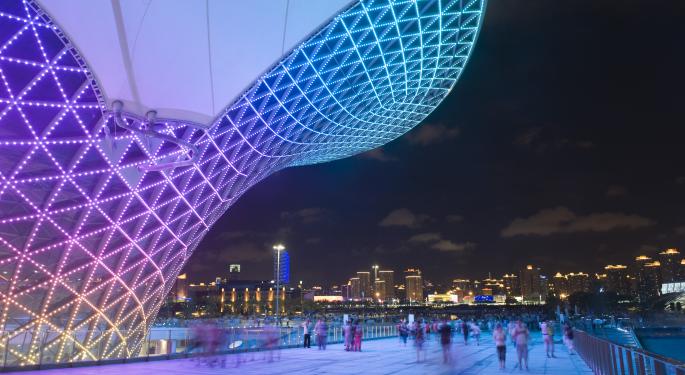 The race for overall light-emitting diode (LED) production is on, as the new, energy-efficient lighting technology gains momentum worldwide
LEDS are quickly becoming a widespread and less-expensive alternative to incandescent and florescent lighting.
Last month, Taiwan's Digitimes reported Japan should remain the world's largest LED market in 2014, with a global share of 25.6 percent – followed by North America (23.1 percent), Europe (20.3 percent) and China (16 percent).
But a new Digitimes Research report says the Chinese government has set a $164 billion production target for all LED products by 2020, with 70 percent of the 2020 goal to come from LED lighting alone.
And that 2020 target is double the amount established for 2015, as part of China's 12th national Five-Year Plan.
Related: The Economics Of Valentine's Day: The Money Behind The Love
Digitimes says there are two factors currently driving the growth in China's LED sector.
First, the number of Chinese living in large urban areas is expected to rise – from 52.4 percent of the population in 2012 to 60 percent by 2020 – which will push up demand for both indoor and outdoor LED products. Demand for LED street lamps in China this year, for example, is estimated at 1.68 million lamps.
China's transportation infrastructure, meanwhile, is also growing rapidly; with the nation expected to add significantly to its railway, subway and intercity freeway systems by 2015. Those additions will also call for more LED lighting.
Last year, Lux Research projected the LED market to grow more than 12-fold over the next decade, with an compound annual growth rate of 25 percent.
"As LED packages rapidly fall in cost and improve in efficiency, the cost structure of LED luminaires will shift, and present opportunities in other components such as secondary optics and drivers," Christopher Hwang, Lux Research Associate, said in a press statement.
"This trend, in turn, influences the rate of adoption of emerging technologies," he added, "such as alternating current (AC) LEDs and high-CRI LEDs in recessed modular, high-bay and roadway luminaires."
Posted-In: News Emerging Markets Eurozone Commodities Global Economics Markets Tech Best of Benzinga
View Comments and Join the Discussion!