Benzinga's M&A Chatter for Thursday February 13, 2014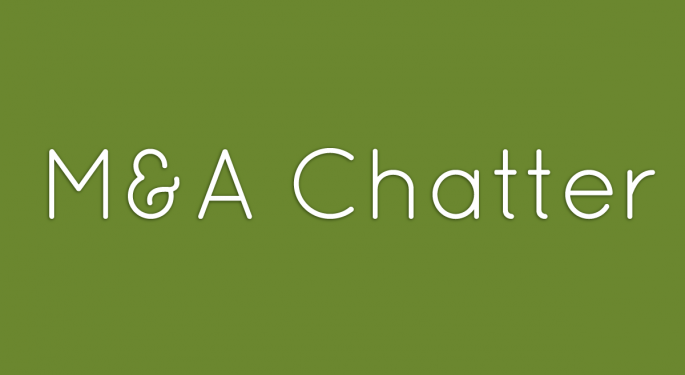 The following are the M&A deals, rumors and chatter circulating on Wall Street for Thursday February 13, 2014:
Comcast Acquires Time Warner Cable for Approximately $159.00/Share in All-Stock Deal
The Deal:
Comcast (NASDAQ: CMCSA)(NASDAQ: CMCSK) and Time Warner Cable (NYSE: TWC) announced Thursday that their Boards have approved a an agreement for the two companies to merge. Comcast will acquire Time Warner Cable in an all-stock transaction, valued at approximately $45.2 billion, or $158.82 per share.
Under the terms of the agreement, each Time Warner Cable share will be exchanged for 2.875 shares of CMCSA. The deal is expected to close by the end of 2014, subject to shareholder and regulatory approval.
Time Warner Cable closed Thursday at $144.81, a gain of almost 7%. Comacast lost 4% to close at $52.97.
PhotoMedex to Acquire LCA-Vision for $5.37/Share in Cash, or $106M
The Deal:
PhotoMedex (Nasdaq: PHMD) and LCA-Vision (NASDAQ: LCAV) announced Thursday an agreement whereby PhotoMedex will acquire provider of laser vision correction services, LCA-Vision, for $5.37 per share in cash, or approximately $106.4 million.
This deal is subject to a 30-day "go shop" period, and is expected to close in Q2 2014.
LCA-Vision closed Thursday at $4.25, and rose 26%, after-hours. PhotoMedex closed at $13.88, a gain of $0.10.
Report Citrix Systems Exploring Sale
The Rumor:
Shares of Citrix Systems (NASDAQ: CTXS) surged higher Thursday on a report from Dealreporter that the company is under pressure from an activist investor to explore strategic alternatives. Citrix shares have fallen from a recent high around $76.00 in September to a low of around $51.00 at the end of January.
A spokesperson for Citrix Systems was not available for comment.
Citrix Systems closed Thursday at $57.64, a gain of almost 2.5%.
View Comments and Join the Discussion!