Two-Man Startup Attracts JPMorgan And Goldman Sachs, Other Clients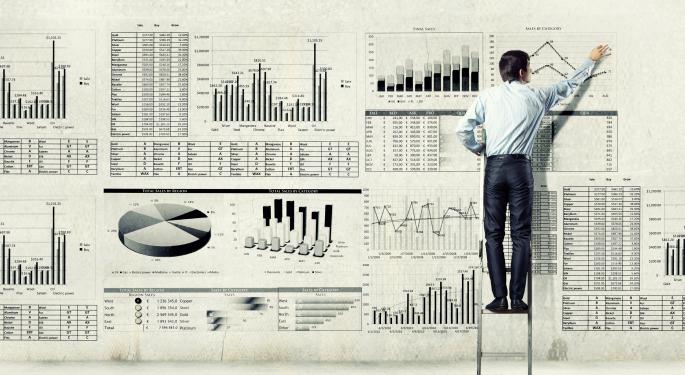 Thinknum.com -- a new bootstrapped, two-man startup -- is gaining traction on Wall Street.
The company has built an open Web platform for financial analysis, and some of the industry's biggest players are starting to take notice.
"We're basically bringing [the] tools of Wall Street to the masses," Justin Zhen, co-founder of Thinknum, told Benzinga. "Our goal is to collect a lot of insights. So instead of only 20 Wall Street analysts covering a stock, we want hundreds of thousands of people around the world covering a stock."
Zhen and his co-founder, Gregory Ugwi, run the company out of a home office, but they recently moved to New York to get closer to the financial sector.
"[Investors] can look at other people's analysis, apply different models to different stocks, see which input they use -- so we're extremely transparent," said Zhen. "Instead of just us saying, 'I think Google is going to go to $1,000,' let's focus on why -- what are the inputs that you use, what is the underlying model? That's how we're different from the existing platforms out there."
Related: Hulu Vs. Snapchat - Which Startup Is Worth More?
That difference has gotten the attention of some big players on Wall Street, including JPMorgan and Goldman Sachs. These clients pay good money to take full advantage of the Thinknum platform, but individual investors can sign up for free as long as they agree to publicly share their analyses.
Why Trust An Average Joe?
Obviously there are some risks in trusting everyday investors who may not be held to the same standards as a professional analyst on Wall Street. They may not reveal which companies they actually invest in, or discuss how their analysis may impact their own portfolios.
"The crowd will decide how good the model is," Zhen insisted, adding that investors will collectively determine whose analysis can be trusted. This will allow others to cut through the noise.
"You look at the subprime crisis -- there were many individual investors and very small hedge funds (guys in their garage) who saw it coming and made a lot of money off of it before Wall Street ever did," Zhen explained. "So our platform is a way for people like that to get their voice heard, to be able to post their analysis and hopefully be able to help prevent [things like this] in the future."
Social Engagement
Traders have become very social over the past few years. They frequently turn to Twitter to share news and ideas, and Zhen hopes that Thinknum can benefit from that.
"Traders are always talking to each other, talking about where they think the market is going, sharing opinions," said Zhen. "If you look at the Web today, you can see many platforms where people are doing this already (for example, Twitter). People are always [using it] to say where they think things are headed. We're just providing more transparency behind that analysis."
Related: 5 Companies Google Should Acquire Next
Long-term, Zhen hopes to offer a way for investors to make money from their analyses.
"So if it's proven that your model is accurate and [of] good quality, you could potentially charge people to access your model," he said.
Thinknum could also provide investors with a way to get recognition for their accomplishments.
"If you don't work on Wall Street but you have great analysis, no one's going to hear about you otherwise," said Zhen. "So we're a domain for, say, a woman in India to share her expertise with an investor in New York."
Disclosure: At the time of this writing, Louis Bedigian had no position in the equities mentioned in this report.
View Comments and Join the Discussion!
Posted-In: Justin Zhen ThinknumStartups Tech Interview Best of Benzinga