Benzinga's M&A Chatter for Tuesday February 11, 2014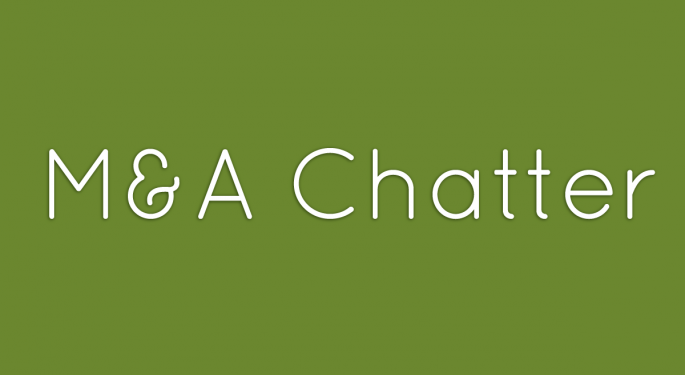 The following are the M&A deals, rumors and chatter circulating on Wall Street for Tuesday February 11, 2014:
Mallinckrodt to Acquire Cadence Pharmaceuticals for $14.00/Share in Cash
The Tender Offer:
Mallinckrodt (NYSE: MNK) and Cadence Pharmaceuticals (NASDAQ: CADX) announced Tuesday that they have agreed that a subsidiary of Mallinckrodt will commence a tender offer to acquire the outstanding shares of Cadence for $14.00 per share in cash or approximately $1.3 billion.
The tender offer is expected to be completed in March 2014
Cadence Pharmaceuticals closed Tuesday at $14.00, a gain of more than 26%. Mallinckrodt closed at $66.19, a gain of more than 11%.
Report Violin Memory had Potential Buyers Prior to September IPO
The Rumor:
Shares of Violin Memory (NYSE: VMEM) rose Tuesday, on a report from The Deal that the company had potential buyers showing interest in the company prior to its September 2013 IPO. According to sources, those companies included Hewlett-Packard (NYSE: HPQ), Seagate Technology (NASDAQ: STX), IBM (NYSE: IBM), Samsung (OTC: SSNLF) and EMC (NYSE: EMC).
Violin Memory did not respond to Benzinga's request for a comment on the story.
Violin Memory closed Tuesday at $32.95, a gain of 35%. Microchip Technology closed at $4.01, a gain of 8%.
j2 Global Acquires Australian Companies OzeFax and Faxmate; Terms Undisclosed
The Deal:
j2 Global (JCOM) announced Tuesday, the acquisition of the Internet fax business of two Australian companies, OzeFax and Faxmate. Terms were not disclosed.
j2 Global closed Tuesday at $46.50, a gain of almost 2%.
View Comments and Join the Discussion!