Benzinga's M&A Chatter for Thursday February 6, 2014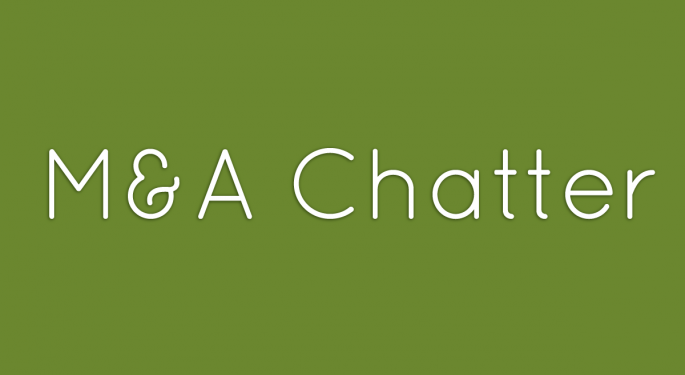 The following are the M&A deals, rumors and chatter circulating on Wall Street for Thursday February 5, 2014:
OpenTable Acquires Ness for $17.2M in Cash
The Deal:
OpenTable (NASDAQ: OPEN) announced Thursday that it has acquired provider of mobile personalized restaurant recommendations, Ness Computing, for approximately $17.2 million in cash. The acquisition will be recorded in the Q1 2014 financial statements of OpenTable.
OpenTable closed Thursday at $75.41, but traded down 8% after-hours, as the company reported lowered guidance.
Carlyle Group to Acquire ITW's Industrial Packaging Segment for $3.2B
The Deal:
Illinois Tool Works (NYSE: ITW) announced Thursday that it has agreed to sell its Industrial Packaging Segment to Carlyle Group (NASDAQ: CG) for $3.2 billion. The deal, first reported by the New York Post early Thursday, is expected to close by mid-year.
Illinois Tool Works closed Thursday at $78.12, a gain of $0.53, while Carlyle Group closed at $33.99, a gain of almost 5%.
LinkedIn to Acquire Bright for $120M in Cash, Stock Deal
The Deal:
LinkedIn (YSE: LNKD) announced Thursday it agreed to acquire Bright for approximately $120 million, consisting of 73 percent stock and 27 percent cash. Bright leverages data insights and matching technology to connect prospects and employers.
The deal is expected to close during Q1 2014.
LinkedIn closed Thursday at $223.45, but traded as low as $191.13 after-hours, as the company announced a penny earnings beat.
Pyramid Oil, Yuma Energy to Merge in All-Stock Transasction
The Deal:
Pyramid Oil (NYSE MKT: PDO) and Yuma Energy announced Thursday that they have agreed to merge in an all-stock transaction. At today's closing price of $5.60 per Pyramid share, the deal would be valued at 369.60 million. Yuma stockholders will own approximately 93% of the post-merger company.
The deal is expected to close in mid-2014.
Pyramid Oil closed Thursday at $5.60, a gain of almost 3%
View Comments and Join the Discussion!