Sam Zell On Microsoft, National Issues And Future Hopes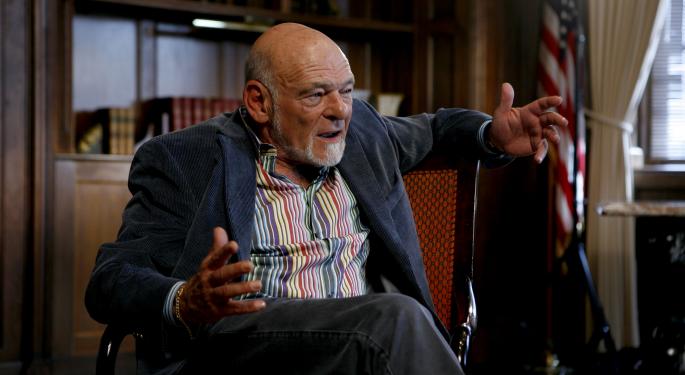 Chairman and co-founder of Equity Group Investments Sam Zell appeared on Bloomberg Television with host Betty Liu Wednesday where he commented on Microsoft's (NASDAQ: MSFT) new CEO, Satya Nadella, among other things, including liquidity in the market, health care, and philanthropy.
"I think that the challenge of trying to identify a CEO for a company as iconic as Microsoft is almost an impossible task," said Zell.
He thinks that their choice to go with an insider that's mostly unknown to the public is "probably is a reflection of the risk appetite of the board" and that it was probably a smart move.
"We've had a number of examples, whether it be Hewlett-Packard (NYSE: HPQ) or some of the others, where they brought in superstars to take over companies that really didn't know the companies that well and made a lot of mistakes. I think this was a safe decision. I don't know the gentleman, but somebody who's been part of the culture – ultimately culture prevails. And I think it's probably going to prove to be a good decision," said Zell.
 Zell also commented on the Congressional Budget Office's numbers regarding the Affordable Care Act that estimate the equivalent of nearly 2 million jobs will be lost in hours decreases for workers to keep their federally subsidized healthcare benefits
"I think the issue is not 2 million jobs. I think the issue is what is the contribution to the GDP of – or lack of contribution of 2 million people not working. We both know lots of people who have kept their jobs because they couldn't afford to lose their healthcare. Now they can access healthcare from exchanges, and all of a sudden keeping a job isn't as relevant as it was before," said Zell.
Zell believes that economic activity has not correlated with the price of the stock market, noting that it was up around 30 percent last year with no real significant growth coming from consumers.
"So from our perspective it's a function of too much liquidity," said Zell, highlighting that 2014 will be more reflective of the economic realities.
"The market went up 30 percent last year. Did the American people buy everything in sight? No. So what's the relevance now? I don't think the market has a dramatic impact on buying and selling decisions unless it's such a prolonged period like we had in '08 and '09 that it really dampens everything," Zell continued.
Related: Top Trending Tickers On StockTwits For February 6
Zell went on to Comment on Bill and Melinda Gates' charitable works; and shared his own thought on philanthropy.
"Certainly the world is – is getting to be a better place because of what Bill and Melinda Gates are doing. So I have nothing but accolades for what they're doing. How effective it is we'll find out 30 or 40 years from now," said Zell.
 "I'm more than likely to give away well over – significantly more than half of my net worth. And that's what I'm going to do. I don't need anybody to call me and suggest it, or in effect put me in a position where – use social pressure. I built my fortune and I'm going to dispose of it as I see fit," said Zell.
Zell said that he wants to "use philanthropy to create change…I want my name on programs. I want to both contribute capital and contribute my own efforts to make a difference. And whether it be the entrepreneurship at the University of Michigan or various other creating writing programs and creative [efforts], these are all parts of making a difference.
Jason Cunningham had no position with the mentioned entities while writing this article. Visit Jason on Twitter at @JasonCunningham and @Benzinga.
Posted-In: Affordable Care ActNews Movers & Shakers Politics Global Economics Media General Best of Benzinga
View Comments and Join the Discussion!