Benzinga's M&A Chatter for Tuesday February 4, 2014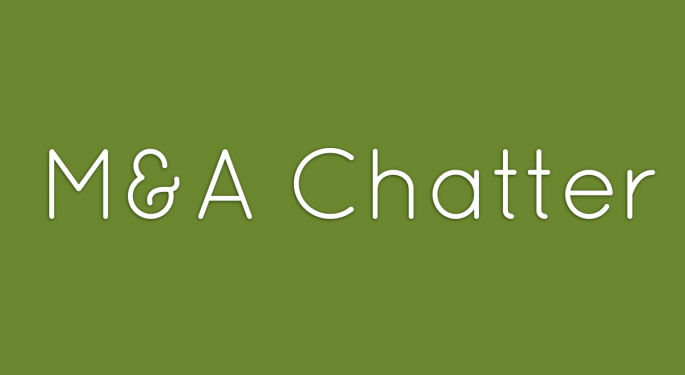 The following are the M&A deals, rumors and chatter circulating on Wall Street for Tuesday February 4, 2014:
Myriad Genetics to Acquire Crescendo Bioscience for $275M in Cash
The Deal:
Myriad Genetics (NASDAQ: MYGN) announced Tuesday that it has agreed to acquire Crescendo Bioscience for $270 million in cash. The deal is expected to close before the end of Myriad's FY 2014,
Myriad also reported strong earnings and guidance, after the close on Tuesday.
Myriad Genetics closed Tuesday at $27.18, and traded as high as $32.40 after-hours.
Entegris to Acquire ATMI for $34/Share in Cash
The Deal:
Entegris (NASDAQ: ENTG) and ATMI (NASDAQ: ATMI) announced Tuesday that the Boards of Directors of both companies have approved an agreement, whereby Entegris will acquire ATMI for $34.00 per share in cash, for a total equity value of approximately $1.15 billion on a fully-diluted basis. The deal is expected to close in Q2 2014.
ATMI closed Tuesday at $33.79, a gain of 25.5%. Entegris closed at $11.43, a gain of 11%.
Silver Standard to Acquire Marigold Mine for $275M in Cash
The Deal:
Silver Standard Resources (NASDASQ: SSRI) announced Tuesday an agreement to purchase 100% of the Marigold mine for $275 million in cash from subsidiaries of Goldcorp (NYSE: GG) and Barrick Gold (NYSE: ABX). Silver Standard expects the deal to close in April 2014.
Silver Standard Resources closed Tuesday at $7.56, a loss of 1.5%.
View Comments and Join the Discussion!