Mark Zuckerberg Talks Facebook's 10-Year-Anniversary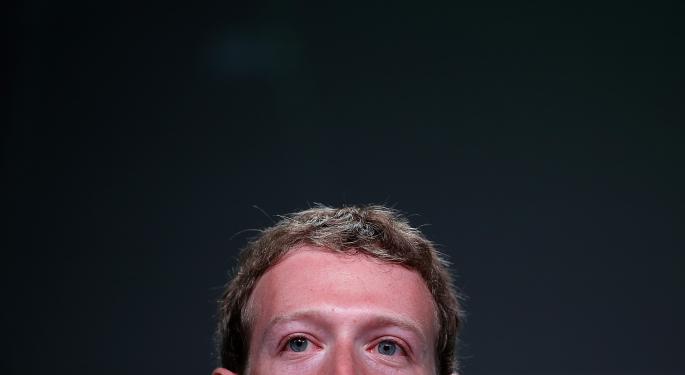 Facebook (NASDAQ: FB) chairman and CEO Mark Zuckerberg appeared on NBC's Today for an exclusive interview with Savannah Guthrie on the company's 10-year-anniversary Tuesday morning, where he discussed the company's past, current and future cultural impact amongst other things.
"It's been a pretty amazing journey, and you know, it's so rare to have the opportunity to touch a billion people's lives," said Zuckerberg regarding his feelings ten years after Facebook's launch.
Despite analysts' concerns, he confirmed that both Facebook and app Instagram are "really popular" with teens nationally and internationally; and noted that as social sharing technology progresses, users will want to use more forms of engagement. Zuckerberg suggested that Facebook will continues to be a strong player within a mix of social platforms. They focus on every demographic in every country, he said.
"You can see that engagement is growing and we're helping more and more people connect," said Zuckerberg while highlighting the benefit of sharing information as a public company when successful.
While Facebook has experienced periods where people lost faith in their ability to connect the world, Zuckerberg has learned from the company's shaky times and is confident about its future being bright.
Related: Twitter Earnings Preview: Humble Beginnings
"I've spent a lot of late nights pacing around my living room, um, you know, with teammates where I'm just trying to plot out where our next move can be in order to keep pushing forward on this mission, but there's always a next move," said Zuckerberg.
While commenting on some of the bad press that Facebook got for their part in the NSA surveillance scandal, Zuckerberg included that while Americans want to be protected, "the government made a lot mistakes" with it's NSA surveillance programs regarding their honesty in "what they were using information for." Despite the controversial spotlight hovering over them, Google, Microsoft and others, the company moved on with little backlash and is looking forward to its next 10 years.
"I remember really vividly, you know, having pizza with my friends a day or two after I opened up the first version of Facebook at my school. And, you know, I was just really excited that we were doing it at one school. And, you know, at the time I thought, 'You know, someone needs to build a service like this for the world'," said Zuckerberg in the unedited interview, which was condensed for Today.
"I always thought that was this incredibly important thing to have happen. But I just never thought that we'd be the ones to help do it. And, you know, when I look back over the last ten years one of the questions that I ask myself is why were we the ones to help do this? And I think a lot of what it comes down to is - we just cared more."
Jason Cunningham had no position with the mentioned entities while writing this article. Visit Jason on Twitter at @JasonCunningham and @Benzinga.
Posted-In: commentsNews Movers & Shakers Management Hot Tech Media General Best of Benzinga
View Comments and Join the Discussion!