Market Wrap For February 3: Bears In Complete and Absolute Control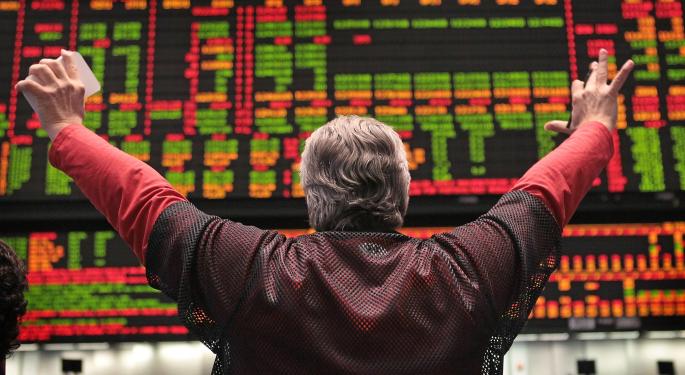 U.S. stocks continued its losses on an accelerated basis on Monday. Investors are in clear panic mode following a report that U.S manufacturing activity expanded at a slower pace in January.
The Dow plunged more than 300 points while the S&P 500 and Nasdaq both fell more than two percent as investors woke up to worrisome news that China's manufacturing PMI came in at a six month low.
Related: The Market's Key Question: Is a Crisis on the Horizon?
The Dow lost 2.08 percent, closing at 15,372.80.
The S&P 500 lost 2.28 percent, closing at 1,741.89.
The Nasdaq lost 2.61 percent, closing at 3,996.96.
Gold gained 1.47 percent, trading at $1,258.00 an ounce.
Oil lost 0.89 percent, trading at $96.62 a barrel.
Silver gained 1.12 percent, trading at $19.33 an ounce.
News of Note
U.S. January PMI Manufacturing increased to 53.7 from December's 55.0.
U.S. January ISM Manufacturing Index fell to 51.3 from a previous reading of 57.0.
China's non-manufacturing PMI fell to 53.4 in January from December's 54.6. This marks the index's lowest level since 2008 in January.
December Construction Spending rose 0.1 percent, lower than the previous reading of 0.8 percent.
U.K manufacturing PMI fell to 56.7 in January from December's 57.2.
German manufacturing PMI rose to a 32 month high of 56.5 in January from December's 54.3.
As a whole, the Eurozone manufacturing PMI also increased to a 32-month high of 54 in January from December's 52.7.
Equities-Specific News of Note
Analysts at RBC said that Twitter's (NYSE: TWTR) fourth quarter consensus estimate of an EPS loss of two cents on revenue of $216.86 million is "achievable" and the micro-blogging site should show year over year ad sales and monthly active user growth of 121 percent and 38 percent, respectively. Analysts at Cantor also expects a strong fourth quarter but reiterated a sell rating.
Analysts at Guggenheim upgraded Goldman Sachs (NYSE: GS) to Buy from Neutral with a $200 price target. The analysts cited strong investment banking activities as well as a bounce in brokerage fees and expectations that momentum can continue. Shares lost 2.65 percent, closing at $159.77.
Analysts at Bank of America downgraded Zynga (NASDAQ: ZNGA) to Underperform from Neutral with a $3.80 price target. The analysts noted ""The 2014 outlook likely assumes the success of new titles in the back half, as well as stabilization of existing brands. We have modeled in Poker stabilization and growth in core-Zynga, but we lack product roadmap visibility to support a more optimistic view." Shares gained 2.05 percent, closing at $4.49.
Analysts at Deutsche Bank added Nu Skin (NYSE: NUS) to its Short-Term Buy List. The analysts believes that the company will receive a satisfactory resolution to it's Chinese regulatory issues soon. Shares lost 2.80 percent, closing at $82.77.
Analysts at Wells Fargo downgraded Mattel (NYSE: MAT) TO Market Perform from Outperform with a price target lowered to $40-$42 from a previous $51-$53. The analysts noted "We believe upside catalysts are lacking given (1) the need to reduce U.S. channel inventories (up low single digits) and other developed market channel inventories, this should collectively weigh on H1 2014 wholesale shipments, (2) the need to correct ongoing underperformance in key brands Barbie and Fisher-Price (Core) especially execution issues related to product positioning/development, (3) increased spending to enhance connection and most importantly drive consumer conversion, (4) adjust from disappointing innovation in Barbie and Fisher-Price that did NOT resonate with consumers." Analysts at SunTrust also downgraded shares to Neutral from Buy with a price target and $40. Finally, analysts at B. Riley & Co. downgraded shares from Buy to Neutral. Shares hit new 52 week lows of $35.85 before closing the day at $36.05, down 4.73 percent.
Various media outlets reported that Apple (NASDAQ: AAPL) plans to build its own "content delivery network," or CDN, for could potential eliminate its needs to rely on Akami Technologies (NASDAQ: AKAM). Analysts at Wells Fargo defended Akami and noted ""we think there are still too many unknowns with Apple's long term CDN strategy and that the overall revenue risk to AKAM would likely be fairly minimal." Shares of Apple gained 0.19 percent, closing at $501.53 while Akam lost 3.50 percent, closing at $46.01.
Related: iOS 8 Rumors: Apple To Revamp Mobile HealthCare Industry With New Features
Analysts at Needham & Company raised their price target to $57 from a previous $46 and reiterated a Buy rating on AOL. (NYSE: AOL) The analyst noted their positive bias stems from "comments made by management at a recent competitor conference." Shares gained 1.71 percent, closing at $46.87.
Ford (NYSE: F) announced that its January U.S. sales fell 7.1 percent to 154,000 units. Shares lost 2.74 percent, closing at $14.55.
General Motors (NYSE: GM) announced that its January U.S. sales fell 12.0 percent to 171,000 units. Shares lost 2.25 percent, closing at $35.27.
Related: Ford vs. General Motors - Who's In The Driver Seat?
Toyota (NYSE: TM) announced that its January U.S. sales fell 7.2 percent to 146,365 units. Shares lost 1.73 percent, closing at $112.77.
Honda (NYSE: HMC) announced that its January U.S. sales fell 2.1 percent to 91,631 units. Shares lost 2.83 percent, closing at $36.45.
Related: January's Auto Sales Data A Mix Of Good And Bad
According to Brand Finance Banking 500, Wells Fargo (NYSE: WFC) is the most valuable bank brand in the world. The bank added $4.2 billion in brand value in 2013 to total $30.2 billion. Shares lost 2.01 percent, closing at $44.43.
GlaxoSmithKline (NYSE: GSK) has received "breakthrough" status from the FDA for its Promacta/Revolade (eltrombopag) drug for the treatment of cytopenias in patients with severe aplastic anaemia. Shares lost 1.09 percent, closing at $50.98.
An article on Barron's named Imperial Oil (NYSE: IMO) one of "the best kept secrets in the North American energy industry" and that "the large Canadian oil and gas company historically has generated some of the industry's highest returns, but lately its shares have flagged." The analysts noted in terms of valuation, "Imperial now represents 6% to 7% of Exxon's production, but should account for two-thirds of its production growth over the next five years. Yet, the stock, which once traded at a premium to Exxon shares, now changes hands at a slight discount, fetching 10.7 times projected 2014 earnings, while Exxon, at $94, commands about 12 times." Shares gained 0.34 percent, closing at $40.97.
Novartis (NYSE: NVS) is set to eliminate or move as many as 4,000 jobs as part of a cost savings initiative and reduce the company's number of production facilities. Shares lost 0.57 percent, closing at $78.62.
General Electric (NYSE: GE) and Chevron (NYSE: CVX) are set to enter a joint venture to develop and commercialize technology for the oil and gas industry. Shares of General Electric lost 3.10 percent, closing at $24.35 while Chevron lost 0.44 percent, closing at $111.14.
Pfizer's (NYSE: PFE) Palbociclib drug for the treatment of breast cancer showed a a statistically significant improvement in patients' progression-free survival rate in a Phase II trial. Share gained 0.66 percent, closing at $30.60.
Related: Dow Jones Returns To Late October Levels
Elliot Management said that it has received "overwhelming support" from fellow Juniper (NASDAQ: JNPR) shareholders in its activist intentions. The hedge fund also hinted that it will engage in a proxy battle and has already "recruited a team of leading executive.. to help ensure that the Shareholder Value Plan becomes a reality." Shares lost 0.98 percent, closing at $26.35.
Bill Ackman's Pershing Square sold 7.3 million shares of Beam (NASDAQ: BEAM) last week to lower its holdings to 8.3 percent. Shares lost 0.10 percent, closing at $83.22.
Winners of Note
Herbalife (NYSE: HLF) expects its fourth quarter EPS to be $1.26 to $1.30, above the consensus of $1.17. The company also plans to increase its stock repurchase program to $1.5 billion and will issue $1 billion worth of convertible debt. Separately, Bill Ackman's Pershing Square released the first of many series of profiles that sheds light on the company's deceptive tactics. Shares gained 7.22 percent, closing at $69.02.
Smith & Nephew (NYSE: SNN) has agreed to acquire ArthoCare (NASDAQ: ARTC) for $1.7 billion which values shares at $48.25. Shares of ArthoCare rose 8.24 percent, closing at $49.12.
Decliners of Note
Lions Gate (NYSE: LGF) said that the death of actor Philip Seymor Hoffman will not affect the scheduled releases of the Hunger Games movies set to be released in summer 2014 and summer 2015. Hoffman's character as a key player of the resistance is a central role in the story. The company said that the director, Francis Lawrence, can work around the unexpected development. Shares lost 5.54 percent, closing at $30.53.
The New York Times reported that Imax (NASDAQ: IMAX) is facing stiff competition from the government-controlled China Film Group which "controls the import of films to China and oversees the competing large-screen system." As an example, the upcoming RoboCop flick will be shown on China Film Group's screens, not Imax. Additionally, "not only could competitors in China cut into its potential market share there, but Imax has charged in several courts that the Chinese system relies on technology that was blatantly stolen from its offices in Canada." Shares lost 5.42 percent, closing at $26.19.
Analysts at Goldman Sachs downgraded StanCorp (NYSE: SFG) to Sell with a $66 price target. The analysts noted "while we don't see much in the way of downside (or upside) risk to our 12-month P/E based price target, our downgrade is based on valuation that we believe is full coupled with a specific short-term view based on SFG historically underperforming during the first half of the year as EPS "misses" are more likely in these quarters due to seasonal weakness in the benefit ratio." Shares lost 6.77 percent, closing at $59.90.
Jos. A. Bank (NASDAQ: JOSB) rejected Men's Wearhouse (NYSE: MW) latest offer of $57.50 per share. Management said that such an offer "substantially undervalues" the company and "accordingly, we see no benefit in commencing negotiations with Men's Wearhouse." Shares of Jos. A. Bank lost 5.03 percent, closing at $53.39 while Men's Wearhouse lost 7.76 percent, closing at $44.31.
Related: Jos. A. Bank to Men's Wearhouse: Our Answer Remains NO
A federal district court has shot down Gogo's (NASDAQ: GOGO) request to throw out a class-action suit from air travelers in which it is alleged that Gogo's Wi-Fi service deals with airlines violate antitrust laws. Shares lost 7.55 percent, closing at $18.85.
FireEye (NASDAQ: FEYE) said that it plans to sell $700 million worth of shares to raise capital and to "facility an orderly distribution of shares" prior to its March 19 lockup expiration. Shares lost 8.86 percent, closing at $66.52.
Bronte Capital's John Hempton ridiculed Galenta Biopharma (NASDAQ: GALE) as the company is offering free samples of its fentanyl-based painkiller Abstral. Hempten described this tactic as "a new low in the pharmaceutical industry." Shares lost 19.92 percent, closing at $4.22.
Earnings of Note
This morning, Sysco (NYSE: SYY) reported its second quarter results. The company announced an EPS of $0.40, in-line with the consensus estimate. Revenue of $11.2 billion missed the consensus estimate of $11.05 billion. The company said that its net earnings fell 4.8 percent in the quarter due to profit margin pressures. The company's CEO, Bill De Laney said ""Our second quarter results were achieved in a market environment that, once again, was quite challenging for many of our customers, especially those who operate in the casual dining restaurant segment. Sales growth during the quarter was modest, and slowed somewhat as the quarter progressed, and gross margin continued to be pressured." Shares lost 1.62 percent, closing at $34.51.
After the market closed, Take-Two Interactive (NASDAQ: TTWO) reported its third quarter results. The company announced an EPS of $1.70, beating the consensus of $1.40. Revenue of $767.7 million beat the consensus estimate of $701.2 million. The company expects its fourth quarter EPS to be $0.00 to $0.10, less than the consensus estimate of $0.13.
Quote of the Day
"In 2013 the last stocks anybody wanted to own were utilities. This year, they are one of only three sectors that are positive so far on the year. While utilities are typically the stocks that are placed in very conservative portfolios, usually for the income generation, this year they could be the stocks that generate huge revenues. This year's frigid, and in some cases record cold, temperatures could drive big numbers for the top stocks to buy, at least in the early going of 2014." –Analysts at Credit Suisse in a report on utilities stocks.
View Comments and Join the Discussion!
Posted-In: Akami Technologies AOL Apple Bank of America Barron's BeamNews After-Hours Center Best of Benzinga