Top Trending Tickers On StockTwits For January 31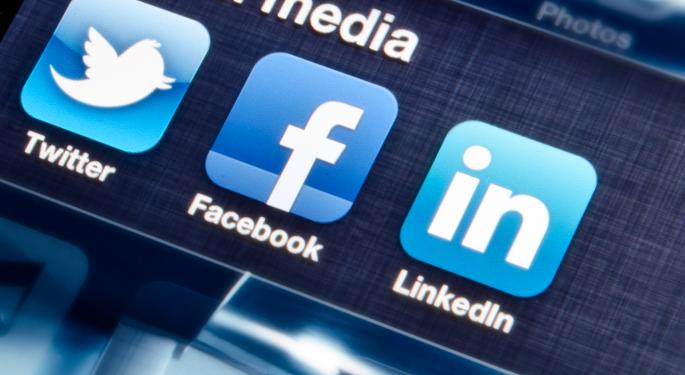 Here's a look at the top tickers trending on StockTwits.com
Amazon.com: Post-earning hangover
Last night, Amazon.com (NASDAQ: AMZN) reported a miss on both EPS and revenue despite North American sales rising 25.9 percent year over year to $15.3 billion and International sales rose 12.8 percent to $10.26 billion.
Amazon also guided its first quarter below expectations. The company sees its sales coming in at a range of $18.2 billion to $19.9 billion, lower than the $19.7 billion analysts had hoped for. The low revenue guidance translates to an operating gain/loss of -$200 million to $200 million.
Amazon also said that it is considering raising the price of Amazon Prime for U.S. subscribers by $20 to $40 per year. The current cost is $79. Just three months ago, Amazon decided to raise the threshold for free shipping on orders to $35 from $25, a move which came without an official explanation from the company.
Shares were trading lower by 8.60 percent in the pre-market session.
Google: EPS miss, but plenty of positives including stock split
Last night, Google (NASDAQ) reported its fourth quarter results which included an EPS miss of $0.28. Investors found plenty of positives in the company's results and commentary management made during its conference call.
Google's paid click growth grew 31 percent year over year after growing 26 percent in the third quarter and 23 percent in the second quarter. The boost in growth was related to mobile searches and product listing ads.
Google announced a stock split that will occur on April 2. Google will create a new class of "C" shares that will have no voting power. One share of C stock will be distributed for each share of voting Class A stock. Class C shares which will trade under the present symbol "GOOG" while currently-traded Class A shares will trade under a new symbol, "GOOGL."
Shares were trading higher by 4.16 percent higher in the pre-market session.
S&P 500: Hold on tight
Investors on StockTwits are heavily discussing the SPDR S&P 500 ETF (NYSE: SPY) as the futures are pointing to a lower open. Investors are taking cues from the Treasury Yield and economic data released this morning.
The 10-year Treasury yield at 2.66 percent is near its lowest level in three months.
December Personal Income and Outlays data was released that showed that income grew 0.0 percent month over month versus the gain of 0.2 percent expected. Personal spending rose 0.4 percent, higher than the 0.2 percent expected.
Fourth quarter Employment Cost Index rose 0.5 percent quarter over quarter, higher than the 0.4 percent consensus.
Shares of the ETF were trading lower by 1.23 percent in the pre-market session.
Volatility Index: Investors buying protection
The ProShares Ultra VIX Short-Term Futures ETF (NYSE: UVXY) seeks a "daily investment result, before fees and expenses, that corresponds to two times (2x) the daily performance of the S&P 500 VIX Short-Term Futures Index."
Investors appear to be expecting a bumpy road ahead as the iPath S&P 500 VIX S T Futures ETN (NYSE: VXX) is flying higher by 10 percent.
Shares of the VIX Ultra ETF were trading higher by 19.83 percent in the pre-market session with the VIX ETN trading higher by 9.66 percent.
National Oilwell Varco: Solid quarter
This morning, National Oilwell Varco (NYSE: NOV) released its fourth quarter results. The company reported an EPS of $1.56, beating the consensus estimate of $1.39. Revenue of $6.17 billion beat the consensus estimate of $5.86 billion.
National Oilwell's fourth quarter results included a record $1.5 billion in cash flow from operations, 50 percent higher than the previous record the company set in the previous quarter.
The petroleum services and supplies segment reported revenue growth of 9 percent to $1.93 billion.
Shares were trading higher by 1.83 percent in the pre-market session.
View Comments and Join the Discussion!
Posted-In: Amazon Earnings Amazon Prime Google Earnings Google Split National Oilwell Varco personal income S&P 500News Best of Benzinga