Benzinga's M&A Chatter for Thursday January 30, 2014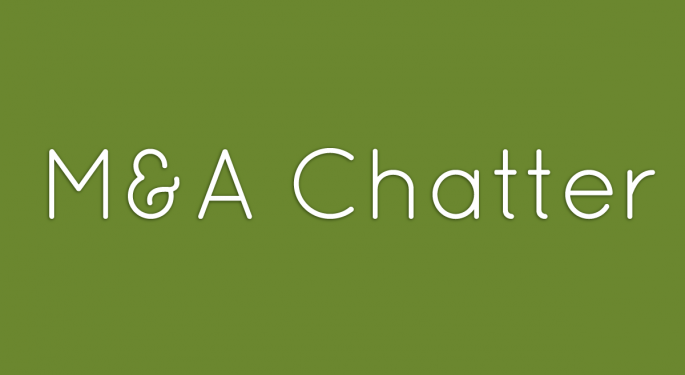 The following are the M&A deals, rumors and chatter circulating on Wall Street for Thursday January 30, 2014:
Report Megapath to Acquire Cbeyond
The Rumor:
Shares of Cbeyond (NASDAQ: CBEY) spiked higher Thursday, on a report from Atlanta Business Chronicle that MegaPath might acquire the Atlanta-based communications services company, according to a source. Cbeyond announced in an 8-K on January 24, it was cutting 100 jobs and the report today mention some senior management positions may be cut as well, possibly in preparation for a sale.
Spokespersons for the companies declined comment.
Cbeyond closed Thursday at $7.11, a gain of 5.5%.
Zynga Acquires Natural Motion for $527M
The Deal:
Zynga (NASDAQ: ZNGA) announced Thursday an agreement to acquire mobile game and technology developer NaturalMotion for approximately $527 million, consisting of $391 million in cash and approximately 39.8 million shares of Zynga Class A Common Stock. The acquisition was announced along some strong earnings and guidance numbers from the gaming company.
Zynga closed Thursday at $3.56, and traded up as much as 25% after-hours.
Men's Wearhouse Urges Jos A Bank to Reconsider Offer; May Increase Bid
The Letter:
Men's Wearhouse (NYSE: MW) sent a letter to the independent directors of Jos. A. Bank Clothiers (NASDAQ: JOSB) on Thursday, regarding Men's Wearhouse's January 6 $57.50 all-cash offer to acquire Jos. A. Bank. On January 17, the Jos. A. Bank Board rejected the offer, saying it was not in the best interest of shareholders.
Today's letter urged the Jos. A. Bank Board to form a special committee of independent directors to re-consider the offer. Men's Wearhouse said it was prepared to increase its bid, if the Board can "demonstrate or we can discover additional value through discussions or limited due diligence."
Bloomberg reported investors, including Franklin, Beacon Light, Pentwater and PSAM are urging Jos. A. BanK to Sell to Men's Wearhouse.
Men's Wearhouse closed Thursday at $47.00, a gain of 2%. Jos. A. Bank closed at $55.70, a gain of 1.5%.
View Comments and Join the Discussion!