Benzinga's M&A Chatter for Wednesday January 29, 2014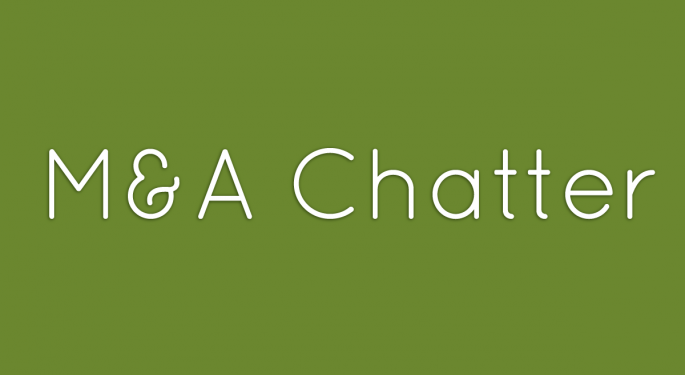 The following are the M&A deals, rumors and chatter circulating on Wall Street for Wednesday January 29, 2014:
Lenovo to Acquire Motorola Handset Unit from Google for $2.91B
The Deal:
Shares of Google (NASDAQ: GOOG) rose after-hours Wednesday, on a report from China Daily that Lenovo (OTC: LNVGY) was in talks to acquire to acquire Google's handset business. Google later confirmed the report in their official blog. Google acquired that business as part of its buyout of Motorola Mobility in 2011.
The purchase price is approximately $2.91 billion, including $1.41 billion paid at close, comprised of $660 million in cash, plus $750 million in Lenovo ordinary shares. The remaining US$1.5 billion will be paid in the form of a three-year promissory note.
Google closed Wednesday at $1,106.92, but traded as high as $1,136.00 after-hours.
Report Auxillium in Talks with Big Pharma
The Rumor:
Shares of Auxillium (NASDAQ: AUXL) surged higher late Wednesday on a report from Deal Reporter that the biotech firm is in talks with big pharma companies on a possible deal.
A spokesperson for Auxillium Pharmaceuticals was not available for comment.
Auxillium Pharmaceuticals closed Wednesday at $25.19, a gain of more than 5%.
Hearing Violin Memory has Interest from Five Potential Buyers, According to Investor
The Rumor:
Violin Memory (NASDAQ: VMEM) shares rose sharply Wednesday on comments made by activist shareholder Gregory Taxin of Clinton Group. Taxin, in an interview with Bloomberg at the Activist Investor Conference in New York. Taxin said Violin has received informal inquiries.
A spokesperson for Violin Memory was not available for comment.
Violin Memory closed Wednesday at $3.58, a gain of almost 7%.
View Comments and Join the Discussion!