As Goes January, So Goes the Year? A Quantitative Look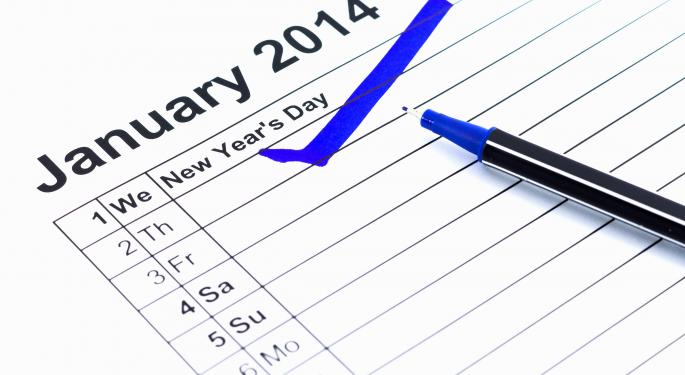 The saying, "As goes January, so goes the year," has been commonplace on Wall Street since 1972 when introduced by Yale Hirsch.
From 1950 through 1984, full year returns correlated with January's performance at a rate of roughly 75 percent. Per efficient market theorem, this trend should have ended when investors became aware of the data. Let's explore the consistency of the January barometer in recent years.
Past 25 Years
Over the past 25 years, full-year performances have correlated with January 64 percent of the time. In years where January posted gains (16 of 25), the market continued upward 81.25 percent of the time. However, a weak January (9 of 25) correlates with continued losses just 22.22 percent of the time.
The January barometer gains some validation when considering returns based on trading the reading. Investors who bought the S&P 500 after a positive January, and sold it after a negative January, would have recorded average annual returns of 10.23 percent.
On the other hand, a buy and hold strategy for the entire period would have yielded 9.53 percent. Although the trend has only held 64 percent of the time, returns are just 0.7 percent higher. Compounded over 25 years, returns on a portfolio trading based off of January would be 5.43 percent higher.
In short, a strong correlation with positive first month returns coupled with very weak correlation with negative first month returns paints a pretty picture for bulls: regardless of January, the market moves higher. On the other hand data since 1989 does not support the classic Wall Street saying.
Related: Emerging Market Mess: Blame It On The Fed?
Past 10 Years
From 2004 through 2013, the correlation has been weaker at 60 percent. Although the 2008 market collapse would have been avoided, investors would have missed 2009 and 2010 rallies.
Supporting the lack of a correlation are returns on trading based on January's return. A buy and hold strategy would have returned an average 6.99 percent per year, whereas trading after January would have returned just 3.01 percent.
Looking forward, the January barometer offers no reason to be concerned for 2014 trading. There have been four negative Januarys over the past ten years, and only one full year loss (2008). This is not to say 2014 will continue the past two years' rallies, but investors have plenty of other catalysts to focus on (QE tapering, Eurozone, Jobs data, etc).
The following table summarizes these findings.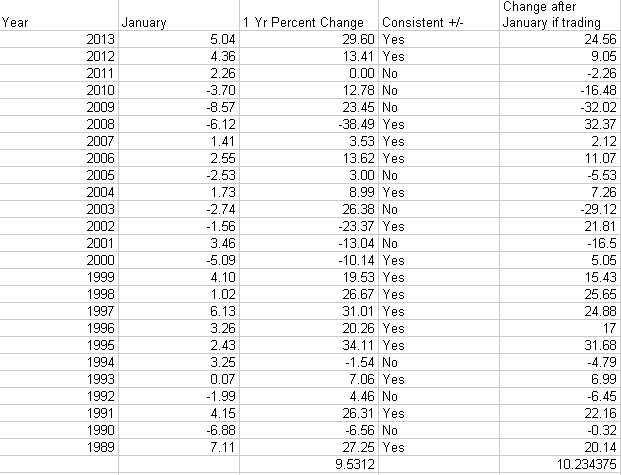 Posted-In: forecast January January barometer January trading stock forecastNews Economics Trading Ideas Best of Benzinga
View Comments and Join the Discussion!