Benzinga's M&A Chatter for Monday January 27, 2014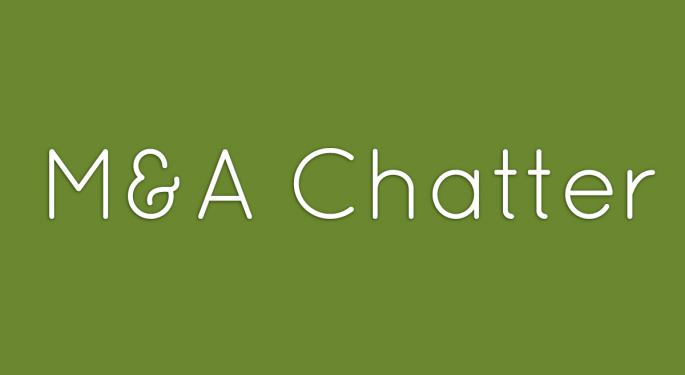 The following are the M&A deals, rumors and chatter circulating on Wall Street for Monday January 27, 2014:
Comcast Near Deal with Charter to Acquire Certain Time Warner Cable Assets
The Rumor:
Shares of Charter Communications (NASDAQ: CHTR) rose sharply Monday, on a report from Bloomberg that Comcast (NASDAQ: CMCSA) would acquire certain assets of Time Warner Cable (NYSE: CMCSA), should Charter complete a deal to acquire TWC. Reports of that potential surfaced late Friday.
Shares of Cablevsion Systems (NYSE: CVC) also spiked higher, as Friday's report mentioned Comcast might pursue a bid for Cablevision.
Charter Communications closed Monday at $31.27, a loss of 1.5%.
Ariad Shares Selloff as Traders Doubt Rumors of a Deal
The Selloff:
Shares of Ariad Phamaceuticals (NASDAQ: ARIA) gave up recent gains Monday, as traders lost faith in last week's Daily Mail rumor that Eli Lilly (NYSE: LLY) and other big pharma could bid as much as $20 per share.
Adam Feuerstein, in TheStreet.com, reported comments by a short-seller who is doubting such a deal would be made, based on potential competing drugs from Novartis (NYSE: NVS) for Ariad's Iclusig and AP26113.
Ariad Phamaceuticals closed Monday at $7.91, a loss of 12%.
Report Texas Industries Reaches Agreement to Sell to Martin Marietta
The Rumor:
Share of Texas Industries (NYSE: TXI) moved higher late Monday, on a report from Bloomberg the company had reached an agreement to be acquired by Martin Marietta (NYSE: MLM), according to sources. Talks between the two companies had been rumored on Friday.
Texas Industries closed Friday at $71.54, a loss of 4.5%, but traded more than 1% higher after
View Comments and Join the Discussion!