Benzinga's Weekend M&A Chatter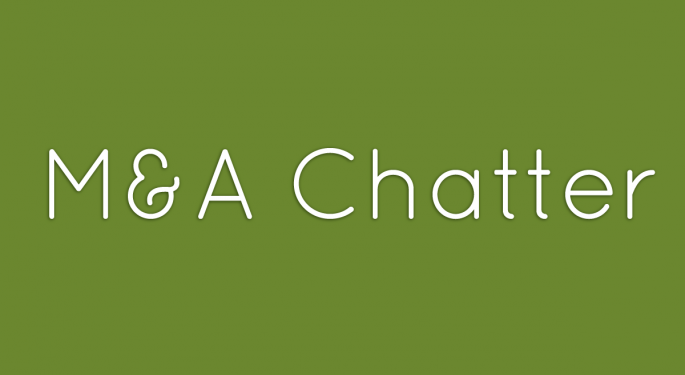 The following are the M&A deals, rumors and chatter circulating on Wall Street for Friday January 24 through Sunday January 26, 2014.
21st Century Fox to Raise Stake in YES Network to 80%
The Deal:
21st Century Fox (NASDAQ: FOXA) announced Friday, an agreement to raise its stake in the Yankees Entertainment and Sports Network, or YES, to 80 percent from the current 49 percent it acquired in 2012. In addition to coverage of the Yankees, YES covers the Brooklyn Nets and other local and national sports programming.
The deal is expected to close by the end of Q1.
21st Century Fox closed Friday at $31.27, a loss of 1.5%.
Texas Industries Reportedly Holding Sale Talks with Martin Marietta
The Rumor:
Share of Texas Industries (NYSE: TXI) surged higher Friday on a report from Bloomberg that the company was in sale talks with Martin Marietta (NYSE: MLM), according to sources. Shares of Texas Industries were halted briefly on a circuit-breaker, after rising as high as $75.30.
Martin Marietta failed in an attempt to take over Vulcan Materials (NYSE: VMC) in December 2011.
Texas Industries closed Friday at $75.06, a gain of 9%. Shares of Martin Marietta closed at $104.32, a loss of 4.45%.
Report Comcast Would Take Time Warner Cable's New York Market as Part of Charter Deal
The Rumor:
Comcast (NASDAQ: CMCSA), would be willing to take Time Warner Cable's (NYSE: TWC) New York area cable systems, as part of a Charter Communications (NASDAQ: CHTR) acquisition of the nation's second-largest cable operator, according to a Wall Street Journal report on Friday. Time Warner recently turned down a Charter bid of $132.50 per share.
Sources report Comcast has decided not to pursue a lone bid for TWC, but instead may set its sights on Cablevision Systems (NYSE: CVC).
Time Warner Cable closed Friday at $133.70, a loss of $0.85.
Global Payments to Acquire PayPros for $420M in Cash
The Deal:
Global Payments (NYSE: GPN) announced Friday, an agreement to acquire payments technology company Payment Processing, or PayPros, for $420 million in cash. The deal is expected to close by the end of FY 2014.
Global Payments closed Friday at $66.91, a loss of 2.75%.
View Comments and Join the Discussion!