Carl Icahn's Letter to Apple Shareholders...What Did It Say?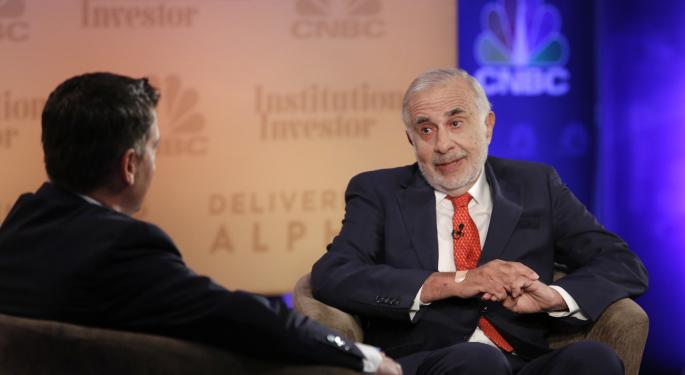 Does it feel like DELL all over again?
It might, because Carl Icahn is pulling from the DELL playbook as he slowly turns up the heat on Apple (NASDAQ: AAPL).
In one of his signature "open letters" to "fellow Apple shareholders" Thursday, Icahn laid out his case for the company.
Here's a brief synopsis of the letter if you're not into reading the latest SEC filings:
The first line begins with the same line he's used repeatedly since announcing his position in the company: In his long career as investor the best performers always started as what he and his company called, "no brainers." He mentions Netflix, Hain Celestial, Chesapeake and Herbalife to name a few. Of course, Herbalife might be facing some headwinds after Thursday's news, but it has still served him well even after the Thursday's 10 percent drop.
Icahn goes on to say that the S&P 500's earnings multiple is 71 percent higher than Apple's and if Apple were similarly valued, it would have a price of $840 today—52 percent higher than where it is now. Given Apple's loyal customer base, its impressive profit margins, and everything else that makes Apple, Apple, there's no reason that the stock should be so undervalued.
Apple recommended its shareholders vote down Icahn's proposed expansion of the buyback program. Icahn called Apple's arguments of needing the cash to remain flexible overly conservative.
Even if Apple's product cycle looked poised to remain the way it is today, Icahn says that it would still be his fund's largest investment but he focuses on Apple CEO Tim Cook's statement about introducing "new products in new categories."
Related: eBay CEO John Donahoe Wants to Keep PayPal In The Family
Icahn points out that no Wall Street analyst has factored this into their estimates although Apple has a history of delivering extraordinary "new products in new categories."
One of those, is the reported Apple TV (the full TV as opposed to the existing box.) The letter says that if the TV were to sell for $1,600 per unit, at Apple's 37 percent margin, that would add $40 billion of annual revenue and $15 billion in operating income.
To close the letter, he comes back to the subject of the buyback. Icahn says, "In this letter, we have above summarized why we believe Apple is undervalued in order to express how ridiculous it seems to us for Apple to horde so much cash rather than repurchase stock…" He argues that the repurchase is not only a means of returning capital to investors but it's also Apple investing in itself.
This letter is clear indication that Icahn is taking his self-characterized friendly relationship with Apple a little closer to the activist level where he normally operates. Doesn't look like there will be many more Carl Icahn/Tim Cook dinner dates if he keeps writing letters like this.
Disclosure: At the time of this writing, Tim Parker was long Apple.
View Comments and Join the Discussion!
Posted-In: Apple Apple TV Carl Icahn SECNews Buybacks Events Tech Best of Benzinga