14 Cannabis Stocks To Watch In 2014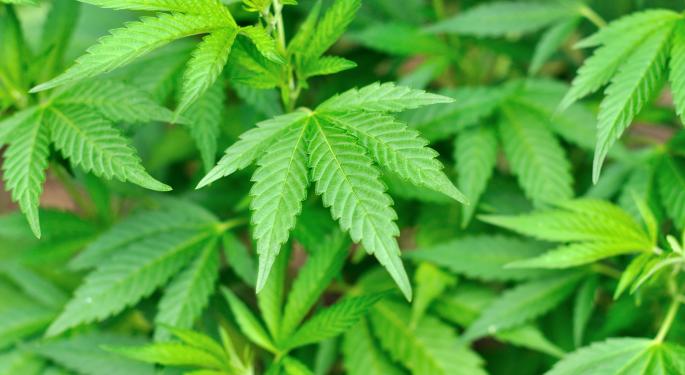 The green rush is here.
More than 20 states have approved marijuana use for medicinal purposes and Colorado and Washington are opening up the plant for recreational use. Marijuana companies rose more than 50 percent in 2013 and opened 2014 with a bang, rising almost 150 percent in just three weeks.
This list gives an overview of publicly traded marijuana stocks worth over $50 million, including hydroponic companies, vaporizer producers and research houses for medicinal purposes. Note that most are small and trade over the counter, which means extra risk to go with that potential growth:
Medbox

Medbox (OTC: MDBX) rose from $23 to $93 in a matter of five trading sessions, with the peak on January 8. This is a great example of uninformed investors pouring their money into a hot name.

The company makes automated dispensing solutions for medications, including marijuana. Medbox has the largest market capitalization of cannabis focused stocks, close to $1.2 billion. It also does not file with the SEC.

(Photo)

AVT

Started in 2001, AVT (OTC: AVTC) began producing vending machines, but recently transitioned to automated retail machines. Marijuana investors took interest in the stock when Medbox announced a purchasing agreement.

Medbox spends about half a million dollars a year buying dispensary units from AVT. The company has a market cap of $119 million.

(Photo)

Advanced Cannabis Solutions

Currently focused on Colorado, Advanced Cannabis Solutions (OTC: CANN) buys growing facilities and leases them to growers. The company looks for an ROI over 25 percent and 10-year deal for contracts.

With an experienced management team, Advanced Cannabis Solutions is looking to build a consulting and other marijuana related businesses. CEO Robert Frichtel stated, "Every new state that legalizes MMJ creates hundreds of new opportunities, so we're looking to evolve with the industry's needs." Advanced Cannabis Solutions does file with the SEC.

(Photo)

CannaVest

CannaVest is one of the bigger players in the industry with a market cap near $1 billion. The company produces Cannabidiol (CBD), a marijuana concentrate, from hemp. CannaVest hopes to grow a test crop of industrial hemp in 2014. The company does file with the SEC.

(Photo)

Cannabis Sciences

This is one of the most followed marijuana stocks although it has one of the smallest market caps ($70 million). Cannabis Sciences (OTC: CBIS) is staffed with PhDs, the company is a leader in THC product research for medicinal markets.

Two preclinical drugs focus on HIV and cancer. A key concern for the company is a huge amount of share dilution, with the amount of common stock 24 times greater than it was three years ago. The company does file with the SEC.

(Photo)

Fusion Pharm

Fusion Pharm's (OTC: FSPM) PharmPod product is a "plug-and-grow" hydroponics solution. The company looks to capitalize on commercial growers and small operations with its scaleable product.

The company emphasizes that the PharmPod only requires 20 percent of the water of a more traditional growing solution and is very customizable. The company does not file with the SEC.

(Photo)

GW Pharma

GW Pharma (OTC: GWPRF) is one of the few cannabis stocks that trades on a major exchange (Nasdaq), meaning its financial information is much more closely regulated. The company is a biotech, however, meaning it has its own set of risks.

Based in the UK, GW Pharma is developing cannabinoid medications, primarily for multiple sclerosis and cancer. The company has one of the largest market caps at $930 million.

(Photo)

Hemp Inc.

mCig

mCig (OTC: MCIG) has an interesting product: a $10 mini-vaporizer for bud and wax. Just over five inches long, mCig is very portable and even offers three different heat settings.

The company launched the first generation of its product at the end of October and sold out in several days. The second generation began selling at the start of the year. mCig does file with the SEC.

(Photo)

Medical Marijuana

Medical Marijuana (OTC: MJNA) produces a series of cannabinoid oil products, advertising the health benefits of consuming CBD. These include, a chewing gum, shampoo and lotion, and liquid CBD oil.

CannaVest, mentioned above, was spun out from Medical Marijuana, which is now a minority shareholder. The company recently had a lawsuit filed against it, which suggests potential fraud; the company does not file with the SEC.

(Photo)

Nuvilex

Nuvilex (OTC: NVLX) was a big winner in 2013, with shares gaining 258 percent. Nuvilex is a biotech company with research focused on "live-cell encapsulation," a process to protect healthy cells from disease.

The company hopes to use its research primarily to fight breast cancer, pancreatic cancer, and diabetes. Although its market cap is just $78 million, the company does file with the SEC.

(Photo)

GrowLife

GrowLife (OTC: PHOT) is a favorite among marijuana investors in a recent survey: 48 percent expect GrowLife to gain the most value in 2014. The company makes equipment for growing cannabis, selling 150,000 units over 25 years.

The Phototron system, which includes a pod for each stage of growth, is advertised to speed up harvesting by three to four times. Growlife does file with the SEC.

(Photo

Vape Holdings

Vape Holdings is currently trading under the ticker PLPED (OTC: PLPED), but will change to VAPE on February 2. Investors are very interested in a ceramic nail the company is producing for dabbing.

The ceramic nail is expected to be superior to the glass or titanium because it is easier to clean, more durable, and lasts longer. The company is expected to sell 10,000 units in January, the majority of which have been preordered. Vape does file financial statements with the SEC.

(Photo)

Terra Tech

Terra Tech (OTC: TRTC) is another investor favorite with 17 percent of 420 Investor members expecting shares to gain the most value in 2014.

The company currently uses hydroponics to grow vegetables and herbs, but plans to focus on marijuana or hemp when legally feasible. The company's produce is currently available in Fairway markets in New Jersey, Connecticut and New York.

(Photo)

Related links
Tags: 420 investor
Posted in: Cannabis News Entrepreneurship Topics Small Cap Trading Ideas General Best of Benzinga