Benzinga's Weekend M&A Chatter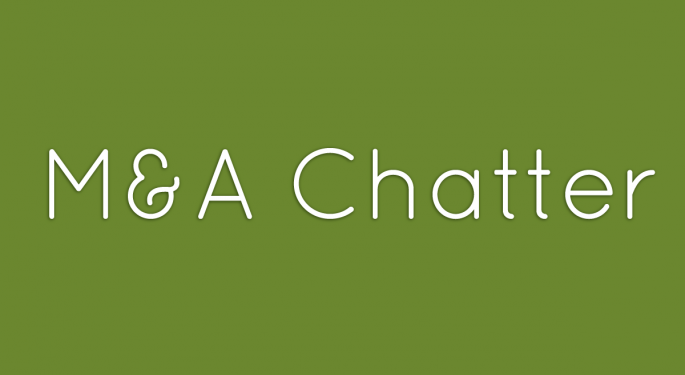 The following are the M&A deals, rumors and chatter circulating on Wall Street for Friday January 17 to Monday January 20, 2014.
Jos A Bank Board Rejects $57.50/Share Offer from Men's Wearhouse
The Rejection:
Jos. A. Bank Clothiers (NASDAQ: JOSB) announced Friday, that its Board of Directors determined the offer from The Men's Wearhouse (NYSE: MW) to acquire the outstanding common shares of the company at $57.50 per share in cash, was "inadequate and significantly undervalues Jos. A. Bank and its near- and long-term potential." The Board recommended that shareholders not tender their shares.
Separately Jos. A. Bank filed suit against activist investor Eminence Capital on Friday, citing the firm's 800,000 share purchase of Men's Wearhouse stock, just days before the offer went public.
Men's Wearhouse responded to the rejection, saying they remain committed to the transaction and are prepared to immediately engage in good-faith negotiations. The tender offer is scheduled to expire at 5:00 PM ET on Friday, March 28, 2014.
Jos. A. Bank closed Friday at $56.49, a gain of $0.37. Men's Wearhouse ended the the regular session at $50.45, a loss of more than 1%.
Tyson Acquires Assets of Bosco's Pizza
The Deal:
Tyson Foods (NYSE: TSN) announced Monday, it had acquired the assets of Bosco's Pizza, which produces stuffed bread sticks and frozen pizzas for food service and retail customers throughout the Midwest. Terms of the acquisition, completed on January 18, were not disclosed.
Tyson shares spiked higher Friday on a report from Reuters that the company was exploring a bid for Michael Foods, in a deal reportedly worth more than $2 billion. A spokesperson for Michael Foods spokesperson said they had nothing to share regarding the report. A Tyson spokesperson was not available for comment on that rumor.
Tyson Foods closed Friday at $35.04.
Anheuser-Busch InBev to Reacquire Oriental Brewery from KKR for $5.8B
The Deal:
Anheuser-Busch InBev (NYSE: BUD), KKR (NYSE: KKR) and Affinity Equity Partners, announced Monday that an agreement has been reachedm whereby AB InBev will reacquire Oriental Brewery, from KKR and Affinity for $5.8 billion. AB InBev sold the company in July 2009, following the combination of InBev and Anheuser-Busch.
AB InBev will receive approximately $320 million in cash at closing, as a result of an agreement entered into with KKR and Affinity in 2009. The deal is expected to close in H1 2014.
Anheuser-Busch InBev closed Friday at $101.47, a loss of almost 2%.
GE to Acquire Cameron's Reciprocating Compression Division for $550M
The Deal:
GE Oil & Gas (NYSE: GE) and Cameron (NYSE: CAM), announced Monday that GE has agreed to acquire Cameron's Reciprocating Compression division for $550 million. The transaction is expected to close later this year.
Cameron closed Friday at $58.69, a loss of $0.08.
View Comments and Join the Discussion!