Elon Musk: $35,000 Tesla Coming In Three Years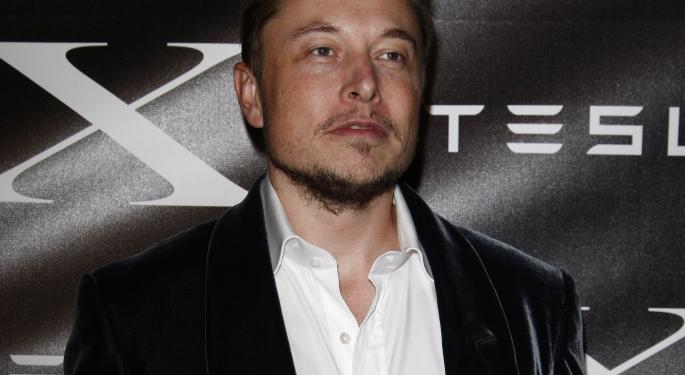 The car Tesla (NASDAQ: TSLA) "has always wanted to make" is close.
About three years close, according to Tesla CEO Elon Musk who spoke to CNN Tuesday.
That's good news for would-be electric car owners who can't afford the $70,000 (and up) Tesla Model S that is the only one currently available. A target price half that of the Model S puts all-electric car ownership in the price range of many more car buyers and potentially would put Tesla in the mainstream as an automobile manufacturer.
The advent of Elon Musk's mass market "Model E" or "Gen 3" as a source called it when speaking to the IB Times Tuesday, is not exactly as historical as Henry Ford's unveiling of the Model T in 1908, but, in some ways, it would be similar.
For one thing, with wide adoption, Tesla would leave behind forever the days of a few thousand vehicle sales a year and join the ranks of the "big boys" like Ford (NYSE: F) and General Motors (NYSE: GM).
According to Thilo Koslowski, auto industry analyst at Gartner, "No car company can live off 20,000 to 30,000 sales a year and be profitable in the long term."
More importantly, the face of transportation and the infrastructure that supports it would change as recharging stations began to become more commonplace – perhaps eventually as common as gas stations are today.
Related: Elon Musk Wants Tesla Electric Truck to Compete with Ford F-150
That future, of course, is more than three years away.
Tesla has several issues to resolve before it would become an effective mass-market source for electric automobiles.
Solving the three-pronged challenges of battery size, capacity, and cost would be one. According to Koslowski, the company has to find a way to get at least 200 miles per battery charge out of a battery smaller than the one currently used in the Model S. Koslowski said, "One hundred to 120 miles of range isn't enough for mainstream consumers to really feel comfortable."
In addition, the company needs to ramp up production to a much higher level than Tesla's Fremont, California plant achieves currently.
Fortunately, space should not be a problem. The company only uses about a quarter of the facility's total available space now.
Meanwhile, the rest of the industry isn't exactly sitting on its collective thumbs.
Rumors began floating in September that GM was working on an all-electric car to rival Tesla's lower cost offering.
In fact, the proposed GM electric car would supposedly be less expensive than Tesla's mass-market automobile.
At the time, Doug Parks, GM's vice president of global product programs told The Wall Street Journal that while the technology was in place, battery cost was still too high to make the automobile practical or affordable.
Forbes countered that somewhat optimistic view with one of its own that "no such GM car is coming anytime soon (if ever)." Forbes mainly cited the fact GM's battery design would need to be improved well beyond the company's ability to do so in order to make such a car feasible.
At the time of this writing, Jim Probasco had no position in any mentioned securities.
View Comments and Join the Discussion!
Posted-In: Calif. Doug Parks Elon Musk FordNews Rumors Tech Media Best of Benzinga