Ford's Alan Mulally Talks Aluminum, His Future & His Favorite Ride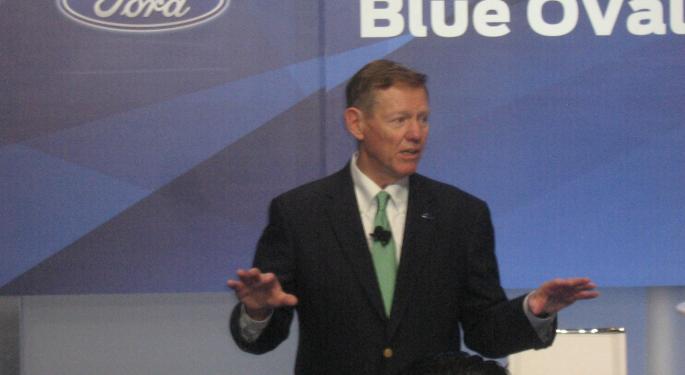 Ford (NYSE: F) President and CEO Alan Mulally talked about aluminum and public transportation, addressed rumors about his future and answered an all-important question posed by Benzinga regarding his favorite car, during a company-sponsored event Tuesday at the North American International Auto Show (NAIAS) in Detroit.
The former Boeing (NYSE: BA) executive, speaking to both reporters and students, seemed pleased with the media's reception to the new F-150 pickup, an aluminum-bodied version of Ford's best-selling truck, which was unveiled with great fanfare at NAIAS on Monday and which uses aluminum to dramatically reduce the vehicle's weight and improve its fuel efficiency.
See also: Detroit Auto Show Unveilings Underscore Automakers' Retooling Efforts
Mulally said the new F-150 had been validated not only in its expanded use of aluminum but in its design and manufacturing plans.
"We know these alloys," he said. "These 5000 series and 6000 series, these are essentially the same alloys we use in commercial airplanes, which have years and years of experience. We know all about how tough they are, how strong they are, we know how to fabricate them"
Mulally also noted that "now's the time for aluminum, especially with the pricing...that you can do it in volume like this" – although he acknowledged "we'll probably have some surprises to report about along the way."
He proceded, as well, to squash ongoing rumors he would be leaving Ford, saying he would remain its chief executive through at least 2014. "I am so pleased to have the speculation end,"he added. "I absolutely love serving Ford."
The forum was also, in part, a civics lesson; with Mulally lecturing the assembled university students on the link between a strong manufacturing base and economic development, as well as the growing international focus on improved mass transit, as the globe's urban centers continue to grow.
"All cities around the world are spending more time, more investment, on infrastructure," he said. "I could see Ford gradually joining the transportation sector."
Mulally said he and his fellow Ford executives spend part of each day driving a company vehicle, alternated with a competitor's car.
When asked by Benzinga about what car he drove personally, the CEO became coy.
"I rotate," he said. "These are the ones I love the best: the Fiesta, the Focus, the Fusion, the Taurus, the Mustang, the Escape..." Mulally then ran through the entire list of Ford vehicles to applause and laughter from the crowd.
"Those are my personal favorites," he concluded. "I drive them regularly. And I drive the competition, to make sure that (Ford) vehicles are absolutely best in class."
Posted-In: News Rumors Commodities Retail Sales Economics Markets Tech Media Best of Benzinga
View Comments and Join the Discussion!