Exclusive: Tesla Says It Welcomes Competition In The Electric Car Market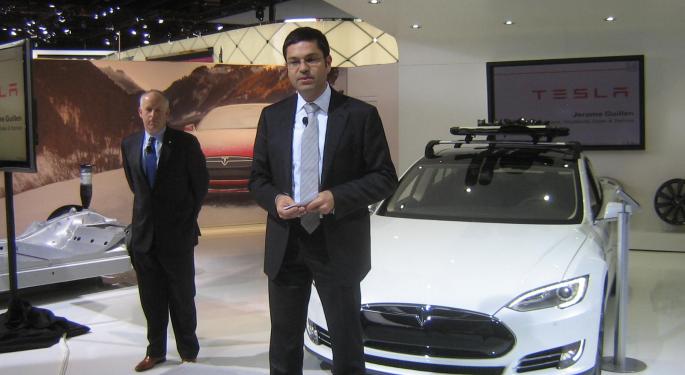 Some of the car makers at the North American International Auto Show (NAIAS) in Detroit have exhibits that take up huge swatches of real estate at the city's Cobo Hall.
Telsa Motors (NASDAQ: TSLA), on the the hand, has a relatively modest space. But the Telsa exhibit was packed five-deep by the media on Tuesday, as the company announced its plans for 2014.
The theme for the new year, according to Jerome Guillen, Tesla's vice president of global sales and service, is "growth, growth and growth," especially on the sales and service side.
See also: Detroit Auto Show Unveilings Underscore Automakers' Retooling Efforts
Guillen said Tesla's deliveries for the fourth quarter of 2013 reached 6,900 deliveries, or about 20 percent above the previous guidance given.
Telsa's global dominance of the electric car market has been remarkably swift; Guillen notes the Tesla Model S is now Norway's best selling car. "Not the best selling electric car," he adds, "the best selling car, period."
In fact, Guillen brushed aside news of a possible recall of Tesla wall adapters and charging software, saying the company's biggest challenge is recruiting new employees.
"We cannot find enough people fast enough to staff all our sales and services locations," he smiled. "In 2014 you should expect our sales and service presence to double, double globally in North America in Europe and Asia as well."
Ford (NYSE: F), General Motors (NYSE: GM) and other companies have been scrambling in recent years to catch up and come out with an electric vehicle to rival Tesla, especially in an affordable, non-luxury model.
So does that intense competition make Tesla at all concerned about its lucrative market share shrinking in the next five to ten years?
"Absolutely not!" crowed Guillen in response to that question from Benzinga. "We welcome them. The mission of Tesla is to accelerate the transition to sustainable transportation.The more electric vehicles there are, on the street, I think the better off we are.":
"I'm delighted to see all the other electric cars," he added, nodding towards the wide array of current and prototype models dotting the 2014 NAIAS show floor.
Photo credit: Bruce Kennedy
Posted-In: Alternative Energy electric carNews Travel Tech Media Interview General Best of Benzinga
View Comments and Join the Discussion!