Market Wrap For January 13: Markets Showing Weakness Ahead Of Major Earning Releases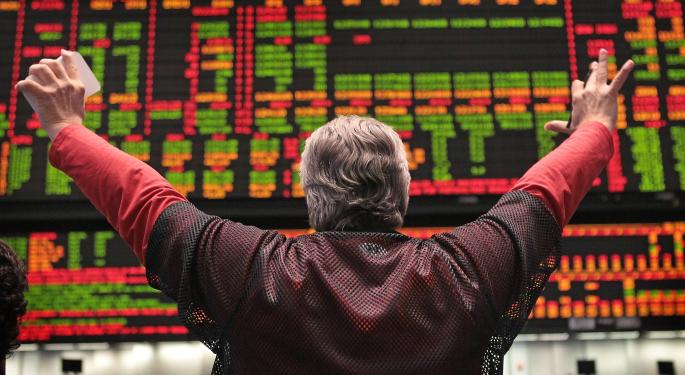 Investors and traders were in clear selling mode today ahead of a very busy week of earnings. The Dow suffered a triple digit point loss while the S&P 500 and Nasdaq suffered losses of more than one percent. There were no key economic data releases today.
Related: Earnings Expectations For The Week Of January 13: Big Banks, GE, Intel And More
Analysts at Goldman Sachs (NYSE: GS) likely contributed to the very bearish atmosphere in today's market. A team of analysts at the Wall Street bank said that the S&P 500 is "lofty by almost every measure." The analysts also said "we believe S&P 500 trades close to fair value and the forward path will depend on profit growth rather than [price-to-earnings] expansion."
The Dow lost 1.09 percent, closing at 16,257.94.
The S&P 500 lost 1.26 percent, closing at 1,819.20.
The Nasdaq lost 1.47 percent, closing at 4,113.30.
Gold gained 0.56 percent, trading at $1,253.90 an ounce.
Oil lost 1.18 percent, closing at $91.63 a barrel.
Silver gained 1.07 percent, trading at $20.44 an ounce.
News of Note
Dennis Lockhart became the first Fed speaker to speak following Friday's jobs report. The Atlanta Fed chief said that "the labor market is not as healthy as the improved unemployment rate might indicate."
The Federal Reserve is set to join other regulatory authorities in probing the alleged fixing of benchmark currency rates by the banks.
Equities-Specific News of Note
Analysts at Goldman Sachs reiterated a Buy rating on Twitter (NYSE: TWTR) but increased their price target to $65 from a previous $46. The analysts noted that "over the course of the past quarter we have seen significant acceleration in the pace of Twitter's product innovation, with nearly 4x the number of enhancements designed to drive user growth, engagement, and incremental monetization as in any prior quarter." Shares gained 1.39 percent, closing at $57.79.
Analysts at Oppenheimer downgraded BlackBerry (NASDAQ: BBRY) to Underperform from Perform. The analysts see shares declining 20 percent to 30 percent from current levels based on BlackBerry's device shipments and subscriptions to erode quickly. Shares lost 4.11 percent, closing at $8.40.
Analysts at Belus Capital Advisors downgraded Starbucks (NASDAQ: SBUX) to Hold from Buy with a price target lowered to $75 from a previous $90. The analysts noted that operational concerns and a reduced probability that the company will raise its fiscal year guidance will drag shares lower. Shares lost 3.28 percent, closing at $75.12.
Related: Belus Capital Advisors' Brian Sozzi Reveals Concerns On Starbucks
Analysts at Credit Suisse noted that Sears Holdings (NASDAQ: SHLD) is "running out of options." Shares are Underperform rated with a $20 price target as "the hope of this disastor turning around becomes remote." Shares lost 3.41 percent, closing at $35.46.
Analysts at UBS increased its price target on peer Morgan Stanley (NYSE: MS) to $39 from a previous $37. The analysts at noted that 2015 will be a positive year for the company with core EPS estimated at $3.21, despite investor skepticism. Shares lost 1.37 percent, closing at $30.87.
Analysts at Sterne Agee upgraded Finish Line (NASDAQ: FINL) to Buy from Neutral with a price target of $33. The analysts noted that trends in basketball and running footwear continue to growth beyond expectations. Shares gained 1.44 percent, closing at $27.39.
Analysts at UBS reiterated a Neutral rating on Caterpillar (NYSE: CAT) but increased their price target to $94 from a previous $84. The analysts noted that the company should bottom out in 2014 and turn positive over the next 12 to 24 months. The analysts also noted that the company's cost reductions and share buybacks will help boost share price. Shares lost 0.69 percent, closing at $89.89.
Analysts at Stifel upgraded Qihoo 360 (NYSE: QIHU) to Buy from Hold with a $108 price target. The analyst noted "we believe 2014 is the year when Qihoo begins to narrow the spread between its search query share of 23 percent and its search revenue share of less than 2 percent." Shares gained 3.01 percent, closing at $83.48.
Facebook (NASDAQ: FB) has acquired Branch Media, a startup that operates an app called Potluck which pushes news headlines to users. Mark Zuckerberg has recently expressed his desire for Facebook to become the "best personalized newspaper in the world." Despite the acquisition, shares of Facebook lost 3.50 percent, closing at $55.91.
Dialog Semi, a key supplier to Apple (NASDAQ: AAPL) reported a much higher than expected fourth quarter revenue. Dialog receives 70 percent of its sales from Apple, which investors and traders took as a bullish sign for Apple's business. Shares gained 0.52 percent, closing at $535.73.
Eminence Capital, a ten percent owner of Men's Wearhouse (NYSE: MW) and five percent owner of Jos. A. Bank (NASDAQ: JOSB) intends to back Men's Wearhouse's $1.6 billion offer to acquire Jos. A. Bank. Eminence also stated that it does not favor Jos. A. Bank trying to acquire another company. Shares of Jos. A. Bank gained 0.71 percent, closing at $56.41 while Men's Wearhouse lost 1.35 percent, closing at $50.39.
Goldcorp (NYSE: GG) has offered to buy Osisko Mining for C$2.6 billion in cash and stock. Osisko Mining is listed on the Toronto Stock Exchange and is one of Canada's largest gold mining companies. A potential deal will provide Goldcorp with approximately 10 million ounces in gold reserves. Analysts at Cowen said that Goldcorp's offer is overly generous and Osisko was already trading at a sizeable premium to its intrinsic value. Shares of Goldcorp lost 0.39 percent, closing at $23.10.
Barrington Group who owns a 2.8 percent stake of Darden Restaurants (NYSE: DRI) said that the company's current plan to increase shareholder value is inadequate and incomplete. The hedge fund has taken a vocal stance and has called for major changes at Darden including a spin-off of assets into a REIT. Shares lost 2.48 percent, closing at $50.83.
Dunkin' Brands (NASDAQ: DNKN) announced that it opened 790 new restaurants globally throughout the year. The company plans to open 685 to 800 new stores throughout 2014. Shares lost 1.17 percent, closing at $46.40.
Express (NASDAQ: EXPR) lowered its fourth quarter EPS guidance to a range of $1.37 to $1.51, from a previous range of $1.46 to $1.51. The retailer said that it experienced a drop in traffic after Thanksgiving forcing it to adapt a heavier than expected promotional stance through January. Shares lost 4.57 percent, closing at $18.15.
Chevron (NYSE: CVX) has taken a final investment decision and will develop the Alder gas and condensate field in the United Kingdom's North Sea. The project has a capacity of 110M cf of natural gas and 14K bbl/day of condensate. Production is expected to begin in 2016. Shares lost 1.45 percent, closing at $119.25.
McKesson (NYSE: MCK) was unable to get the necessary 75 percent shareholder support needed to acquire its German rival Celesio. McKesson previously offered 23.50 euros a share and the company will now seek other opportunities to strengthen its business. Analysts at FBR Capital defended shares noting that McKesson is "well positioned going forward as the company's core operations have been the best performing in the sector over the past year." Shares lost 4.73 percent, closing at $167.14.
Groupon (NASDAQ: GRPN) acquired ideeli for $43 million in cash. ideeli is a fashion flash deals website that offers huge flash discounts on designer clothing for men and women and also home goods. The acquisition should help boost Groupon's presence in fashion and mobile. Investors and traders appeared to be unhappy with the deal, with some investors noting that Groupon's needs to enter new spaces that aren't strictly daily deals and flash sales. Shares lost 5.02 percent, closing at $10.98.
General Motors (NYSE: GM) is expected to issue dividends for the first time since July 2008 according to comments coming from the company's chief financial officer. Shares lost 1.12 percent, closing at $39.58.
Related: Detroit Auto Show Unveilings Underscore Auto-Makers' Retooling Efforts
Winners of Note
Suntory has agreed to acquire Beam (NYSE: BEAM) for $16 billion or $83.50 a share. Shares of Beam gained 24.56 percent following the announcement and closed the day at $83.42.
The FDA said that Merck's (NYSE: MRK) Vorapaxar drug for the prevention of drug clots should be approved following the company's positive clinical trial results. The drug helps prevent heart attacks, strokes and heart-related deaths in patients who have recently had a heart attack but not a stroke. Shares hit new 52 week highs of $53.44 before closing at $53.12, up 6.50 percent.
Wendy's (NYSE: WEN) reported that its same restaurant sales increased 3.1 percent in the fourth quarter driven by its Pretzel Pub Chicken sandwich and Bacon Portabella Melt on Brioche. The company said that it expects to earn in between $0.10 and $0.11 a share in the fourth quarter, noticeably higher than the consensus estimate of $0.06. Shares gained 6.40 percent, closing the day at $8.98.
Activist investor Elliot Management released a presentation today on Juniper Networks (NASDAQ: JNPR) which included recommendations aimed at increasing shareholder value. Elliot Management owns a 6.2 percent stake of the company and believes shares can be worth $35 to $40 if management implements its recommendations. Juniper holds $3 billion in net cash and investments which should be returned to shareholders, according to Elliot Management. Shares hit new 52 week highs of $25.96 before closing the day at $25.32, up 7.56 percent.
Related: Elliott Management Sees Shares of Juniper Networks' Worth $35 to $40
Alnylam Pharmaceuticals (NASDAQ: ALNY) announced that it is set to acquire a Merck subsidiary Sirna Therapeutics for $175 million. According to Alnylam Pharmaceuticals CEO, the deal will allow the company to further its objective of establishing a new class of drugs to treat genetic diseases. Shares of Alnylam hit new 52 week highs of $112.57 before closing the day at $93.28, up 40.89 percent.
Decliners of Note
Following an almost unheard of 500+ percent gain in just a few days, Intercept Pharmaceuticals (NASDAQ: ICPT) reported additional data from its trial. The Wall Street Journal reported over the weekend that the National Institutes of Health said that patients who received the drug had "disproportionate lipid abnormalities" which included higher cholesterol levels compared with the patients who received a placebo. The company issued a press release today stating that lipid abnormalities are common. Shares lost 18.27 percent, closing at $364.36 but traded as low as $309.00 this morning.
Lululemon (NASDAQ: LULU) updated its guidance for the fourth quarter. The company sees its fourth quarter EPS to come in a $0.71 to $0.73 range, lower than its previously guided range of $0.78 to $0.80. Shares hit new 52 week lows of $49.00 before closing the day at $49.70, down 16.61 percent.
Related: Analysts React to Lululemon's Revised Guidance
SodaStream (NASDAQ: SODA) lowered its fourth quarter guidance. The company lowered its net income guidance to $52.5 million from a previous $65 million, which is lower than the consensus estimate of $63 million. The company also lowered its revenue guidance to $562 million from a previous $567 million, which is lower than the $564.32 million consensus estimate. Shares hit new 52 week lows of $36.84 before closing the day at $36.94, down 25.96 percent.
Related: SodaStream Announces Preliminary 2013 Results; Shares Tumble
Analysts at Stifel downgraded Cree (NASDAQ: CREE) to Hold from Buy due to high valuations and the Street's high expectations for future earnings growth. The analysts also question the company's decision to sell its LED light bulbs through Home Depot (NYSE: HD) at subsidized prices. Shares lost 9.10 percent, closing at $61.06.
Quote of the Day
"We believe further P/E expansion will be difficult to achieve. Of course it is possible. It is just not probable based on history." – Goldman Sachs equity strategist David Kostin wrote in a research note today.
View Comments and Join the Discussion!
Posted-In: Alnylam Pharmaceuticals Apple Apple Suppliers Barrington Group Basketball ApparelNews FDA After-Hours Center Best of Benzinga