Coming Soon: 3D Printing For Everyone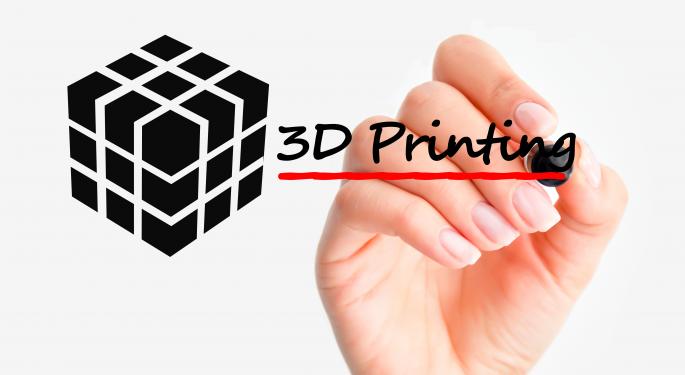 Cost has been the main factor keeping 3D printing from becoming more widespread.
That may be about to change.
At CES 2014, XYZprinting Inc. from Taiwan unveiled its da Vinci 3D printer with an "out of the box" price of $499.
Compare that with the 3D Systems (NYSE: DDD) Cube 3D printer, first offered by Staples (NASDAQ: SPLS) for $1299 this past May. At a little more than a third of the cost of the Cube, for the first time, mass availability of 3D printing looked not only realistic, but also likely.
At $499, XYZ's da Vinci is the least expensive out-of-the-box 3D printer sold.
In a statement, XYZprinting Inc. said, "The da Vinci is a plug-n-play 3D printer with a large build size designed specifically for households and small businesses. With no assembly required, a smart design, unique safety features and easy-to-use cloud system, the da Vinci has redesigned the 3D printing experience making it more user-friendly across all aspects of the process than ever before."
Related: Research and Markets: Market Implications of 3D Printing (Technical Insights)
According to the company, the da Vinci would make cups, bowls, and even smartphone cases. Simon Shen, chairman of XYZ said, "With da Vinci we are moving 3D printing to the mainstream market by satisfying a need in the consumer and SMB segment for a 3D printer that delivers on affordability and usability."
XYZprinting Inc., which planned to start shipping units in March, said it would accept preorders immediately on the company's website. In addition, the company said, the da Vinci would be sold on Amazon (NASDAQ: AMZN) and at other retailers beginning in March.
The Associated Press reported that CES 2014 demonstrated just how much 3D printing has grown over the past 12 months. Last year, only a few 3D printing companies were represented. This year there were 30. In addition, CES had to turn some companies away due to lack of space at the Las Vegas Convention Center.
In addition to companies like XYZ and its low-cost offering, other companies advanced the growing trend, supported by 3D printing, to be able to customize one-of-a-kind creations much faster, and much cheaper than ever before.
For example, 3D printers have been used for jewelry making in the past. High prices and low resolution, however, limited their practical use.
As CES 2014 showed, prices were coming down and quality was improving.
All this was part of what Shawn Dubravac, analyst for the Consumer Electronics Association called, "mass customization." Dubravac compared what is now possible with 3D printers to the advent of custom-printed t-shirts in the 2D world.
This led Avi Reichental, CEO of 3D systems to opine, "The question in my mind is not 'Will we have a 3-D printer in each home?' but 'Which room will it be in?'"
At the time of this writing, Jim Probasco had no position in any mentioned securities.
Posted-In: 3D Printing 3D Systems Amazon Avi Reichental CES 2014News Events Media Best of Benzinga
View Comments and Join the Discussion!