No Imminent Widespread Outbreak of Human-to-Human Transmitted Avian Flu Expected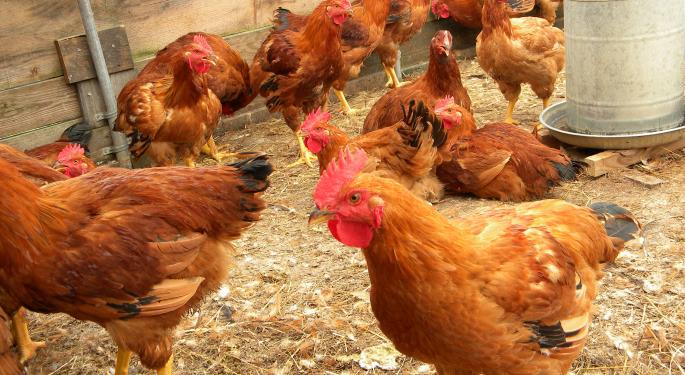 Professor George Fu Gao, who is Director of the CAS Key Laboratory of Pathogenic Microbiology and Immunology, Institute of Microbiology at the Chinese Academy of Sciences, told Benzinga Sunday that no widespread human-to-human outbreak of the Avian flu viruses is likely in the near future. A mutated strain of the H7N9 avian influenza A, does have the ability to spread from human to human, according to a report in Southern Metropolis Weekly via WantChinaTimes.
The Professor and his colleagues found the H7N9 and H5N1 viruses have increased ability to bind to human cells in the upper respiratory tract after undergoing genetic mutations, as reported in Science in September. The mutated bird flu strains can then evolve into new strains with the ability to be transmitted between humans.
Professor Gao told Benzinga " Current vaccines under clinical trials will most likely work" as protection against the H5N1 and H7N9 virus strains. Novavax (NASDAQ: NVAX) reported on November 13, 2013, positive data from the company's vaccine against H7N9 avian flu in the New England Journal of Medicine. Novartis (NYSE: NVS) announced positive phase 1 clinical trial results for their novel H7N9 vaccine on November 14, 2013. In late December, the WHO released a View summary of development and availability of H7N9 vaccines .
In addition to vaccinations, the shutting down of live poultry markets and mass slaughter of live poultry are believed to be effective in controlling the H7N9 virus, according to Professor Gao, in an earlier interview.
View Comments and Join the Discussion!