Dollar Sharply Lower After Non-Farm Payroll Miss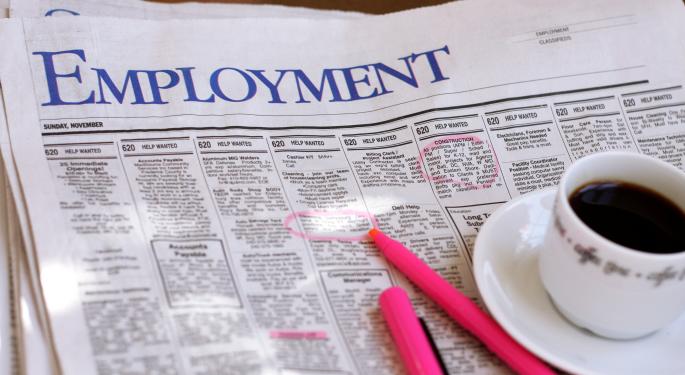 On Friday, the U.S. Bureau of Labor Statistics reported U.S. non-farm payrolls missed expectations of 196.000 by a broad margin; coming in at only 74,000, the smallest gain in three years.
The prior month's figure was revised higher to 241,000. In 2013, job growth averaged 182,000 per month, close to the average of 183,000 recorded in 2012.
Non-farm payrolls measures the change in the number of people employed in the previous month, excluding workers in the farming industry.
Many analysts attributed the the weak payrolls number in part to the unusually poor weather last month, which contributed to a large drop in construction jobs.
In contrast to the disappointing payrolls data, the unemployment rate beat analyst expectations of 7.0 percent -- ticking lower in December to 6.7 percent, down from 7.0 percent in the prior month, its lowest level since October 2008.
The number of unemployed people fell by 490,000 to 10.4 million in December, while over the course of the year the number of unemployed people declined by 1.9 million.
Related: Eurozone Unemployment Remains at Record 12.1%
The broader U-6 unemployment rate remained stubbornly high, unchanged in December at 13.1 percent. This measure also includes workers who want to work full-time, maginally-attached workers and those who have stopped looking for work.
In December, average hourly earnings for all employees on private nonfarm payrolls rose by 2 cents to $24.17, while over the course of the year average hourly earnings increased by 42 cents, or 1.8 percent.
A particularly troubling area of the employment report is that of labor force participation. With the labor force (people either working or looking for work) falling by 347,000, the civilian labor force participation rate declined by 0.2 percentage point to 62.8 percent in December, equaling November's figure which was the lowest since 1978.
Both stocks and the U.S. dollar traded lower on the heels of the U.S. employment data, while gold traded sharply higher.
U.S. Dollar Index Daily Chart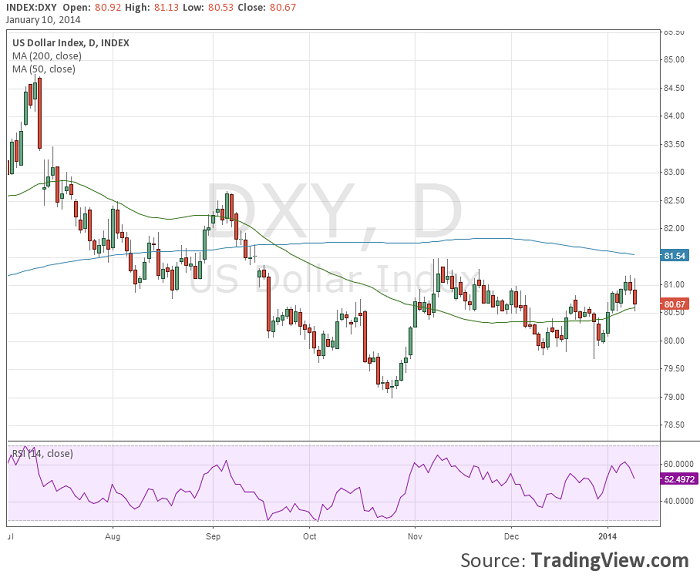 View Comments and Join the Discussion!
Posted-In: Jobless Claims Non-Farm Payrolls Unemployment Unemployment RateNews Economics Best of Benzinga