Auto Industry Revs Up For NAIAS In Detroit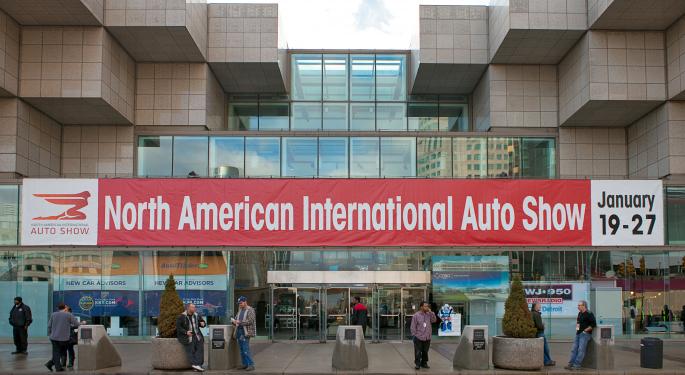 The holidays may be over, but the auto industry is acting like Christmas is on the way – as they prepare to unwrap dozens of new vehicles at the upcoming North American International Auto Show (NAIAS) in Detroit.
Last year's NAIAS had 71 vehicle debuts, including 61 worldwide unveilings. After a media preview, an industry preview and a charity preview next week, the show will open to the public for nine days from Jan. 18 – 26.
It's fair to say NAIAS is one of the premiere auto shows in the world. Nearly 800,000 people visited the 2013 event – which was also covered by more than 5,000 journalists from 62 countries.
And given the importance of America's auto industry to the U.S. economy, it's not a big surprise that Vice President Joe Biden and at least three cabinet officials are also expected to attend NAIAS.
As the Detroit News recently pointed out, "The Obama administration has made the auto industry turnaround and dramatic climb in auto sales a big part of its message in recent years." Government officials are also concerned about how Detroit and the rest of the auto industry is responding to new vehicle fuel efficiency standards.
See also: Tesla May Unveil Lower-Priced Sedan at 2015 Detroit Auto Show
Industry observers, meanwhile, say there's usually more big news coming out of NAIAS than just the new product launches, and are looking forward to the industry press conferences.
"Most execs are expected to present an upbeat look at sales for 2014 with suggestions that sales will top 16 million for the calendar year," Jack Nerad, executive editorial director and senior analyst for Kelley Blue Book, told Benzinga. "Honda(NYSE: HMC) is bringing on new manufacturing capacity in Mexico for its Fit subcompact car, and that alone should improve the prospects of one of the biggest players in the American market."
But of course, the cars are the show's big headliners. Nerad says there's a lot of buzz around the new version of the Ford (NYSE: F) F-150 pickup truck – as well General Motors (NYSE: GM) updated Canyon mid-size pickup
"One car getting a great deal of speculation," notes Nerad, "is the rumored unveiling of the Toyota (NYSE: TM) Supra sports car, a modern revival of Toyota's sports coupe of yore. Folks who claim to have seen it say it is the best-looking Toyota of all time."
The NAIAS is also very important to the city of Detroit, if only to prove to the world that it's still the Motor City.
"It really shows Detroit off in a great light internationally," Ford CEO and executive chairman Bill Ford told the Detroit Free Press, "at a time when Detroit needs it. For the last 20 years, Detroit has always needed good publicity, and the auto show really does that."
Posted-In: Auto Industry Auto ShowNews Travel Events Economics Media General Best of Benzinga
View Comments and Join the Discussion!