Are The Coal Industry's Days Numbered?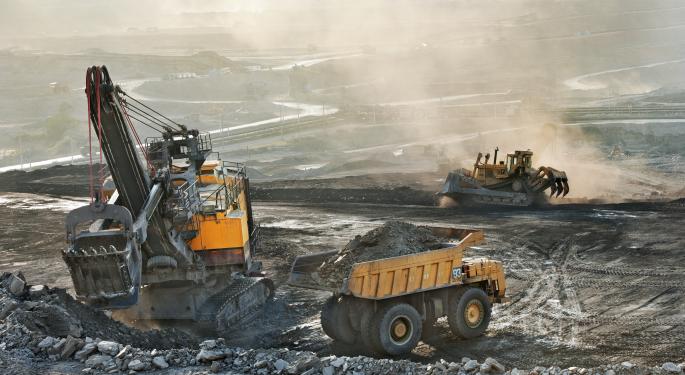 You don't have to look too far to see that America's energy landscape is evolving.
Coal is still king for the moment, but its crown is being challenged.
Coal continues to be a major source of energy in the U.S. According to the U.S. Energy Information Administration (EIA), the nation produced more than one billion short tons of coal in 2012, with over 80 percent of that production going towards electrical generation.
The U.S. is a net exporter of coal, and holds what are believed to be the world's largest coal reserves. But stricter federal regulations meant to reduce carbon dioxide emissions from coal-burning power plants, along with rising demand for lower-priced natural gas, has taken its toll. The total net generation of energy produced annually by coal dropped from 50 percent in 2007 to 37 percent in 2012.
Critics have been criticizing what they see as the Obama Administration's "War on Coal," which has shut down mines and cut jobs across the traditional coal-mining regions of the eastern U.S.
See also: Another Lump of Coal for the Sector
The Wall Street Journal reports Virginia-based James River Coal (NASDAQ: JRCC) laid off 25 percent of its employees last year, while Consol Energy (NYSE: CNX), which has been mining Appalachian coal for 150 years, sold five of those mines in 2012, cutting its coal output nearly in half.
"The Obama administration's proposed rule to cap carbon emissions from new power plants is just another line of attack to make certain energy sources — sources like coal and fossil fuels — so expensive that the producers themselves go bankrupt," said Pennsylvania Congressman Tom Marino back in September.
But the truth is, the U.S. coal industry isn't disappearing – it's just been consolidating, globalizing, moving west and exporting coal to emerging economies.
The Wall Street Journal notes that two counties in Wyoming now account for 40 percent of all coal produced in the U.S. – with four companies, Peabody Energy (NYSE: BTU), Arch Coal (NYSE: ACI), Alpha Natural Resources (NYSE: ANR) and Cloud Peak Energy (NYSE: CLD), controlling more half of the nation's coal production.
As for the Appalachian coal seams, "it all comes down to geology," Peabody Energy Chairman and CEO Greg Boyce told the WSJ. "You've got a district [in the East] that's been mined for 100, 120 years; conditions were difficult."
Peabody is also looking overseas for coal resources; it recently bought mines in Australia. And global demand for coal, especially from China and India, continues to grow – although it is expected to level off in the next several years.
"Coal is abundant and geo-politically secure, and coal-fired plants are easily integrated into existing power systems," Maria van der Hoeven, executive director of the International Energy Agency, said last month. "With advantages like these, it is easy to see why demand continues to grow. But it is equally important to emphasise that coal in its current form is simply unsustainable."
And as for U.S. coal companies, "coal's future is strong, Consol president Nick DeIullis told the Wall Street Journal. "It's just not a growth story."
View Comments and Join the Discussion!
Posted-In: AustraliaNews Emerging Markets Commodities Global Markets Media General Best of Benzinga