Market Wrap For January 6: Busy Day For Analysts Upgrades and Downgrades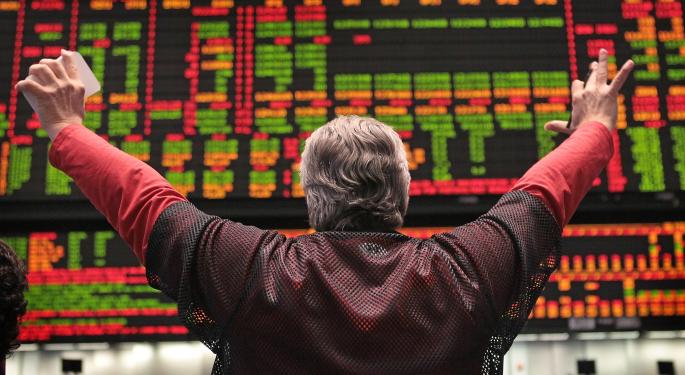 Monday's trading session featured a plethora of analyst upgrades and downgrades. With little key economic data released, markets were relatively tame as major indices failing to meaningfully move in any one direction.
The Senate appears to be set to officially Janet Yellen to lead the Federal Reserve.
The Dow lost 0.27 percent, closing at 16,425.10.
The S&P 500 lost 0.25 percent, closing at 1,826.77.
The Nasdaq lost 18.23 percent, closing at 4,113.68.
Gold lost 0.05 percent, trading at $1,238.00 an ounce.
Oil lost 0.23 percent, trading at $93.74 a barrel.
Silver lost 0.18 percent, trading at $20.17 an ounce.
News of Note
December ISM Non-Manufacturing Index read 53.0, lower than the 54.8 expected and 55.4 prior reading. A reading of greater than 50 implies an expansion.
November Factory Orders rose 1.8 percent, higher than the consensus of 1.6 percent. October's reading came in at a decline of 0.9 percent.
The American economy is doing "reasonably well" according to a report published by Carmen Reinhart and Kenneth Rogoff, Harvard economists and financial crisis historians. Relative to previous financial crisis, the economy is doing substantially better
Jim Flaherty, Canada's finance minister, noted that the recent weakness in the "loonie" is good for the country's manufacturers.
Chinese HSBC services PMI fell to its lowest level since August 2011 coming in at 50.9 in December. November's reading was 52.5. The reading was a bearish catalyst for the entire Asian market which traded lower during their trading session today as Asian investors ponder the possibility of a prolonged Chinese slowdown beyond the first quarter of 2014.
French services PMI fell to 47.8 in December from 48 in November. German services PMI also fell in December to 53.5 from 55.7 in November. U.K. services PMI fell as well in December to 58.8 from 60 in November. As a whole, Eurozone composite PMI rose to 52.1 in December from 51.7 in November.
Equities-Specific News of Note
Analysts at Standpoint released a scathing report over Apple (NASDAQ: AAPL) while cutting shares to Sell due to moral reasons. "For Apple to pay their workers $2 an hour while they have $150 billion in the bank is nothing short of obscene." Also "blacklisted" in the research report due to moral or ethical grounds include Amazon.com (NASDAQ: AMZN) and Philip Morris (NYSE: PM). Shares of Apple gained 0.55 percent, closing at $543.95, Amazon lost 0.71 percent, closing at $393.63 and Philip Morris lost 0.70 percent, closing at $84.93.
Related: Analyst Pounds the Table on Wall Street Ethics; Adds Amazon, Apple, Philip Morris to Blacklist
Analysts at Morgan Stanley (NYSE: MS) downgraded Twitter (NYSE: TWTR) to sell with a $33.00 price target. The analysts noted that Twitter is trading at a premium valuation. Additionally, TV ad budgets are more likely to make its way to other platforms such as Facebook (NASDAQ: FB) and YouTube. Shares of Twitter lost 3.94 percent, closing at $66.28 but traded as low as $63.50 this morning.
Analysts at SunTrust increased their price target on Facebook to $65 from $55. The analysts are optimistic on the company's engagement trends. Additionally, concerns over slowing news feed ad load and teen usage concerns are both overblown and overdone. Shares gained 4.81 percent, closing at $57.18.
Analysts at Bernstein increased their price target on Google (NASDAQ: GOOG) to a street high of $1,350. Analysts at UBS (NYSE: UBS) are bullish but have a slightly less $1,300 price target. Shares gained 1.11 percent, closing at $1,117.31.
Analysts at Morgan Stanley downgraded eBay (NASDAQ: EBAY) to Equal Weight from Overweight. The analysts noted that the company, despite being on the right track to become a key player in omni-channel commerce in the long run, the company has "limited potential for margin expansion and earnings growth." Shares lost 2.80 percent, closing at $51.77.
Analysts at Raymond James noted that 2014 will be a better year for ConocoPhillips (NYSE: COP) based on the analysts projection of higher oil prices for 2014 at $102 a barrel and $95 a barrel in 2015. Higher oil prices "substantially eliminates the gap between Conoco's cash flow and capital spending in 2014." Shares gained 0.43 percent, closing at $70.26.
Related: 3 Reasons To Invest In BP
Analysts at Wedbush noted that strong Xbox One console sales is a positive nod for GameStop (NYSE: GME). The analysts believe that of the 3 million console units sold, the video game specialty retailer moved around 1.65 million to 1.8 million consoles. The analysts maintained an Outperform rating and $60 price target on shares of GameStop. Shares lost 2.15 percent, closing at $48.18.
Analysts at Sterne Agee noted that Deckers Outdoor (NASDAQ: DECK) has seen their sales increase over 20 percent in December. Feedback for the Fall product line has also been positive. Shares hit new 52 week highs of $88.77 before closing the day at $87.99, up 2.64 percent.
FedEx (NYSE: FDX) announced it intends to offer $2 billion in new notes to accelerate its previously announced share buyback program. Shares pulled back slightly, losing 0.95 percent,c losing at $138.72.
Related: FedEx Accelerating Buybacks, Issuing $2 Billion Worth of Bonds
In an ongoing saga, Men's Wearhouse (NYSE: MW) has increased its bid for Jos. A. Bank Clothiers (NASDAQ: JOSB) to $57.50 a share. The previous offer of $55.00 was rejected. Shares of Men's Wearhouse gained 2.10 percent, closing at $51.65 while Jos. A. Bank gained 4.45 percent, closing at $56.83.
Ford said it had sold 99,000 vehicles in China in December, an increase of 35 percent year over year. For the full year 2013, the Detroit based automaker had sold 935,000 cars in China. General Motors (NYSE: GM) is projected to have sold approximately 2.7 million vehicles. Volkwasgon is forecasted to hold the title of best selling car manufacturer in China with close to 3 million vehicles sold. Shares of Ford gained 0.45 percent, closing at $15.58 while General Motors gained 2.10 percent, closing at $40.40.
Related: Ford Hits Record Annual Sales Figures in China
T-Mobile US (NYSE: TMUS) announced it has purchased 700 mhz of spectrum licenses from Verizon (NYSE: VZ) for $2.3 billion. Shares of T-Mobile gained 3.81 percent, closing at $33.51 while Verizon gained 0.56 percent, closing at $48.69.
Winners of Note
Liberty Media (NASDAQ: LMCA) placed an offer to purchase all the outstanding shares of Sirius XM Radio (NASDAQ: SIRI) at $3.68 a share. Liberty Media already owns a majority stake in Sirius and intends to make Sirius a 100 percent owned subsidiary in a potential all-stock deal. Shares of Liberty Media declined 2.23 percent, closing at $142.09 while Sirius surged 7.28 percent, closing at $3.83.
BlackBerry (NASDAQ: BBRY) hired Ron Louks, a former HTC chief strategy officer and Sony Ericsson's former CTO. Shares gained 5.26 percent, closing at $8.01.
Pandora Media (NYSE: P) announced December metrics which all point to an incredibly strong business. The company announced total listening hours, total subscribers among other facets. Most importantly, the company's market share of the total radio market increased to 8.60 percent, up from 8.44 percent in November and 8.06 percent in October. Shares surged to new all time highs of $32.45 before closing at $31.49, up 14.14 percent.
Related: First Time For Everything: Digital Music Sales Fell In 2013
Analysts at Goldman Sachs upgraded SolarCity (NASDAQ: SCTY) to "Conviction Buy" with a $100 price target. The analysts noted that "SolarCity is well positioned to capitalize on fast rooftop growth. Plus leverage, to 'own and operate' economics argue for $40 a share of intrinsic value, thus limiting downside." Shares surged to all time highs of $67.14 before pulling back and closing at $63.61, up 7.32 percent.
Analysts at RBC upgraded RetailMeNot (NASDAQ: SALE) to Outperform from Perform based on consistently robust unit metrics as total visits (especially mobile) maintained strong growth rates over the past year. RetailMeNot was listed as a top small-cap Internet pick along with Zillow (NYSE: Z) and Trulia (NASDAQ: TRLA). Shares of RetailMeNot gained 7.67 percent, closing at $31.01, Zillow gained 6.99 percent, closing at $87.60 and Trulia gaining 6.17 percent, closing at $36.83.
Decliners of Note
Analysts at Citigroup labeled Sarepta Therapeutics (NASDAQ: SRPT) as a "top sell idea" for 2014 with a $13 price target. The analysts noted that the FDA will not "reverse its view that eteplirsen's Phase 2 data is not sufficient to file making the path ahead.. risky, lengthy and expensive." Citi also named Ariad Pharmaceuticals (NASDAQ: ARIA) as a top sell idea for 2014 with a $5.50 price target. The analysts noted "we expect the iclusig re-launch to be challenging with a tightly restricted label and headwinds." Shares of Sarepta lost 8.17 percent, closing at $18.77 while Ariad lost 4.62 percent, closing at $6.82.
Analysts at Goldman Sachs has cut First Solar (NASDAQ: FSLR) to Sell from Buy with a lowered price target of $45.00 from a previous $61.00. The analysts noted that the company "has virtually no exposure" to the fast-growing rooftop solar panel market. Shares lost 9.66 percent, closing at $51.26.
Select Comfort (NASDAQ: SCSS) released a sales warning today. The company said that its fourth quarter sales came in at $231 million, lower than the $242 million consensus estimate. The company also warned that its EPS will fall below estimates due to weak demand following Cyber Monday. The company noted that the "challenging environment" is expected to remain throughout 2014. Shares lost 19.06 percent, closing at $17.28. The warning had a dominos affect on the industry dragging down the group including names like Tempur Sealy (NYSE: TPX) that lost 5.96 percent, closing at $51.14.
hhgregg (NYSE: HGG) revealed that holiday sales were "significantly impacted" by promotional activity from other retailers. The company announced that it expects to report about $707.1 million in revenue for its fiscal quarter ending December 31. The revenue figure is $90 million lower than what it was a year ago, and $52 million less than analysts expected. Shares lost 4.93 percent, closing at $12.93 but traded as low as $12.06 on the day. The disappointing figures brought down shares of Best Buy (NYSE: BBY) despite a positive nod by analysts at Deutsche Bank calling Best Buy a top retailer for 2014 in a premarket report. Shares of Best Buy tumbled 3.12 percent, closing at $39.41 but traded as low as $38.29 on the day before rebounding. Other retailers that tumbled today include Office Depot (NYSE: ODP) whose shares lost 7.98 percent, closing at $4.84.
Earnings of Note
After market, Sonic (NASDAQ: SONC) reported its first quarter results. The reported EPS of $0.13 was in-line with the consensus estimates. Revenue of $126.65M came in lower of the consensus estimate of $127.99 million. Shares initially traded higher following the results by 2.60 percent at $19.75 going in to the company's conference call.
Quote of the Day
"This crisis may in the end surpass in severity the Great Depression in a large number of countries," - Carmen Reinhart said in an interview. "In fact, it may very well have one of the most protracted and painful recoveries for advanced countries in the aggregate."
View Comments and Join the Discussion!
Posted-In: Amazon Apple ARIAD Pharmaceuticals Canadian dollar Carmen Reinhart Chinese Auto SalesNews After-Hours Center Best of Benzinga