Market Wrap For January 3: Bernanke Speaks As Fed Chairman For Last Time; Markets Little Moved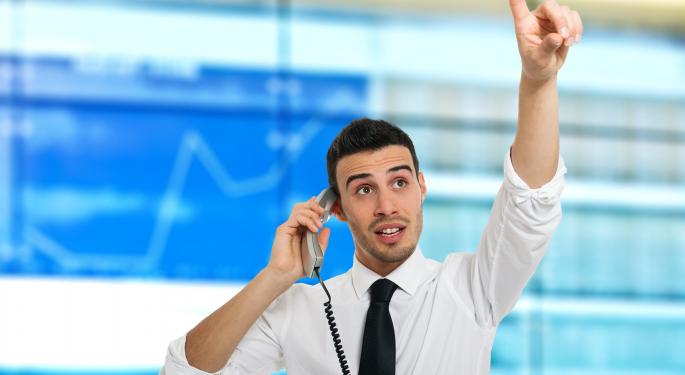 Fed Chairman Ben Bernanke took to the podium today in what many consider to be his farewell speech. During his tenure, Bernanke developed the nickname "Helicopter Ben," which is likely to stick with him for some time. Bernanke noted, "The FOMC's decision to modestly reduce the pace of asset purchases at its December meeting did not indicate any diminution of its commitment to maintain a highly accommodative monetary policy for as long as needed."
A lack of key economic data and many investors and traders remaining on vacation, major indices were little changed at the end of the day. As Monday roles along, the volume and news activity should revitalize for what will be an interesting 2014.
The Dow gained 0.17 percent, closing at 16,469.99. The S&P 500 lost 0.03 percent, closing at 1,831.37. The Nasdaq lost 0.27 percent, closing at 4,131.91. Gold gained 0.95 percent, trading at $1,236.90 an ounce. Oil lost 1.30 percent, trading at $94.20 a barrel. Silver gained 0.23 percent, trading at $20.17 an ounce.
News of Note
EIA Natural Gas Inventory decline 97 billion cubic feet.
U.S. auto companies released their sales data
Related: U.S. Auto Companies Release Sales Data; Growth Reported by Ford and Chrysler; GM Suffers Decline
Governors of New York and New Jersey have declared states of emergency following the severe snow storm on the Eastern Seaboard.
China's PMI fell to 54.6 in December from a reading of 56 in November, hinting that the economy may be losing momentum again.
Indian Prime Minister Manmohan Singh announced he will retire following a decade of rule. The country's next general election is scheduled for the summer.
Equities-Specific News of Note
Exelon (NYSE: EXC) hit 52-week lows of $26.45 this morning following a pair of downgrades. Analysts at Citi (NYSE: C) downgraded shares to Sell from Neutral while lowering the price target to $21 from a previous $29. Bank of America (NYSE: BAC) cut shares to Underperform from Neutral. Shares closed the day down 2.01 percent at $26.62.
Analysts at Oppenheimer downgraded General Electric (NYSE: GE) to Perform from Outperform. The analysts noted that the upcoming two years will be a transitional period for growth. Despite the bearish nod, the analysts noted that shares are still a "solid store of value" given a 3.2 percent yield. Shares lost 0.11 percent, closing at $27.47.
Analysts at Goldman Sachs (NYSE: GS) downgraded Joy Global (NYSE: JOY) to Sell from Neutral with a $52 price target. The analysts noted that investors should expect 2014 to be no different from 2013 in terms of performance. The analysts added that 2014 isn't shaping up to be a positive year for the industry "as we see significant commodity and equipment over-supply driving medium-term growth headwinds relative to our broader coverage." Shares lost 1.21 percent, closing at $55.68.
Analysts at Stifel increased its price target on Yahoo! (NASDAQ: YHOO) to $49 from a previous $40. The analysts noted that Alibaba's decision to delay its IPO is a positive for Yahoo, as it allows the company to sell the 208 million shares (as required during Alibaba's IPO) in a tax-efficient manner. Separately, analysts at Bank of America share similar bullish sentiments on Yahoo and have a $58 price target. Shares gained 1.34 percent, closing at $40.12.
Yahoo! Rally Taking A Breather, Shares Down 2% From Recent Highs
Groupon (NASDAQ: GRPN) announced that LivingSocial plans to sell its approximate 2 percent stake (13.8 million shares) in the company. Analysts at Northland Capital Markets reiterated an Outperform rating and $15 price target on Groupon noting that the company is one of its "top picks" for 2014. The analysts favor buying shares on any weakness following LivingSocial's announcement of liquidating its holdings. Shares gained 2.03 percent, closing at $12.09.
Analysts at Stifel downgraded Sprint (NYSE: S) Friday morning over doubts about the likelihood that Sprint will be able to gain regulatory approval for a takeover of T-Mobile (NYSE: TMUS). Similar sentiments were echoed at Cowen, who noted the Federal Communications Commission Chairman recently stated, "The mobile business is today with four carriers a competitive business, and it's important it stay that way." The analysts at Cowen have a $8.25 price target on shares. Shares of Sprint lost 4.47 percent, closing at $9.94 while T-Mobile lost 3.27 percent, closing at $32.28.
The cell-phone carrier battle is gearing up to be a fierce one in 2014. AT&T (NYSE: T) is offering a limited-time offer providing T-Mobile subscribers, with up to $250 in credit if they switch to AT&T and trade in their smartphone. The move is a preemptive response as T-Mobile is holding an event on January 8 called "Un-Carrier 4.0," which it is speculated that it will pay off the early termination fees of users switching from other carriers and trading in their phones. Analysts at Jefferies noted that T-Mobile will be "opening a Pandora's box" leading to margin pressure for the industry. Shares of AT&T lost 0.43 percent, closing at $34.80.
CNBC reported that Carl Icahn has purchased 30 million to 40 million shares of Hertz Global (NYSE: HTZ) amid speculation that an activist investor has serious interest in the car rental company. Shares surged to new 52-week highs of $29.81 before reversing these gains to close 0.59 percent lower for the day at $28.51.
Related: Carl Icahn Assumes Ownership Stake in Hertz Global
As part of its long-term strategy, 3D Systems (NYSE: DDD) has completed another acquisition. 3D Systems has acquired Gentle Giant Studios, a provider of 3D modeling services for the entertainment and toy industries. Shares hit new 52-week highs of $97.28 before closing the day at $96.44, up 2.39 percent.
The FTC is set to launch a new initiative against "deceptive claims made by national marketers of fad weight loss products" that will be further expanded on next week. Stocks to follow: Nu Skin (NYSE: NUS) and Herbalife (NYSE: HLF), which has already issued a statement noting that the company "has no reason to think any of its weight-management products will be the subject of the FTC's January 7 press conference." Shares of Nu Skin lost 4.19 percent, closing at $132.28 while Herbalife lost 3.42 percent, closing at $77.10.
Winners of Note
FireEye (NASDAQ: FYEY) surged to all time highs of $57.27 following the company's acquisition of cyber security firm Mandiant. The company also hiked its fourth quarter guidance and full year 2014 outlook. News of the acquisition was a positive for the industry, sending KEYW (NASDAQ: KEYW) higher as well. Shares closed the day at $57.02 good for a 38.63 percent gain.
Related: FireEye Surges on Acquisition Deal
Rite-Aid (NYSE: RAD) reported that comparable-store sales rose 2.9 percent in December while pharmacy same store sales were up 4.2 percent. Analysts at Deutsce-Bank (NYSE: DB) noted that the company's strong comp sales numbers serves as proof that the company is on the right track following recent store remodels and closings of less productive locations. Shares gained 8.53 percent, closing at $5.47.
Decliners of Note
TheStreet's Adam Feuerstein is no stranger to moving biotech stocks. Feuerstein wrote bearish comments on Inovio Pharmaceuticals (NASDAQ: INO) noting that "the technology upon which the company's vaccine candidates are based is more than 30 years old and has never proven to effective in clinical trials." Feuerstein also chimed in on Chelsea Therapeutics (NASDAQ: CHTP) by saying "CHTP is in for a tough fight at the January 14 panel because the Northera data are far from confidence inspiring." Inovio lost 12.89 percent, closing at $2.50 while Chelsea lost 14.63 percent, closing at $3.50.
Quote of the Day
"How fast will we have to move interest rates up…we don't know the answer to that...people like to think the Fed has all this great control over interest rates, but the market does its own thing." - Comments made by Philadelphia Fed Charles Plosser during today's American Economic Association panel.
View Comments and Join the Discussion!
Posted-In: Adam Feuerstein Alibaba Alibaba IPO AT&T Carl Icahn Charles PloserNews After-Hours Center Best of Benzinga