U.S. Auto Companies Release Sales Data; Growth Reported by Ford and Chrysler; GM Suffers Decline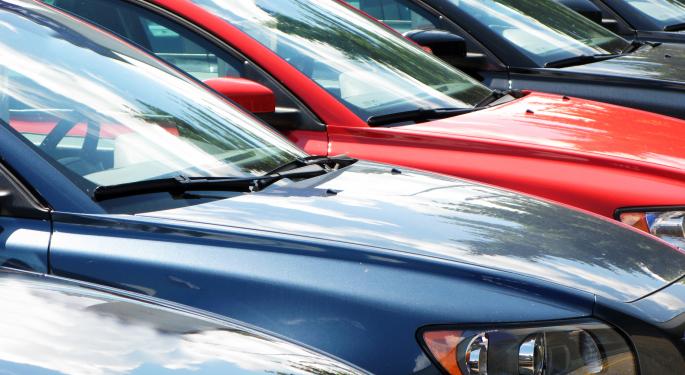 December 2013 sales reports for Ford (NYSE: F), Chrysler, and General Motors (NYSE: GM) were released on Friday, with more (international) auto companies expected to release sales reports later this afternoon.
For the month, Ford reported 1.8 percent increase in total vehicle sales, Chrysler a 6 percent increase, and General Motors a 6 percent decrease when compared to the same month for 2012.
Although Ford and Chrysler experienced an increase in sales for December, both companies fell below growth estimates of 4.3 percent and 8.4 percent, respectively. General Motors' decline in sales was in drastic contrast to the estimate of a 1.5 percent increase.
Ford Motor
Ford's 2013 U.S. sales totaled 2,493,918, making it the top U.S. brand for the fourth consecutive year. The high sales performance of Ford is partly attributable to annual sales records set by Fusion, Fiesta, Escape and the F-Series. The strongest regions for Ford are the West and Southeast, with a 21 percent and 17 percent increase in yearly sales.
Other significant sales increases for Ford include the Police Interceptor Utility, which experienced a 127.1 percent increase for December and 140.3 percent for the year.
Related: Tesla May Unveil Lower-Priced Sedan at 2015 Detroit Auto Show
Chrysler
Chrysler's Jeep brand experienced its best ever December sales with a 34 percent gain, helping Chrysler reach 45 consecutive months of year-over-year gains.
"Our Jeep and Ram Truck brands had a strong finish led by the all-new 2014 Jeep Cherokee and the Ram pickup truck, Motor Trend's 2014 Truck of the Year. Sales of the new Cherokee topped 15,000 units in December as our newest SUV continues its solid sales performance out of the gate," said Reid Bigland, head of U.S sales.
The new 2014 Jeep Cherokee experienced a 48 percent increase in sales over the previous month and was awarded the "best new SUV/CUV under $35,000" by the Automobile Journalist Association of Canada. The Ram 1500 saw gains of 11 percent for December and was named Motor Trend's 2014 Truck of the Year, becoming the first ever back-to-back winner.
General Motors
GM December sales totaled 230,157 vehicles, a decrease of 6 percent from the previous year. Despite this decrease, the month's volume was the highest since August and sales for the quarter increased 6 percent.
The Acadia had gains of 53 percent, the model's best December ever. Buick also had its best sales year since 2006, partly due to the expansion into the sedan and crossover markets with the Verano and Encore.
Kurt McNeil, vice president of U.S. sales said, "2013 was the year that GM and the auto industry put the last traces of the recession in the rear-view mirror, so now we can devote our full attention to the things that matter most to customers: compelling design, world-class quality and delivering the best ownership experience in the business."
Posted-In: Acadia Chrysler Escape fiestaEarnings News Retail Sales Markets Best of Benzinga