Wells Fargo Shares Retreat From All-Time High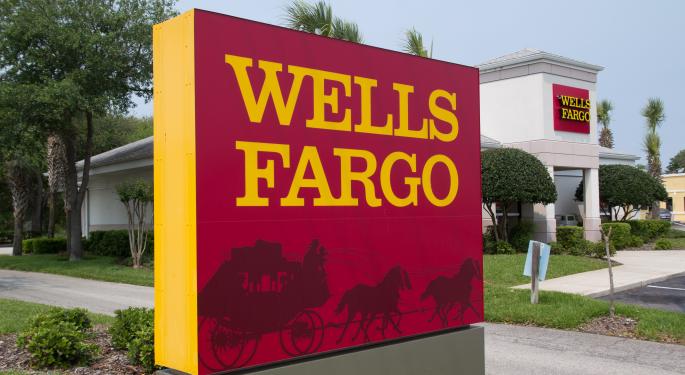 By: Joel Elconin
Although the broad market has more than recovered from the 2008 financial crisis and made new highs, it has been accomplished without full participation in financial stocks.
One issue, however, has risen from the depths and recently made a new all-time high: Wells Fargo (NYSE: WFC). Since bottoming in March of 2009 at $7.63, the issue had gained nearly 500 percent when its price reached $45.64 last week.
In contrast, a few of Wells Fargo's peers remain quite some distance from their all-time highs. Shares of Bank of America (NYSE: BAC), for example, have rallied over 500 percent from the February 2009 low of $2.53 to around $15.91 recently; the stock is still miles away from its all-time high of $55.08, which was hit in November of 2006.
Along these lines, Citigroup (NYSE: C) shares will likely never return to the reverse-split adjusted high set in December 2006, which was around $570. The issue, which posted over a 430 percent gain since bottoming at $9.70 in March of 2009, was aided by a reverse split in 2011 that took it back over the $5 threshold. As a result, this allowed institutional participation for the first time in years.
Related: Can 2013's Market Laggards Become 2014's Leaders?
Wells Fargo, which redeemed its $25 billion TARP investment in December of 2009 with the successful completion of stock offering, re-established strong capital levels commensurate with its risk profile and growth plans.
Perhaps the reason Wells Fargo is outperforming peers is the bank avoided making critical mistakes during the credit bubble. While BofA and Citi were taking huge risks to make easy money in the short-term, Wells Fargo focused on credit quality and long-term risk management.
This approach allowed the company to continue expanding it business while competitors were struggling to survive. As a result, Wells Fargo was the leader in the U.S. mortgage market in the first quarter of 2013 by a large margin. It originated $109 billion in loans compared with Bank of America and Citigroup only $24 and $18 billion, respectively.
The bad news for WFC shareholders: since making the new all-time last week, the technical outlook has began to deteriorate. The issue, which battled major institutional size at the $45.50 level for six days, has not prevailed. As a result, the large sellers have become more aggressive in Thursday's trading, nudging the issue under $45.
On many occasions, major institutional selling at a key level (round half or whole numbers or all time high) signals a long-term reversal in a stock. Unfortunately for shareholders of WFC, the aforementioned scenario has been met on both fronts. Therefore, it may be worth keeping an eye on the recent all-time high in order to determine if this is a pullback in a long-term bullish pattern or a signal of a major reversal in price.
Posted in: News Technicals Movers Trading Ideas Best of Benzinga