Holiday Retail Sales Rose 3.5 Percent On Children's Apparel & Jewelry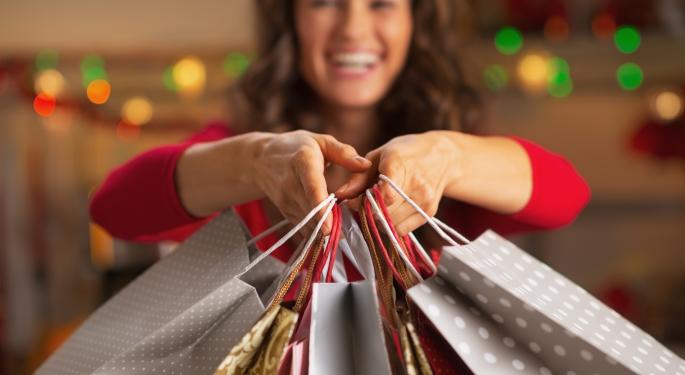 Overall U.S. retail sales were up 3.5 percent during the 2013 holiday shopping season, according to MasterCard Advisors SpendingPulse. 
Big sellers this year were children's clothing and jewelry.
Figures released Friday indicated that sales of clothing, electronics, and luxury goods rose 2.3 percent through Dec. 24 compared with the same period in 2012. This includes both bricks and mortar stores as well as online.
Inside the numbers, traffic in physical stores was down causing many retailers to offer generous discounts and extended shopping hours throughout the holiday season. Bloomberg reported that Gap (NYSE: GPS) offered up to 75 percent off and both Macy's (NYSE: M) and Kohl's (NYSE: KSS) kept stores open 24 hours a day beginning December 20.
While traffic in stores suffered, online retailers like Amazon.com (NASDAQ: AMZN) saw unprecedented sales growth. Amazon said the 2013 season was the best ever for the company. According to Amazon, more than 36.8 million items were ordered worldwide on Cyber Monday and the company's membership program, 
Amazon Prime, signed up more a million new members in December, according to Reuters.
Related: Amazon Reports Record Holiday Numbers
Sarah Quinlan, senior VP at MasterCard Advisors told Bloomberg that shoppers were saying, "It's OK for me to go out and spend," but added, "That being said, they are still being cautious, and they are picking their retailers. It is not hot 2006-2007 spending we are seeing."
The Standard & Poor's 500 Retail Index closed up 0.8 percent Thursday, compared with a 0.5 percent gain for the S&P 500. Overall, the 30-company retail index has risen 44 percent this year compared with the S&P 500, which is up more than 29 percent.
Among individual stocks, J.C. Penney closed up 2.5 percent, Wal-Mart was 0.5 percent higher at the end of the day Thursday and Target was up 1.2 percent.
With the good news came analyst reports according to Reuters that said the 2013 holiday shopping season was the most competitive since 2008. Fighting the effects of stagnant wages, higher taxes and a government shutdown forced retailers to wage real battle for every dollar they could squeeze from shoppers, determined to drive a hard bargain.
The stakes were high, as usual. 
On average retailers realize 30 percent of sales and 40 percent of profits during the all-important holiday shopping season. This year, retailers faced the additional handicap of six fewer shopping days between Thanksgiving and Christmas, as well as bad weather in some parts of the country.
At the time of this writing, Jim Probasco had no position in any mentioned securities.
View Comments and Join the Discussion!
Posted-In: Amazon Prime Amazon.com children's clothing Cyber MondayNews Retail Sales Media General Best of Benzinga