Ford Expected to Unveil Aluminum-Bodied F-150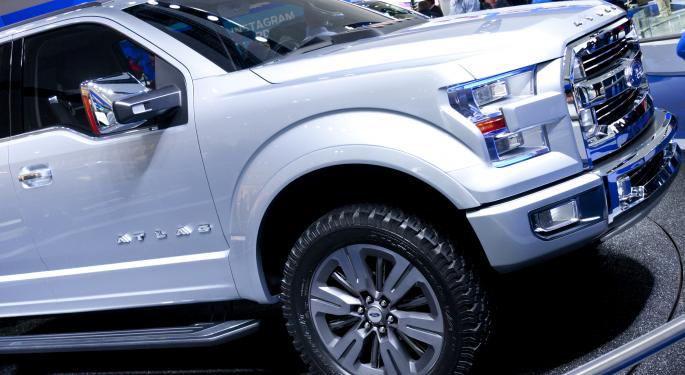 It appears what's been rumored for the past several months is indeed about to come to pass; that Ford (NYSE: F) is preparing to unveil an aluminum-body version of its best-selling F-150 pickup truck next month at the Detroit Auto Show.
Back in July, Motor Trend said Ford was "on a mission to increase fuel economy on its most popular model."
And consumers seemed to respond favorably, too. The company's twin turbocharged V-6 EcoBoost engine was so popular with F-150 buyers that about 40 percent of F-150s sold have the fuel-efficient EcoBoost, rather than the V-8.
See also: Answers.com Grows With ForeSee Acquisition
An F-150 with a mostly-aluminum body would further help fuel efficiency – reducing the vehicle's overall weight by more than 700 pounds, compared to the conventional version. It would also allow the truck to satisfy the federal government's upcoming CAFE (Corporate Average Fuel Economy) standards.
"Like alternative drivetrain technology, lightweight materials will be a key component in meeting the fuel economy standards of the future," Karl Brauer, senior analyst at Kelley Blue Book, said in an e-mail to Benzinga. "Ford's use of aluminum in the next F150 foreshadows a widespread trend we'll be seeing across every vehicle segment in the coming years."
Bloomberg, meanwhile, reports Ford has asked Alcoa Inc. (NYSE: AA) – which produces high-strength aluminum for battlefield conditions – "to lend some of its military-grade metal for the automaker's display" at the Detroit Auto Show in January.
Ford is taking a large risk by tinkering with its successful F-150 line. Analysts at the research firm IHS Automotive according to Bloomberg, believe Ford truck plants could be out of action for up to six weeks at a time – as the company tweaks its assembly line machinery and retrains personnel to handle the switch-over to aluminum.
"This is already the most significant debut at the auto show," Joe Langley, a production analyst for IHS Automotive, said in an interview with Bloomberg. "Everybody's going to be dissecting that thing for a long time, especially since Ford will be taking such a big gamble." 
Posted-In: News Rumors Commodities Travel Markets Tech Media General Best of Benzinga
View Comments and Join the Discussion!