'Duck Dynasty' Phil Robertson Controversy Bad For A&E's Business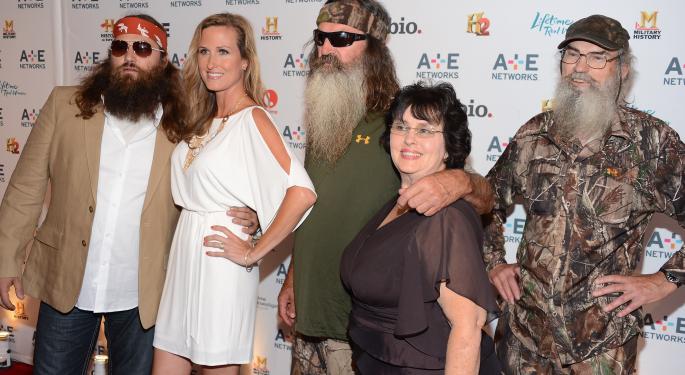 When you're a lesser known network buried deep in the lineups of most people's cable box, it's not every day that you create a hit that becomes the most popular show on cable TV and gains a viral following that makes it a household name.
A&E, a joint venture between privately owned Hearst Corporation and Disney (NYSE: DIS), did that with Pawn Stars and to an even larger degree, Duck Dynasty.
Even if you don't watch the show, you've likely heard of it.
The show centers on the Robertson family, who found fame and riches through their family owned business, Duck Commander—a company that makes products for duck hunters in West Monroe, Louisiana.
The season four premiere in August had a viewership of 11.7 million—a 37 percent increase over the season three premiere making it the most watched nonfiction series in the history of cable television.
For Halloween, Duck Dynasty topped the list of most searched costume ideas on Yahoo, according to a Yahoo! trend report.
Statistics prove that the show is huge and that's why the latest controversy has to have A&E executives wondering what to do.
On Wednesday, the network suspended Duck Dynasty star Phil Robertson because of remarks he made about homosexuals and African Americans in an interview with GQ magazine.
Related: Target's Best 2013 Christmas Tech Deals
Robertson, a self-professed Christian along with the rest of the Robertson family, said that homosexuality is a sin and used what many considered to be graphic language to describe his stance. On African Americans, he said, "I'm with the blacks, because we're white trash. We're going across the field. ... They're singing and happy. I never heard one of them, one black person, say, 'I tell you what: These doggone white people' -- not a word!"
A&E quickly released a statement saying they were "extremely disappointed" with Robertson's remarks and had suspended him.
This has caused a firestorm of opinions, many expressing support of Robertson's right to express his views while others, like the NAACP and the Human Rights Campaign call the remarks insensitive. By Friday morning, however, more than 75,000 people had signed a petition to bring back Phil Robertson.
A&E's problem is with the future of the show.
Phil Robertson's suspension didn't sit well with the rest of the family.
The family said, "We are disappointed that Phil has been placed on hiatus for expressing his faith, which is his constitutionally protected right. We have had a successful working relationship with A&E but, as a family, we cannot imagine the show going forward without our patriarch at the helm. We are in discussions with A&E to see what that means for the future of Duck Dynasty,"
Losing Duck Dynasty would be a major hit to the company's bottom line but reinstating Robertson could be a PR nightmare for the company.  
Whether this is the end of Duck Dynasty isn't known but what is safe to say is that A&E will find it hard to make this go away without losing viewers.
Disclosure: At the time of this writing, Tim Parker had no position in the company mentioned.
Posted-In: A&E Duck Dynasty Phil RobertsonNews Events Best of Benzinga
View Comments and Join the Discussion!