Amazon To Take On Wholesale Retailers With New Pantry Business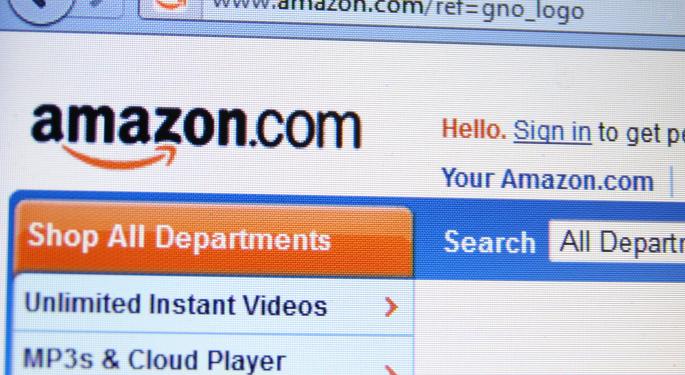 Amazon.com (NASDAQ: AMZN) has a new target in its sight: To conquer the $850 million a year consumer packaged goods. Standing in its way is Costco (NASDAQ: COST) and Wal-Mart (NYSE: WMT)-owned Sam's Club.
USA Today reported on Friday that Amazon is launching a new business called Pantry. The service is set launch sometime in 2014.
Pantry will be targeted at existing members of Amazon's Prime shipping program and will feature everyday household items typically found in the center of grocery stores or in bulk packages at Sam's Club and Costco, such as cleaning supplies, kitchen paper rolls, canned goods, cereal and beverages. In total, Amazon will offer around 2,000 products.
Related: Home Depot Planning To Expand Into Same-Day Deliveries
Amazon will ship the products in pre-set-sized boxes with a maximum weight limit. If an order doesn't completely fill up the box, Amazon will reduce the shipping fee.
"Amazon has the clubs in their cross hairs," said Keith Anderson, who leads RetailNet Group's Digital Advisory practice. "This will be a potential issue for Costco."
Amazon is trying to change the way that consumers purchase packaged goods. The majority of packaged items are typically bought in store.
The concept of selling toilet paper and other packaged goods online is certainly a concept that consumers have shunned away from, due to higher shipping costs and the bulk savings consumers receive from shopping at Sam's Club and Costco.
Amazon can use its already existing network of fulfillment centers "to enable better shipping economics than the current .com business," said Tom Furphy of Consumer Equity Partners. "So they'll be able to carry heavier and/or less expensive items than they have been able to previously."
View Comments and Join the Discussion!
Posted-In: Amazon Amazon Pantry Consumer Equity PartnersConsumer Packaged Goods CostcoNews Retail Sales Economics Tech Best of Benzinga