Google Play Japanese Revenue Now On Par With Apple's App Store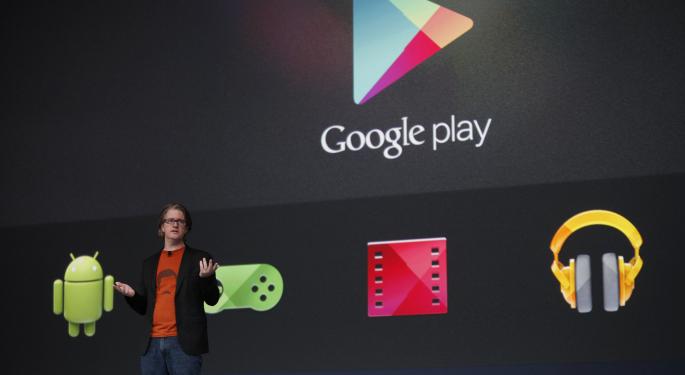 Japanese revenue for Google's (NASDAQ: GOOG) software store have caught up to Apple's (NASDAQ: AAPL) online outlet.
According to App Annie (via VentureBeat), Japanese consumers now spend more on apps than their American counterparts.
Google Leads Japan But iOS App Revenue Dominates Globally
The App Annie report also revealed that, during the month of October, Google Play's Japanese revenue was roughly on par with Apple's App Store.
iOS still leads the pack worldwide in App Store revenue, but Google is catching up. In fact, Google Play revenue is rising 10 times faster than App Store revenue.
Android Activations Reign Supreme
Google activates 1.5 million Android devices every day.
To put that into perspective, that means that Google activates 135 million devices every 90 days (1.5 million phones/tablets x 90 days = 135 million activations).
This is far greater than the number of iOS devices that are sold each period.
On a quarterly basis, Apple typically sells between 30 million and 40 million iPhones and between 20 and 30 million tablets.
In September, Google announced that it had activated a total of one billion devices. Once again, the company greatly outnumbered its nearest competitor.
Related: iPad Shipments Increase In Q4 After Retina Mini Sold Out On Black Friday
As of November, Apple had activated 421 million iPhones. Not too shabby by any means, but it is still less than half of what Google has achieved.
When combined with the more than 120 million iPads that have been sold, iOS activations are still more than 30 percent lower than Android.
Android's Advantage
To be fair, a big part of Google's success has been due to the fact that Android appears on devices from multiple manufacturers. Those manufacturers are free to charge as much or as little as they want for new devices.
While an iPad Mini with Retina Display retails for $399, consumers can get a comparable Android tablet for roughly half that price. Less comparable Android tablets can be purchased for $150 or less.
Disclosure: At the time of this writing, Louis Bedigian had no position in the equities mentioned in this report.
Posted-In: Android App Annie App Store Google Google PlayNews Global Tech Best of Benzinga
View Comments and Join the Discussion!