Exclusive: 'The Zebra,' a Car Insurance Startup, Raises $3 Million From High-Profile Investors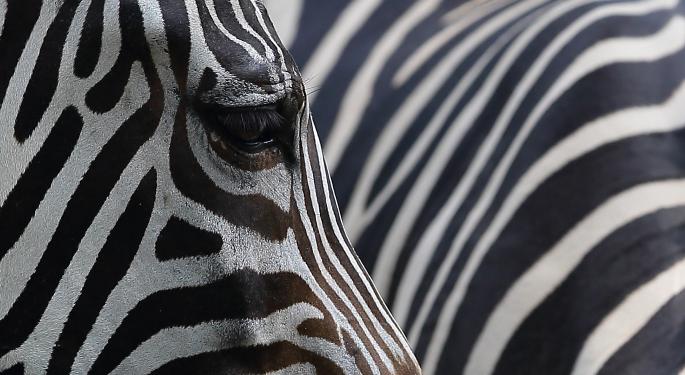 Car insurance comparison startup The Zebra raised an additional $3 million this week from its existing pool of investors.
That pool includes Mark Cuban, Mike Maples, Jr. from Floodgate (one of Twitter's initial investors), Silverton Partners, Birchmere Labs, and Swallow Point Ventures.
Simon Nixon, founder of MoneySuperMarket.com, the largest insurance comparison site in the United Kingdom, also participated in the round.
"Simon founded MoneySuperMarket.com and became one of the richest tech entrepreneurs [in the U.K.]," Adam Lyons, CEO of The Zebra, told Benzinga. "[He] kind of looked at the U.S. market, saw that it wasn't here yet and bet on us."
The Zebra started after the team participated in an accelerator program from AlphaLab and secured $1.5 million from Cuban, Maples and the other early investors (excluding Nixon, who was added during the latest round).
"Recently, all the investors were excited about the progress we've made and the team we've built, and really wanted to put in more, so we raised an inside round," said Lyons. "We got participation from all existing investors for $3 million, bringing our total funding to $4.5 million."
The Zebra initially began in Texas and then expanded to California. Now the site provides car insurance comparisons nationwide from more than 200 different companies.
One of the benefits of The Zebra is its users can view a lot of information without being forced to provide a ton of personal details.
Related: New Startup FlightCar Could Shake Up Car Rental Industry
"We're not one of these lead-generation sites," said Lyons. "We're not gonna take your information and sell it, and we wanted to back that up. Right away we're going to show you numbers. And as you continue to put in your driving history or credit, things that affect your rate, we'll continue to add that in and increase the accuracy of the estimate that we're giving you [in real-time]."
By the time users get to the end of the process (which takes no more than a couple of minutes), Lyons said that users should have a "pretty accurate" list of insurance rates.
"We really wanted to make it as transparent as possible," he added.
Securing a 'Shark'
Cuban is a famous entrepreneur with multiple companies and organizations under his control, including the Dallas Mavericks, Landmark Theatres and Magnolia Pictures. He is also one of the 'shark' investors on the Shark Tank TV program.
Lyons didn't know Cuban when The Zebra was launched. Hoping to start a conversation, he tracked down Cuban's e-mail and took a risk.
"Mark Cuban was actually a cold e-mail," Lyons explained. "I e-mailed him, started a back and forth for a little bit and he decided to invest."
This and other experiences have taught Lyons that entrepreneurs should not take "no" for an answer.
Related: SpareFoot Wants To Be The Hotels.com Of Self-Storage
"We were lucky," he said. "We were in a good position. We had a lot of folks interested, which helped. On the other side of it, we still were rejected over 50 times between pitching to VCs, angels. I think we were rejected 50 times before we got all the 'yeses' that we got. I definitely think that's important -- to keep going and learn when you get told 'no' and that kind of a thing, but not to stop, not to quit."
Elevator Pitch
Lyons outlined a few tips for entrepreneurs who are looking to pitch a startup:
"When it comes to an e-mail or pitching in general, I think what's really important is to be succinct."
"I think the first thing you want is to pique somebody's interest, whether it's the subject line or an elevator pitch, I think it should be really, really interesting and really short."
"After that, I think the purpose of the pitch is…you almost want them to ask a question based on what you say and guide them to kind of ask that question so that you have a good answer ready for them."
"I think it's good to be bold; I think it's good to share the vision and kind of let whoever it is know, within that short time...where you're going and that this is something that you're passionate about. I think the passion needs to come through."
"[Show them] that it's something that you're doing no matter what, that you're committed to it. This is something that, with or without them, is going to happen. And if they want to be a part of it and help, then you can have that discussion."
Disclosure: At the time of this writing, Louis Bedigian had no position in the equities mentioned in this report.
Louis Bedigian is the Senior Tech Analyst and Features Writer of Benzinga. You can reach him at louis(at)benzingapro(dot)com. Follow him @LouisBedigianBZ
Posted-In: AlphaLab Birchmere Labs FloodgateNews Success Stories Startups Tech Interview Best of Benzinga
View Comments and Join the Discussion!